प्रधानमंत्री किसान मानधन योजना ऑनलाइन आवेदन / पंजीकरण फॉर्म maandhan.in or pmkmy.gov.in पर, अब किसान पेंशन स्कीम का लाभ उठाने के लिए अप्लाई करें
The central govt. is inviting online application forms for Pradhan Mantri Kisan Mandhan Yojana (PM-KMY) at maandhan.in or pmkmy.gov.in. This farmers pension scheme subscriber enrollment process is ongoing at the official website. All the farmers can fill PM Kisan Maandhan Yojana apply online form and make registration to avail pension of Rs. 3,000 per month.
PM Kisan Maan dhan Yojana Subscriber enrollment form asks for date of birth, aadhaar number, mobile number, e-mail ID and other details from farmers. The beneficiary farmers in the age group of 18 to 40 years (eligibility) will have to pay premium. The range of premium amount is Rs. 55 to Rs. 200 depending on age of farmers which comes with an option for auto-deduction from PM Kisan Samman Nidhi bank account of farmers.
All the farmers who have already been registered for the quarterly income support of Rs. 2,000 under PM-KISAN scheme would be firstly targeted in PM Pension scheme for farmers.
PM Kisan Mandhan Yojana Pension Registration Form
Pradhan Mantri Kisan Maandhan Yojana is a government scheme meant for old age protection and social security of farmers on attaining age of 60 years. This scheme is for small and marginal farmers having cultivable land up to 2 hectares as per land records of the concerned State/UT. Below is the complete procedure to apply online for PM Kisan Mandhan Yojna:-
Firstly visit the official website at maandhan.in or pmkmy.gov.in
At the homepage, click at the "Click Here to Apply Now" link to open page as shown below:-

PM Kisan Mandhan Yojana Apply Online

Here people can choose process of registration either "Self Enrollment (using mobile number & OTP)" or "CSC VLE (using CSC connect)" to apply online. For Self Enrollment process, the applicants will have to make login through mobile number & OTP on registered mobile number.
Afterwards, a dashboard will open containing the name of schemes – Pradhan Mantri Kisan Maandhan Yojana, PM Shram Yogi Maandhan Yojana and National Pension Scheme for Traders & Self Employed Persons Yojana.
Select 'Enrollment' option and select the scheme name to open the subscriber enrollment form for Pradhan Mantri Kisan Maandhan Yojana:-

PM Kisan Maandhan Yojana Registration Form

Here candidates can enter complete details and click at the "Submit" button to complete the application process for PM Kisan Maan dhan Yojana.
Farmers can also make PM Kisan Mandhan Yojna offline registration through Common Service Centers (CSCs) and state nodal officers of PM-KISAN scheme.
People will have to make contribution as specified in the pension chart. Central govt. will also contribute an equal amount (50%) to pension fund to be managed by Life Insurance Corporation. LIC would be the nodal agency for its implementation and will be responsible for the payout. After coming to power for the 2nd time, Modi govt. in their first cabinet meeting has approved a separate pension scheme for farmers.
In the approved PM Kisan Pension Scheme, govt. will cover around 5 crore beneficiaries in the first 3 years. This would cost the exchequer Rs. 10,774.5 crore per annum. For this purpose, a sum of Rs. 900 crore was allocated for the PM Kisan Mandhan Yojana in Budget 2019-20 by FM Nirmala Sitharaman.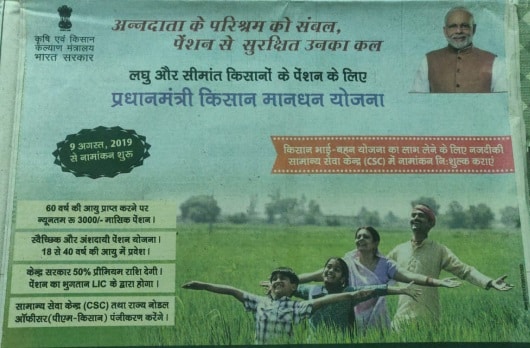 PM Kisan Maan-dhan Yojna Vs PM-Kisan Samman Nidhi Scheme
The main difference between PM-KISAN Scheme and PM Kisan Mandhan Yojana is that PM-Kisan is applicable for all farmers while PM-KMY Scheme is only for small and marginal farmers who own less than 2 hectares (5 acres) of land. All the farmers can also make contribution directly from the benefits drawn from the PM-KISAN Scheme.
Central Government Schemes 2020-2021केंद्र सरकारी योजना हिन्दीPopular Schemes in Central:Narendra Modi Schemes ListNREGA Job Card Listसरकारी योजनाओं की सूची हिंदी में
The central govt. will also prepare an online grievance redressal system for complete transparency. This scheme is identical to the existing PM Shram Yogi Maan-dhan Yojana for unorganized workers and PM Karam Yogi Maandhan Yojna for retail traders and small shopkeepers.
For more details, visit the official website at https://pmkmy.gov.in/ or maandhan.in
Content Source / Reference Link: https://www.business-standard.com/article/economy-policy/pm-may-launch-farm-pension-scheme-next-month-enrolment-to-start-from-aug-1-119072701050_1.html
SAVE AS PDF