Maharashtra government has launched a single online platform named MahaDBT portal for unprecedented expansion of direct benefits to the deprived and deserving students. This scholarship portal will reform government delivery system by re-engineering the existing process in welfare schemes. Now candidates can check complete list of scholarship schemes (dept. wise), fill the MahaDBT scholarship schemes online registration form and make login at mahadbt.maharashtra.gov.in
Aaple Sarkar DBT (Direct Benefit Transfer) is a portal aims to transfer the benefits and subsidies of various social welfare schemes like E-Scholarships, Pension, Disaster etc. directly into the bank accounts of the beneficiaries. Any citizen of India can make registration for scholarships on this MahaDBT portal. The eligibility and disbursement will be according to the schemes as displayed.
Govt. of Maharashtra encourages all citizens to have aadhaar number so that benefits can be directly transferred to Aadhaar seeded bank account. However, applicants which does not possess aadhaar number can also apply online and fill registration form to avail scheme benefits.
MahaDBT Scholarship Schemes Registration & Login
Below is the complete procedure to apply online and make online registrations for MahaDBT scholarship schemes:-
STEP 1: Firstly visit the official MahaDBT portal at https://mahadbt.maharashtra.gov.in/
STEP 2: At the homepage, click at the scheme name, then in the new window click at "New Applicant Registration" button present on the right side of the page.
STEP 3: At the new page, registrations for scholarship schemes can be made online using aadhaar number (Aadhar based) or without aadhaar number (Non-aadhar based).
STEP 4: Aadhaar Based Registration – In case the applicant posses aadhaar number then, candidates can click at the "Yes" option, enter the "Aadhaar number" and verify OTP to open the MahaDBT scholarship online registration form which will appear as follows:-
Maharashtra Govt Schemes 2023Popular Schemes in Maharashtra:RTE Maharashtra AdmissionMukhyamantri Saur Krushi Pump YojanaCIDCO Lottery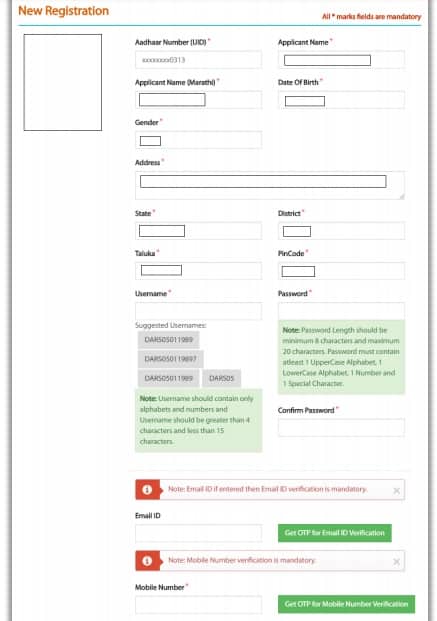 STEP 5: Here candidates can enter and verify all the details using OTP which includes e-mail ID verification and mobile number verification.
STEP 6: Non-Aadhaar Based Registration – In case the applicant posses aadhaar number then applicant can click at the "No" option, then 2 case arise. First is that applicant possesses "Aadhaar Enrollment ID" and second is that applicant does not possess "Aadhaar Enrollment ID".
STEP 7: Next, candidates can fill all the details, upload the supporting documents, upload photograph & signature (read instructions) and click at the "Register" button to complete the registration process and to get username and password.
STEP 8: MahaDBT Login – All the candidates can then make Login at mahadbt.maharashtra.gov.in portal.
STEP 9: Finally, applicants can complete the profile and apply online for scholarship scheme at MahaDBT portal.
To know the complete registration process in details, download the help manual, understand the complete process and apply online for MahaDBT scholarship schemes.
List of All Scholarship Schemes at MahaDBT Portal
MahaDBT portal is now open for all applicants studying in any institute across the state. Students can now submit their scholarship application form online as per the applicable scheme on priority. The complete list of schemes (department wise) is being provided here:-
List of All Schemes (Department Wise)
Social Justice and Special Assistance Department
Government of India Post-Matric Scholarship
Post-Matric Tuition Fee and Examination Fee (Freeship)
Maintenance Allowance for student Studying in professional courses
Rajarshri Chhatrapati Shahu Maharaj Merit Scholarship
Post-Matric Scholarship for persons with disability
Tribal Development Department
Post Matric Scholarship Scheme (Government Of India )
Tuition Fee & Exam Fee for Tribal Students (Freeship)
Vocational Education Fee Reimbursement
Vocational Education Maintenance Allowance
Directorate of Higher Education
Rajarshi Chhatrapati Shahu Maharaj Shikshan Shulkh Shishyavrutti Scheme
Assistance to Meritorious Students scholarship – Junior Level
Education Concession to the Children of Ex-Servicemen
Eklavya Scholarship
State Government Open Merit Scholarship
Scholarship to Meritorious students possessing Mathematics /Physics
Government Vidyaniketan Scholarship
State Government Daxshina Adhichatra Scholarship
Government Research Adhichatra
Education Concession to the Children Freedom Fighter
Jawaharlal Nehru University Scholarship
Assistance to Meritorious Students scholarship – Senior Level
Dr. Punjabrao Deshmukh Vasatigruh Nirvah Bhatta Yojna (DHE)
Directorate of Technical Education
Rajarshi Chhatrapati Shahu Maharaj Shikshan Shulkh Shishyavrutti Yojna(EBC)
Dr Panjabrao Deshmukh Vastigruh Nirvah Bhatta Yojna(DTE)
School Education and Sports Department
Open Merit Scholarships in Junior College
Merit Scholarships for Economically Backward Class Students
VJNT, OBC, SEBC and SBC Welfare Department
Post Matric Scholarship to VJNT Students
Tuition Fees and Examination Fees to VJNT Students
Payment of Maintenance Allowance to VJNT and SBC Students Studying in Professional Courses and Living in Hostel Attached to Professional Colleges
Rajarshi Chhatrapati Shahu Maharaj Merit Scholarship for students studying in 11th & 12th standard of VJNT & SBC category
Post Matric Scholarship to OBC Students
Post Matric Scholarship to SBC Students
Tuition Fees and Examination Fees to OBC Students
Tuition Fees and Examination Fees to SBC Students
Directorate of Medical Education and Research
Rajarshri Chhatrapati Shahu Maharaj Fee Reimbursement Scheme
Dr Panjabrao Deshmukh Hostel Maintenance Allowance
Minority Development Department
State Minority Scholarship Part II (DHE)
Scholarship for students of minority communities pursuing Higher and Professional courses(DTE)
Scholarship for students of minority communities pursuing Higher and Professional courses(DMER)
Skill Development, Employment and Entrepreneurship Department
Vocational Training Fee reimbursement for the students belonging to socially and educationally backward class and Open Category (Economically weaker section) students
Mahatma Phule Krishi Vidyapeeth Rahuri
Rajarshi Chhatrapati Shahu Maharaj Shikshan Shulkh Shishyavrutti Yojna (EBC)
Dr. Panjabrao Deshmukh Vasatigruh Nirvah Bhatta Yojna (AGR)
Directorate of Art
Rajarshi Chhatrapati Shahu Maharaj Shikshan Shulkh Shishyavrutti Yojna (EBC)
Dr. Panjabrao Deshmukh Vasatigruh Nirvah Bhatta Yojna (DOA)
MAFSU Nagpur
Rajarshi Chhatrapati Shahu Maharaj Shikshan Shulkh Shishyavrutti Yojna (EBC)
Dr. Panjabrao Deshmukh Vasatigruh Nirvah Bhatta Yojna (MAFSU)
Mahadbt Scholarship Schemes
For more details, visit the official website https://mahadbt.maharashtra.gov.in/