Last year, central govt. has made an announcement of a Rs. 20 lakh crore economic package for Atmanirbhar Bharat Abhiyan to make India self reliant. In this Aatmanirbhar Bharat Abhiyan package, govt. has announced a number of loan scheme for various sectors. Here we are going to tell you about how to apply online for Atmanirbhar Bharat Loan Schemes 2023.
These loan schemes under the Self Reliant India campaign includes MSME loans, Kisan Credit Card (KCC) loans, Street Vendors loans, Shishu Mudra loans, PM Awas Yojana Credit Linked Subsidy Scheme (PMAY-CLSS) loans etc. Now people can apply for these loan schemes by the Union government of India.
For this, interested applicants will have to fill Atmanirbhar Bharat Loan Schemes application / registration form. The Rs. 20 lakh economic booster dose (1 to 5) package announcement was completed on 17th May 2020 by FM Nirmala Sitharaman and these announcements are now being realized.
Atmanirbhar Bharat Loan Schemes 2023 Apply Online Form
PM Modi's Vision of Rs. 20 lakh crore package has been announced in 5 tranche economic doses on 13th, 14th, 15th, 16th and 17th May 2020. Below is the direct apply online process to avail benefits of various loan schemes announced in different tranches of Atmanirbhar Bharat Abhiyan 2023 package.
Kisan Credit Card (KCC) Loans
Around Rs. 2 lakh crore concessional credit would be extended for Kisan Credit Card (KCC) Scheme by the central government. Around 2.5 crore farmers to benefit from this KCC scheme. Fisheries and animal husbandry farmers will be included in KCC Scheme. People can take the following benefits by applying online for KCC Scheme.
The Interest rate offered on the loan may go as low as 2.00%.
Banks will not seek security on loans up to Rs. 1.60 lakh.
Crop insurance coverage against a variety of natural calamities is given to the users.
Farmer is provided insurance coverage against permanent disability, death, other risks is also provided to the farmer.
The repayment period is decided on the basis of harvesting of crop and its marketing period. Maximum loan upto Rs. 3 lakh can be availed by KCC card holder.
Farmers that deposit their money in the Kisan Credit Card account will get a high rate of interest. Moreover, farmers are charged simple interest rate when they make prompt payment.
To apply online, click the link

pmkisan.gov.in/Documents/Kcc.pdf

to open single page Kisan Credit Card (KCC) application form.
The PM Kisan Credit Card Scheme 2023 online application form for PDF download will appear as below:-

All the farmers b/w 18 to 75 years of age can take benefits of Kisan Credit Card (KCC Scheme). In case a borrower is a senior citizen (age more than 60 years), a co-borrower is mandatory where the co-borrower should be a legal heir. All farmers including individuals/joint cultivators, owners, tenant farmers, oral lessees and sharecroppers etc. are eligible.
Other initiatives for farmers includes creation of Farm Based Infrastructure (Rs. 1 lakh crore), Micro Food enterprises (Rs. 10,000 crore), PM Matsya Sampada Yojana (Rs. 20,000 crore), FMD Livestock Disease Control Scheme (Rs. 13,000 cr), Animal Husbandry Infrastructure Development Fund (Rs. 15000 crore), Promotion of herbal cultivation (Rs. 4000 crore), Promotion of Bee keeping (Rs. 500 crore), TOP to Total: Operation Greens (additional Rs. 500 crore).
CLSS Loans under PM Awas Yojana
To avail Interest subsidy under CLSS vertical, the applicant should have a sanctioned housing loan and meet the eligibility criteria as the Scheme Guidelines.
D) For complete process and detailed information, click – PMAY CLSS Application / Registration Process
Central Government Govt Schemes 2023Popular Schemes in Central Government:प्रधानमंत्री आवास योजना 2023Pradhan Mantri Awas YojanaPM Awas Yojana Gramin (PMAY-G)
This extension of PMAY CLSS Scheme for EWS / LIG households will lead to more investment in housing sector in India.
Street Vendors Loan Scheme – PM Svanidhi Yojana
PM Svanidhi Yojana has been launched by the central govt. as Street Vendors Loan Scheme. The official website to apply online for Street Vendors Loan is https://pmsvanidhi.mohua.gov.in/. Go to this page, then hit at "Apply for Loan", then fill form and submit it to get Rs. 10,000 as loan. It is a special micro credit facility for street vendors. In order to check complete process, click at the link – PM Svanidhi Scheme Application / Registration Process.
Shishu Loans under MUDRA Yojana
Small businesses under MUDRA have been disrupted the most due to Coronavirus (COVID-19) lockdown & has also impacted their capacity to pay EMIs. So, Loan moratorium has already been granted by RBI. The current portfolio of MUDRA-Shishu loans is Rs. 1.62 Lakh crore (Maximum loan amount of Rs. 50,000). Now the Government of India will provide Interest subvention of 2% for prompt payees for a period of 12 months. This will provide relief of Rs. 1500 crore to MUDRA-Shishu loanees. People can check the process here – PM Mudra Yojana Shishu Loans Apply Online / Offline Form
The Mudra Shishu Loan Yojana application form will appear as shown below:-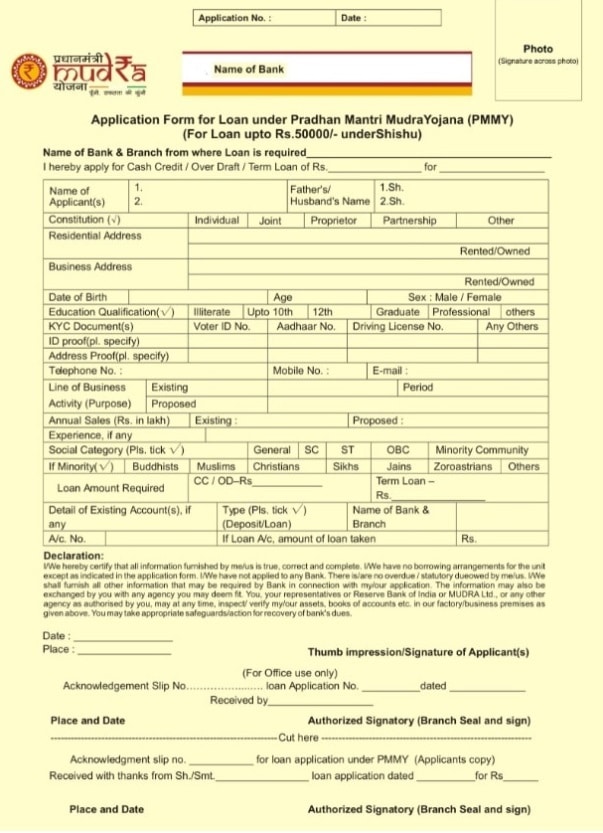 All the interested people who wants to avail the Shishu Mudra loans along with benefits of Atmanirbhar Bharat Abhiyan package can now apply online or offline as suitable.
MSME Loans
The central govt. has made a a provision of Rs. 3 lakh crore for Micro, Small and Medium Enterprises sector. These business loans can be used for setting up new enterprise or stepping up (expansion, diversification, modernization, technology up-gradation). These can be for:-
Acquisition of factory, land and construction of building spaces.
Purchase of Plant and Machinery including lab equipment, testing equipment, furniture, electric fittings etc.
Meeting working capital requirements like raw materials, stock-in-progress, finished goods, etc.
Trade Finance (Bill discounting) for paying the creditors, while awaiting payment from debtors.
Launch of new product range, expansion of business, warehousing need, credit for marketing and advertising purpose.
Additional monitory assistance for any eligible purpose.
To apply online, click at the Direct Link – https://site.udyamimitra.in/Login/Register
The page to apply online for MSME Loans at the SIDBI Udyami Mitra website will appear as shown below:-
You will have choices of wider range of lenders (Banks / NBFCs / SFBs/ FinTechs) who can access your application and according to your geographic location the nearest lender may approach you or a fintech from another city may also touch base you. This means you can apply online 24/7. You can apply even in your spare time at leisure. If you have your budget / documents / information ready, you will find the application forms are easy to fill in.
The definition of MSMEs would be changed with an increase in investment limit and size along with turnover size. Moreover, the differentiation b/w manufacturing and service MSME will be removed. Now, all the global tender upto Rs. 200 crore to be disallowed and govt. procurement tenders upto 200 crore will no longer be on global tender group. E-market linkage would also be provided across the board in absence of trade fairs to promote e-commerce. Within 45 days, CPSEs and Govt. of India will clear their receivables. MSME Schemes – https://msme.gov.in/all-schemes