Odisha Garima Scheme 2023 has been launched by the CM Naveen Patnaik led state government. In this scheme, Odisha govt. will provide benefits to around 20,000 crore sanitation workers and their families covering 1 lakh population. This scheme will ensure safety and dignity of core sanitation workers. A dedicated corpus fund initially with Rs. 50 crore will also be created. This scheme would institutionalize and regulate core sanitation services to provide social security and financial benefits to workers and their families.
Alongwith Odisha Garima Scheme 2023, a State Commission for Core Sanitation Workers will also be constituted. The Garima Scheme will be implemented in all the 114 Urban Local Bodies (ULBs) of the Odisha state. This scheme was launched on 11 September 2020. The main focus of this scheme is to realize the vision of elimination of manual scavenging which causes various accidents to scavengers.
Odisha Garima Scheme 2023 for Core Sanitation Workers
As the nation is making leap in various sectors and is competing with the best in the world. But even in this growing world, the safety and dignity of manual scavengers is still not ensured. These underprivileged people were made to render this invaluable service to the society for generations and were deprived of safety, dignity and a decent livelihood and also suffers from suffering social stigma and exclusion. So to correct this injustice to core sanitation workers, the state govt. has decided to launch Odisha Garima Scheme 2023.
Objectives of Garima Scheme
The Garima Scheme for manual scavengers is a first-of-its-kind initiative by any state in India. This scheme is launched to provide a comprehensive package which includes:-
Institutionalizing and regulating the core sanitation services
Providing service level benefits
To provide social security benefits to core sanitation workers along with their families.
Financial benefits to manual scavengers and their families.
Increased focus on enforcement of statutory provisions under various national & state legislations.
Approximately 20,000 core sanitation workers as well as their families with about 1 Lakh population would be benefited from the scheme.
Official Launch of the Odisha Garima Scheme by CM Naveen Patnaik
Here are the official tweets about the launch of the Odisha Garima Scheme by CM Naveen Patnaik through his twitter ID @Naveen_Odisha. Under the scheme, a survey would be undertaken to identify sanitation workers across the state engaged in core sanitation jobs and to register them under a database.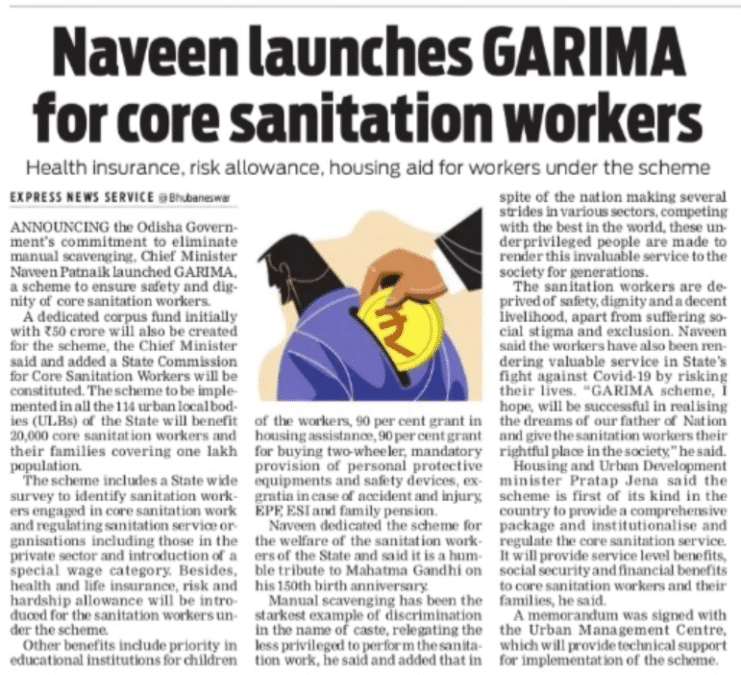 Registration of private sanitation service organisations with ULBs for authorisation would also be facilitated. Working hours of sanitation workers would be limited to 6 hours per day. The sanitation workers and their family members would also be given health insurance.
Benefits of Odisha Garima Scheme 2023 for Sanitation Workers
Odisha Garima Scheme aims to identify core sanitation workers through state wide survey. It is done by registering core sanitation workers, mandates registration of sanitation service providers, ensures provision of necessary machines and appropriate PPEs to ensure safe working conditions. The Government of Odisha will provide several benefits to core sanitation workers in the Garima Scheme which are as follows:-
Odisha Govt Schemes 2023Popular Schemes in Odisha:KALIA Scheme Beneficiary ListKalia YojanaOdisha Ration Card List
Skill Improvement and training
Counselling Support for new skills
Financial Support for alternative livelihood
Health and life insurance
Disability support
Periodic health check-ups
Housing support
Educational support
Mobility support
Mobile support
Introduction of Special Category of Wages for core sanitation work
Introduction of Risk and Hardship Allowance
Financial assistance to families in an event of accident or injury
Financial support in form of House Grant
Purchase of 2 wheelers to extent of 90% of cost
Access to EPF benefits
Retirement benefits
Post Service benefits
Illness allowance
All of these benefits under Odisha Garima Scheme will provide further security to around 20,000 core sanitation workers and their families to cover at-least one lakh population.
Frequently Asked Questions (FAQ's)
Here are some of the most frequently asked questions about the Garima Scheme in Odisha:-
What is Odisha Garima Scheme
To ensure safety and dignity to core sanitation workers, Odisha Garima Scheme has been launched
Who launches Garima Scheme
How many people would be benefited from Garima Yojana in Odisha
20,000 core sanitation workers and their families, total 1 lakh population est.
Where the Garima scheme would be implemented in Odisha state
In around 114 urban local bodies (ULBs)
For more details, visit the official website at http://www.urbanodisha.gov.in/garima.html