Pradhan Mantri Narendra Modi has launched ingenuously developed National Common Mobility Card (NCMC) on 4 March 2019. One Nation One Card will enable people to pay multiple kinds of transport charges including metro services and toll tax across the country. PM has also launched the 1st phase of Ahmedabad metro train service here.
One Nation One Card would be an inter-operable transport card which would allow the card holders to pay for their bus travel, toll taxes, parking charges, retail shopping and can even withdraw money. After inaugurating the 6.5 km stretch of phase I of Ahmedabad Metro, connecting Vastral to Apparel Park Area, PM has also taken a ride on the metro.
This "Made In India" developed NCMC is a one-of-its-kind card and the country now no longer have to rely on foreign technology. Only a few selected countries have this technology of performing inter country operations.
One Nation One Card by PM Narendra Modi
One Nation One Card runs on RuPay Card and this would eliminate all the travel related problems of citizens. Sometimes, people does not have the change to pay in cash while making travel in metro, bus, train or for toll and parking. To overcome this issue, an automatic fare collection system was introduced. India used to import this One Nation One Card system from foreign countries. As these systems were made by different players, a card issued in 1 city does not works in another city. Thus, govt. has asked various ministries, departments and banks to resolve this issue. Now the dream of One Nation One Card has finally been realized.
National Common Mobility Card (NCMC)
People can even withdraw money using this National Common Mobility Card (NCMC). People can utilize this RuPay card to travel in metros in any part of the country. In simple terms, the central govt. has merged RuPay card with the mobility card. As per the official sources, NCMC cards are bank issued cards on debit / credit / pre-paid card product platform.
Any customer can utilize this One Nation One Card to make payments across all segments which includes metro, bus, suburban railways, toll, parking, smart city and retail shopping. This NCMC card will have stored value on card which will also support offline transactions across all travel needs with min. financial risks to all the involved stake-holders. Moreover, this card will also comprise of a service area feature which supports operator specific applications like monthly passes, season tickets etc.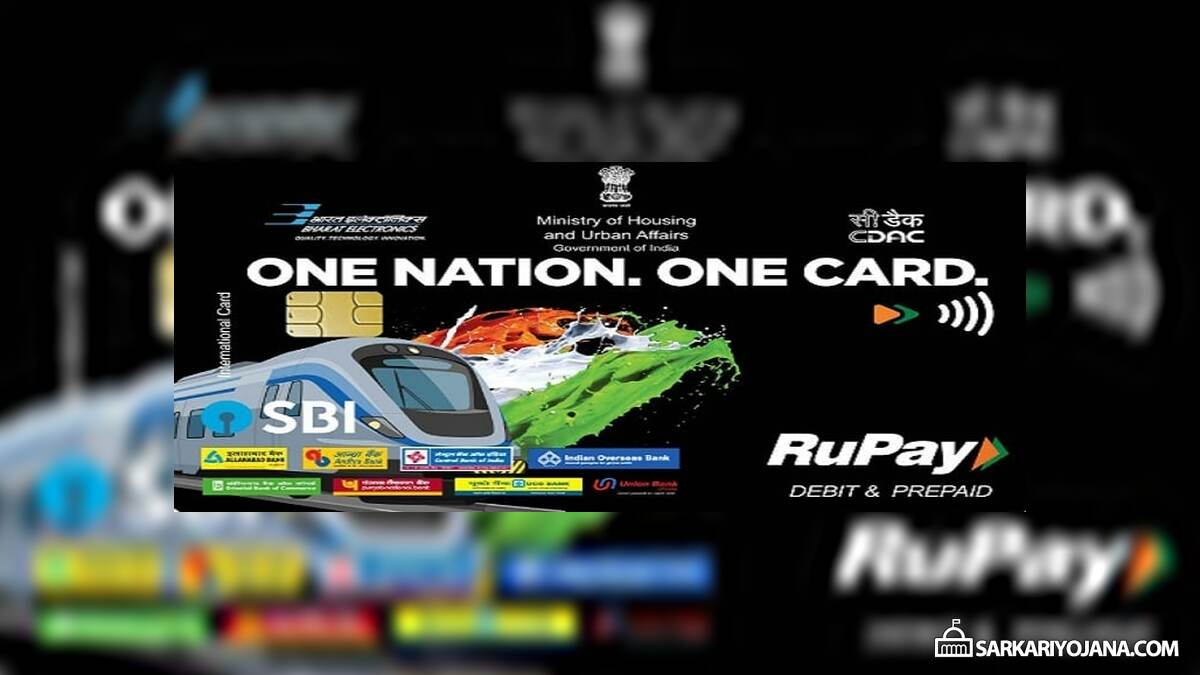 Challenges Associated with Automatic Fare Collection System (AFC)
The major challenge associated with Automatic Fare Collection (AFC) system implementation in India till date is the lack of indigenous solution provider. As of now, AFC systems which are deployed at various metro locations are from foreign players. So to avoid vendor lock-in and create an inter-operable system, govt. has developed National Common Mobility Card (NCMC) under Make in India initiative.
The central govt. aims to ensure a seamless travel across metros and other transport systems. In addition to this, govt. also wants to facilitate citizens in retail shopping and purchases.
Central Government Schemes 2020केंद्र सरकारी योजना हिन्दीPopular Schemes in Central:Narendra Modi Schemes ListPM Awas Yojana Gramin (PMAY-G)Pradhanmantri Kusum Yojana
SAVE AS PDF