PMAY Online Applications through CSC | PMAY Online Registration 2023. Pradhan Mantri Awas Yojna – Urban online applications 2023 are being invited through the official website of PMAY at pmaymis.gov.in and common service centers. PMAY applications through CSC's are being invited through the online mode as well, interested applicants either needs to visit the nearest CSC center or visit the PMAY online registration facility at official website.
If you wish to apply online for Pradhan Mantri Awas Yojana 2023 by visiting the common service center, find nearest CSC in your city. Or below is the complete procedure of PMAY online registration through CSC.
See List of All Services provided by CSC in India
PMAY Online Registration 2023 through CSC
The candidates who have already applied for PMAY through any mode need not to apply again. However, to apply online for PMAY through CSC, follow the steps below.
UPDATE: The PMAY online registration link is not working as of now, we will update the link as soon as new link is activated. However, you can visit the nearest common service center along with the required documents to apply online for PMAY.
STEP 1: Visit the official PMAY registration website of CSC at https://registration.csc.gov.in/pmay/.
STEP 2: Click on the "Apply Here" link in the website or directly click this link https://registration.csc.gov.in/pmay/RegAuth.aspx.
STEP 3: On the next page, enter your Aadhar number, select the monthly household income, check the declaration box and click "Next" button at the bottom of the page. The looks like below.
Central Government Govt Schemes 2023Popular Schemes in Central Government:महात्मा गांधी राष्ट्रीय ग्रामीण रोज़गार गारंटी योजना (MGNREGA)Pradhan Mantri Jan Arogya YojanaSECC Family Member Details
STEP 4: Upon clicking the Next button, you will be asked to select the verification method, choose one from the Iris (Eye Scan), Fingerprint or OTP. For Iris, you need eye scanner machine, for fingerprint, you need fingerprint machine, so choose OTP option and click "Proceed".
STEP 5: On the next page, check the declaration check box and click "Generate OTP" button, you will receive an OTP on your Aadhar registered mobile number, enter the OTP and click "Validate OTP" button.
STEP 6: An application form like given below will open on the next page, fill all the required details and submit the form. You will be provided an application number or assessment ID which can be used to check the status of PMAY application at later stage.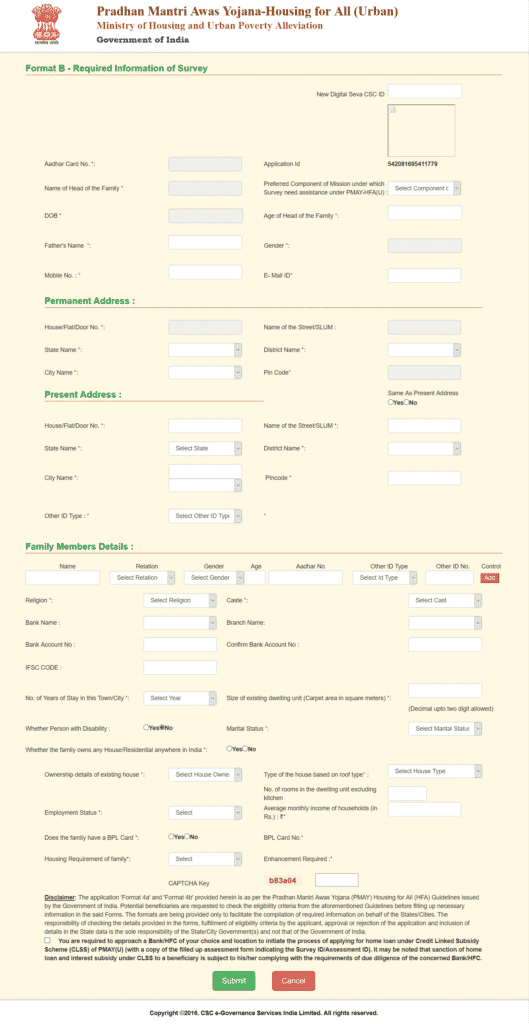 You can download the application acknowledgement receipt by entering your Aadhar number and application number at the below link.
https://registration.csc.gov.in/pmay/AckReceipt.aspx
Central government is inviting online applications for PMAY-U beneficiary selection through its official website pmaymis.gov.in and CSC's under the following 4 components.
1. Slum Redevelopment
2. Credit Linked Subsidy
3. Affordable Housing in Partnership
4. Beneficiary-led Housing
Check PMAY application Status
The status of online application of Pradhan Mantri Awas Yojana can be checked at the link below either by entering your assessment ID or by your name, father's name and ID type. Link – http://pmaymis.gov.in/Track_Application_Status.aspx
For more information about the PMAY online registration 2023, please visit your nearest Common Service Center.