PM Narendra Modi has launched a new Jaivik Kheti Portal at jaivikkheti.in to promote organic farming across the country. This portal will promote Rasayan Mukt Bharat Abhiyan and prohibits the use of chemical fertilizers for farming purpose. Jaivikkheti portal is a one stop solution for facilitating organic farmers to sell their organic produce and promoting organic farming and its benefits. This portal caters various stakeholders like local groups, individual farmers, buyers and input suppliers. Subsequently, buyers and seller can make online registration at jaivikkheti.in
Organic Farming aims to cultivate the land in order to keep soil in good condition through crop, animal, and farm waste. Accordingly, this type of farming includes use of biological materials having microbes to provide nutrients to soil. This portal is a great combination of innovation and traditional methods of farming. Here farmers can sell their agricultural produce at appropriate prices and traders can buy crops directly from farmers.
Jaivik Kheti Portal Online Registration
Buyers and Sellers can both make Jaivik Kheti Portal online registration at the specified portal. Now lets check the process for registration.
Buyer Registration at Jaivik Kheti Portal
Here is the complete procedure to make buyers online registration for Jaivik Kheti Portal:-
STEP 1: Firstly visit the official website https://www.jaivikkheti.in/
STEP 2: Subsequently on the homepage, scroll over the "Buyer" tab and then click the "Buyer Registration" button.
STEP 3: Directly click https://www.jaivikkheti.in/shop/buyer
STEP 4: Then "Jaivik Kheti Portal Buyer Registration Form" will appear as follows:-
Central Government Govt Schemes 2023Popular Schemes in Central Government:प्रधानमंत्री आवास योजना 2023Pradhan Mantri Awas YojanaPM Awas Yojana Gramin (PMAY-G)
STEP 5: Fill in all the details accurately and then click at "Submit" button to complete buyers registration process. Afterwards, make Buyers Login at Jaivik Kheti Portal using the link https://www.jaivikkheti.in/shop/buyer/login
STEP 6: Accordingly, the Jaivik Kheti Portal Buyer Login page will appear as shown below:-
STEP 7: Here candidates can enter the email ID / mobile number, password and then click at the "Sign In" button to make Buyers Login.
Seller Registration at Jaivik Kheti Portal
Here is the complete procedure to make sellers online registration for Jaivik Kheti Portal:-
Here farmers can register as either individual farmer or local group or aggregator / processor by clicking at their subsequent links.
Upon clicking the "Register as Individual Farmer" link, the Jaivik Kheti Portal Farmer Registration Form will appear as shown below:-
Upon clicking the "Register as Local Group" link, the Jaivik Kheti Portal Seller Local Group Registration Form will appear as shown below:-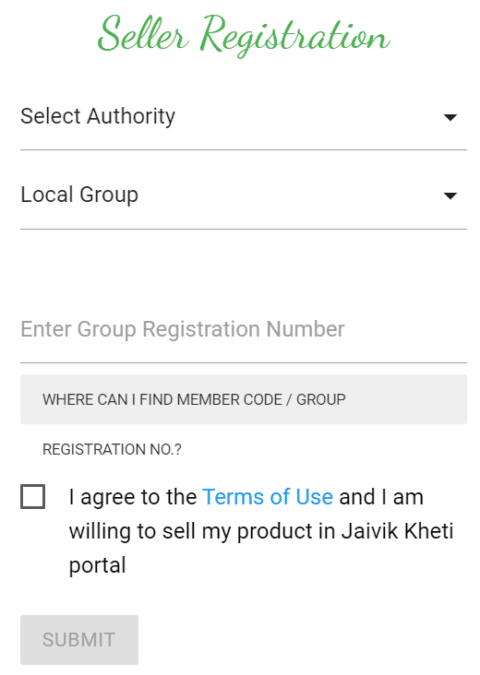 Sellers can even register as aggregator / processor link to make Jaivik Kheti Portal Registration as Aggregator.
After successful registration, candidates can make Jaivik Kheti Portal Seller Login using the link – https://www.jaivikkheti.in/shop/login/sellerlogin
About Jaivik Kheti – Rasayan Mukt Bharat Portal
Jaivikkheti portal is a unique initiative of Ministry of Agriculture (MoA), Department of Agriculture (DAC) along with MSTC to promote organic farming globally. It is a one stop solution for facilitating organic farmers to sell their organic produce and promoting organic farming and its benefits.
Jaivikkheti portal is an E-commerce as well as a knowledge platform. Knowledge repository section of the portal includes case studies, videos, and best farming practices, success stories and other material related to organic farming to facilitate and promote organic farming. . E-commerce section of the portal provides the whole bouquet of organic products ranging from grains, pulses, fruits and vegetables.
Buyers can now avail organic products at their door step through the portal at much lower prices. Organic farmers toil day and night to produce these best organic products and made them available for consumers via farm gate as well as door step delivery at very low prices as compared to market. This portal links various stakeholders like regional councils, local groups, individual farmers, buyers, government agencies and input suppliers for the all-inclusive development and promotion of organic farming.
Through this portal we provide various price discovery mechanisms to help farmers get the best prices for their products through forward auction, price-quantity bidding, book building and reverse auction mechanisms.
Facilities at Jaivik Kheti Portal
Buyer Registration – A potential buyer can choose products without login, however when they are ready to purchase a product, they must register or login in the portal.
Seller Registration – An individual farmer can register himself/herself in the portal. After registration the farmer can upload his/her product in the e-Bazaar by filling up product details, delivery mode and payment information.
Local Group Registration – A farmer group can register the total group. The group leader should register in the portal using Group Registration number. After registration, the group leader can upload products for himself or on behalf of other farmers in the group.
Input Supplier Registration – Input Supplier Registration
Bidding – Other than regular purchase from e-Bazaar, buyers can also purchase products by bidding on the products made available by the sellers. We facilitate bidding process by three methods: Book Building, Price-Quantity and Reverse Auction.
Buyer Guide – We have a variety of factors when choosing featured shopping results, including information about the item (such as category, price,delivery mode, state ,district and certifiction), availability, costs and whether we think the item will be of interest.
Converting Chemical Farming to Organic Farming – 10 Points
Farmers must follow the following 10 steps to transform their farming process to organic farming:-
Use of Pesticides, fertilizers and weedicides needs to get eliminated.
Subsequently, farmers must also stop using chemically treated seeds as well as GMO products.
In addition to this, farmers must adopt either Multiple cropping system or Inter cropping or Crop rotation or Agri + Horti + forestry system or Trap Crops.
Farmers must prepare their own compost using organic manures such as cow dung etc. For this farmers will have to perform seed treatment like Beejamrutham and Waste decomposer. In addition for soil nutrition, farmers can prefer panchgayva, jeevamrutham, biofertilizer, biopesticide and biological inputs. For growth of plants, farmers can use AmrithPani, MatkhaKahd and waste decomposer. Finally for plant protection, farmers can use Neemastra, Bramshtra and Dashparni Extract.
Moreover, natural resources like compost, mulching, green manuring, house hold waste should be recycled.
Adoption of Animal Husbandry (Desi Cattle), fisheries, poultry, goats and birds without use of antibiotics,
hormones and injections.
Farmers must begin using their own seeds and chemically untreated seeds.
Har Med Per Peadh – Farmers must use different kind of nitrogen harvesting plants which will assure natural predator, compost source, winds barrier and buffer zones.
Accordingly, govt. must focus on stop burning of crop wastage and start in-situ composting.
Finally, farmers must do PGS-India Certification absolutely free.
After adopting all the above mentioned steps, farmers will turn into an organic farmer. Green Revolution is essential for sustainability of life and property.
Helpline Number
Helpdesk — 033 23400020/21/22
E-mail ID — [email protected]
e-Bazaar — https://www.jaivikkheti.in/shop
File a Grievance – https://www.jaivikkheti.in/grievance
Contact or Feedback — https://www.jaivikkheti.in/contactus