New Bharat Gas Connection online registration / application form 2020 available at my.ebharatgas.com. Bharat Petroleum Corporation Limited (BPCL) is now allowing people to apply for an LPG gas connection online while sitting at their home. In this article, we will describe the how to apply online process for Bharatgas new LPG connection. Once applicant gets a new gas connection, then he / she can simply place booking of cylinders every month through call or SMS from registered mobile numbers. Central govt. revises LPG gas cylinder prices on 1st of every month and 12 cylinders in one year attract subsidy.
Amid Coronavirus (COVID-19) lockdown, Bharatgas online new connection registration system has been started. This would enable people to apply for new Bharat Gas connection through online mode which was just limited to offline mode before. Liquefied Petroleum Gas (LPG) is used as a cooking fuel connection and is the clean source to cook meals and food in the Indian homes.
LPG has a number of providers which supplies the product in the Indian market and BPCL (Bharat Gas) is one of them. People can now complete all formalities online at their convenience and there is no need to visit any nearby distributor.
New Bharat Gas Connection Apply Online at My Ebharatgas Portal
All the applicants can keep a scanned copy of Photograph, Proof of Identity (POI) and Proof of Address (POA) ready before filling New Bharat Gas Connection apply online form.
Bharat Gas New Connection Online Application / Registration Form 2020
Below is the complete procedure to fill Bharat Gas New Connection online application / registration form:-
Step 3: In the new window, go to the "Find Your Nearest Bharatgas Distributors" section and then enter the "State" and "District" name and click at the "Show List" button.
Step 4: Accordingly, the list of nearest Bharatgas distributors will open comprising of the name of the distributor, location, contact, address as given here.
Step 5: Upon selecting the nearest LPG gas distributor and clicking at the "Continue" tab, the Know Your Customer (KYC) form will appear as shown below:-
Step 6: Here applicants can enter their personal details, address for LPG connection / contact information, other relevant details, details related to cash transfer, document submission etc.
Step 7: Finally applicants can tick declaration, enter captcha, validate OTP sent on SMS and on E-Mail ID and click at the "Submit" button to complete the New Bharat Gas Connection online application form filling process.
Once registration process at my.ebharatgas.com portal is cleared for release of LPG connection, you can choose to pay online and complete the process. Moreover, if applicants does not have scanned copies of documents, people can still apply online and submit photograph and copies of POI and POA to the distributor, along with the printed copy of your online application.
Central Government Schemes 2020-2021केंद्र सरकारी योजना हिन्दीPopular Schemes in Central:Narendra Modi Schemes ListNREGA Job Card Listसरकारी योजनाओं की सूची हिंदी में
Offline Process to Apply for Bharat Gas New Connection
In order to apply for a new gas connection through offline mode, please follow the below mentioned steps:-
Visit your nearest Bharat Gas dealer or office and collect an application form.
Submit the filled in Bharatgas registration form along with the required documents to the dealer or office.
Applicants will receive a call confirming your request and your application will be processed within 4 to 5 working days.
List of Documents Required to Apply Online for Bharat Gas New Connection
Here is the complete list of documents necessary to fill Bharat Gas New Connection online application form:-
| | |
| --- | --- |
| Recent Photograph | Scanned Copy of photograph in JPG or PDF format (file size<500 KB) |
| Proof of Identity (PoI) | Any one of the following – Aadhaar (UID), Passport, PAN Card Number, Voter ID, ID issued by state / central government, Driving License |
| Proof of Address (PoA) | Any one of the following – Aadhaar (UID), Driving License, Lease Agreement, Voter ID, Telephone / Electricity / Water Bill, Passport, Self Declaration attested by Gazetted officer, Ration Card, Flat Allotment / Possession Letter, House Registration Document, LIC Policy, Bank / Credit Card Statement |
List of Documents to Apply for Bharat Gas New Connection
KYC Documents – Valid Photo ID that you will mention in the registration form. Ration Card or valid residence proof that you will mention in the registration form.
Bharat Gas Booking Online Procedure
On submitting the required forms and after completing the Bharat Gas Connection online registration form filling process, people can start booking for Bharat Gas Connection. You can do so either online or offline. For online booking, applicants can place their booking order online by signing in to your Bharat Gas account and select the "booking" option. People will have to enter the asked details accurately such as delivery date and time and submit the form. Afterwards, a notification would be sent to confirm your booking. It is important to note that Bharat Gas will accept a booking only 21 days after a previous booking was made.
Bharat Gas Booking Offline Procedure
You can also choose to book offline. When making an offline booking, you can do so using any of the below options:
Bharat Gas Booking Through SMS
In case a Bharat Gas beneficiary lives in a metro city or a state capital, booking can be easily done via SMS. People will have to register their mobile number with your local Bharat Gas LPG distributor. After successful registration, beneficiary can book a cylinder by sending "LPG" message to 57333. Those using Tata, Vodafone, MTNL and Idea as their service providers can send the same SMS to 52725. After sometime, confirmation SMS along with a booking reference number will be received at the registered mobile number. Once your cylinder is delivered, you will receive an SMS confirming the delivery.
Bharat Gas Booking Through IVRS
You can book a cylinder through the 24 X 7 IVRS facility which is now available across the country. For this purpose, one will have to register their landline or mobile number with your local Bharat Gas distributor. You can then call on your state's IVRS number and follow the instructions to book your cylinder. If you have registered your mobile number, you will receive a confirmation SMS.
Bharat Gas Booking Through Mobile App (for Android and iPhone)
Smart-phone users can download the "Bharat Gas" mobile app from Play Store or from the official website. To activate the booking service you will have to provide your mobile number, the distributor code and your consumer number, both of which are available on the Transparency Portal (accessible through the official website). Submit the information, after which you will receive an activation code. You will have to provide a security code, which has to be entered whenever you use the app.
Bharat Gas LPG Subsidy Registration With Aadhaar Card
People can now avail benefits of any of the LPG gas subsidy schemes on the basis of the eligibility criteria. Now registration of Bharat Gas LPG Subsidy can even be availed through aadhaar card. For this purpose, people can link their Aadhaar card to bank account and receive the subsidy directly into your bank account through DBT mode. In order to register for the subsidy, beneficiary will have to provide details such as Aadhar card details, bank details such as bank name, IFSC/MICR Code, account number and your name.
Registering for LPG Subsidy Without Aadhaar Card
If the applicant does not possess any aadhaar card, then he / she can submit their bank account details to their local Bharat Gas distributor. The distributor will then issue an acknowledgement slip for the same. Applicants will have to provide the subsidy form called "PAHAL", which can be collected from the distributor or downloaded online from the official website.
Frequently Asked Questions (FAQ's)
Here are some of the most frequently asked questions (FAQ's) about Bharat Gas:-
How can I Download Bharat Gas Connection Application Form Online
Firstly visit the official website at ebharatgas.com, then click at "My LPG" tab in main menu, then click at "New User" in front of Pahal logo on top right corner, finally new users can download Bharat gas connection application form
Which Documents are Required to fill the New Bharat Gas Connection Apply Form
Recent passport size photograph, Proof of Identity (PoI), Proof of Address (PoA) are the documents required to apply online for new Bharatgas connection.
What is the toll free number of Bharatgas
The toll free number is 1800 22 4344.
Can we Book Bharatgas with SMS / IVRS
Yes you can easily book Bharatgas with SMS or IVRS.
What are the various products of Bharat Gas
Bharat Gas Industrial LPG, Bharat Gas Piped LPG, Bharat Gas Auto LPG, Bharat Metal Cutting Gas
For more details, click the link – https://my.ebharatgas.com/LPGServices/ApplyNewConnection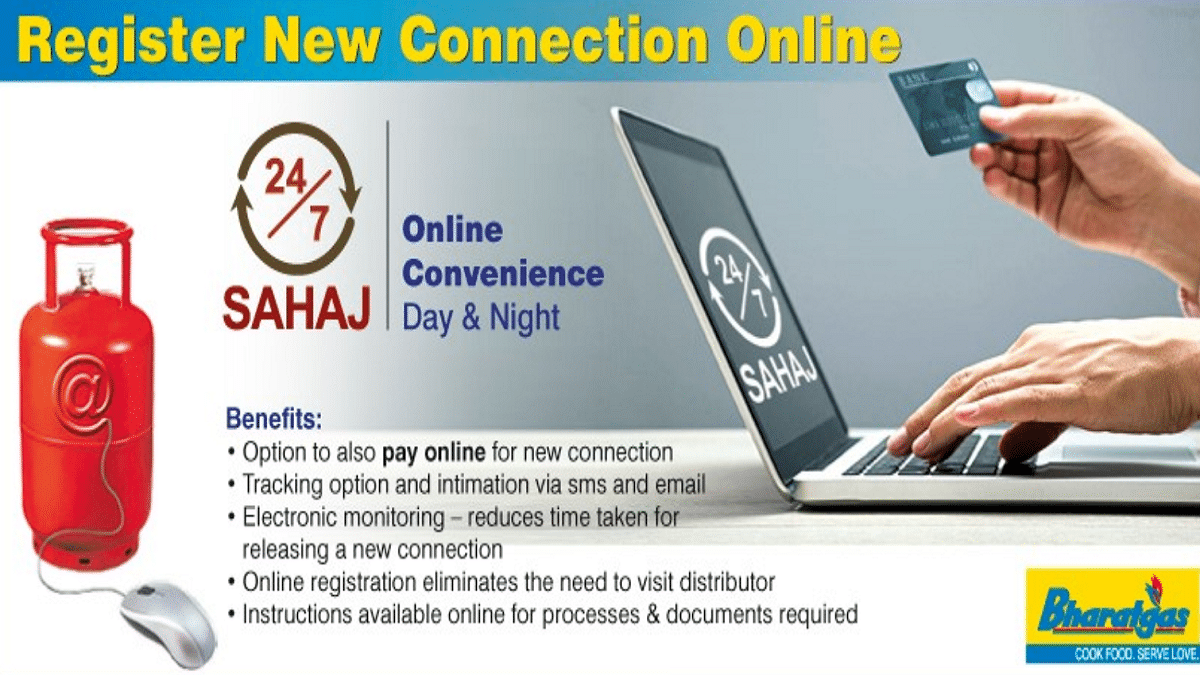 SAVE AS PDF