Haj online form 2023 | Hajj 2023 application form India | How to apply for Hajj 2023 | Documents required for Hajj application | Hajj form 2023 date | Haj Online Application Form 2023
Haj Committee of India is inviting Haj online application form 2023 for visit in Mecca Madina of Saudi Arabia at hajcommittee.gov.in. Hajj online form 2023 are available at the official website from 10 February 2023 (start date) and will end on 10 March 2023 (last date). This time the annual Haj pilgrimage to the holy city of Mecca will be completely free of subsidy as PM Narendra Modi has scrapped the Hajj subsidy earlier.
Hajj is a holy place for all the Muslims and Islamic followers and people can now check complete process on how to apply for hajj 2023. The preparations for Haj (2023) has been started immediately after completion of previous year's Haj process (2022). Interested candidates can apply in either online or offline mode and make registration for Hajj Yatra 2023 before 10 March 2023.
Haj Online Application Form 2023 India
Below is the complete procedure to make registration and fill Haj online application form 2023:-
STEP 1: Firstly visit the official website https://hajcommittee.gov.in/
STEP 2: At the homepage, scroll over the "Haj 2023" tab present in the header and then click at the "Online Application Form" link as shown in the figure:-
STEP 3: Direct Link – Candidates can directly click at https://hajcommittee.gov.in/haf23/ to apply online for Hajj 2023.
STEP 4: In the new window, the Haj Yatra application login page will appear as follows:-
Central Government Govt Schemes 2023Popular Schemes in Central Government:NREGA Job Card Listमहात्मा गांधी राष्ट्रीय ग्रामीण रोज़गार गारंटी योजना (MGNREGA)Pradhan Mantri Jan Arogya Yojana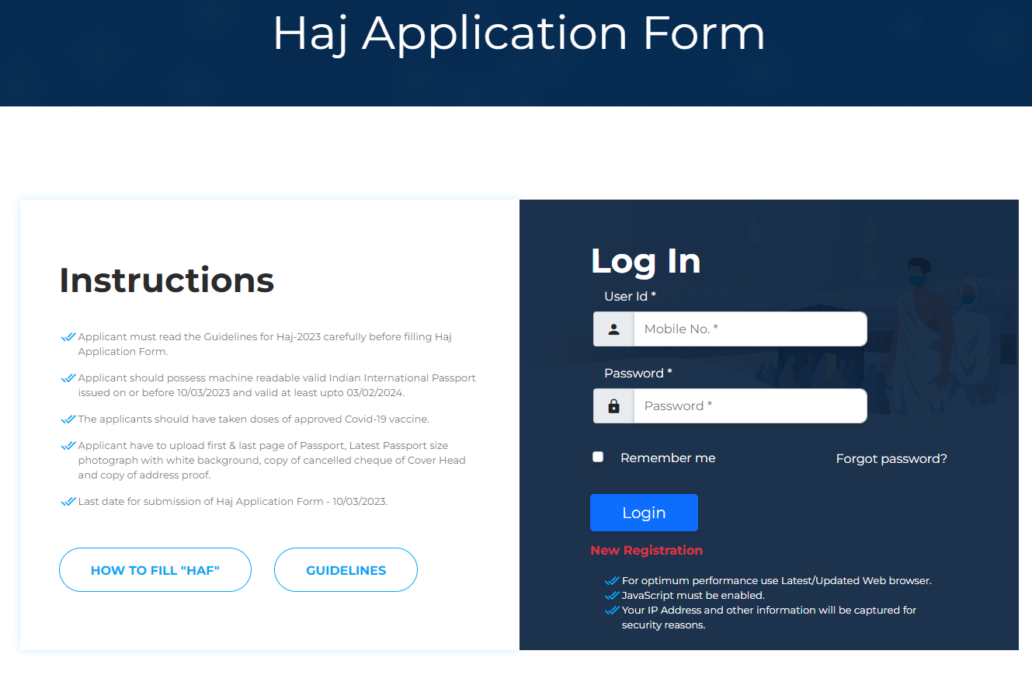 STEP 5: Existing users can enter mobile number as User ID, then enter password and then click "Login" button while new users will have to make registration first.
STEP 6: To make Haj 2023 registration online, click at "New Registration" link to open Haj 2023 online application form.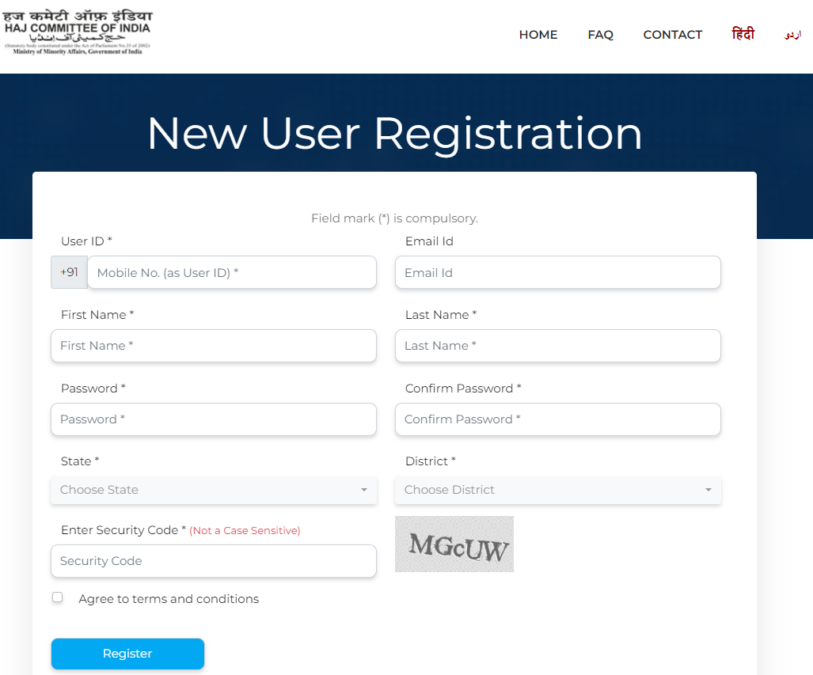 STEP 7: Here all the pilgrims needs to enter their complete details including name, e-mail ID, district, state, mobile number and then have to click at the "Register" button to complete the registration process.
STEP 8: Afterwards, candidates can "Login" using the mobile number and password to complete the apply online process for Haj 2023.
In case the candidates finds it difficult to understand the application process, then see How to Fill for Haj Application Form 2023 to complete the application process. Applicants are also requested to have a valid Indian International Passport issued on or before last date of receiving Haj Application Forms (HAF) and valid before last date. All intending pilgrims should possess machine readable valid Indian International Passport issued before the application dates so as to avoid last minute rush.
Hajj Form 2023 Date & Schedule
The complete action plan for Hajj 2023 is released and duly approved by the Ministry of minority affairs. The start date for Hajj Form 2023 is 10 February 2023 while last date to apply online is 10 March 2023. All the ministries involved will work in a time bound manner to provide better services to Haj pilgrims and make Haj 2023 a huge success. Read New Haj Policy 2023 – https://hajcommittee.gov.in/wp-content/uploads/files/others/2023/haj_policy_2023.pdf. You can download Hajj Policy PDF which looks similar to this.
For any difficulty, candidates can contact at Haj Information Center at 022-22107070 (100 lines).
Hajj 2023 Announcement by Haj Committee of India
Union Minister of Minority Affairs has made announcement regarding Haj 2023. The announcement can be seen in either english or hindi or urdu format through the link – Haj 2023 Announcement which will appear as shown below:-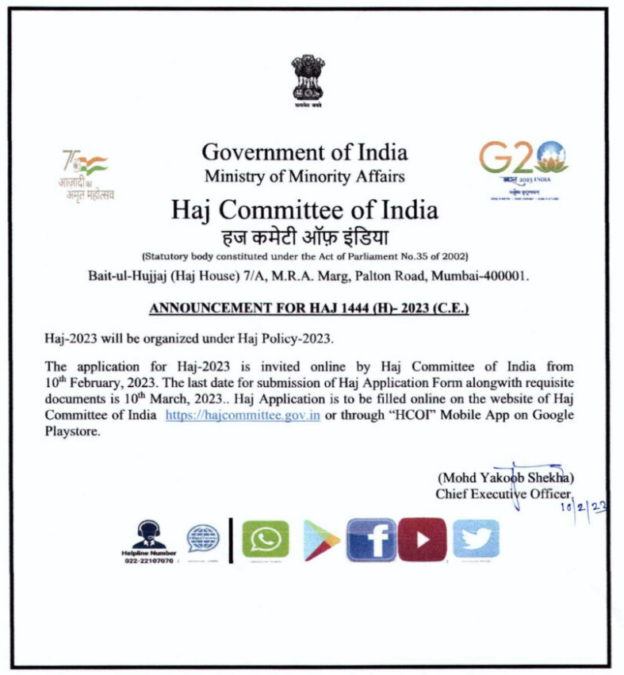 ****Last Date to Apply Online for Hajj 2023 is 10 March 2023.****
Haj Yatra 2023 Guidelines
All the candidates can see the guidelines, circulars for Haj 2023 through the links below:-
— Hajj 2023 Guidelines – https://hajcommittee.gov.in/guidelines/
— For more details, visit the official website http://hajcommittee.gov.in/