Ganga Quest online registration form 2021 are being invited at gangaquest.com. It is a national level online quiz on Ganga, rivers, and environment. Ganga Quest was first conceptualized in 2019 as an educational program to sensitize children and youth towards River Ganga to strengthen the Namami Gange program of Ministry of Jal Shakti, Central Government. From 36000+ participants in 2019 to 1 million + participants in 2020, the enthusiasm for Ganga Quest has increased multi-fold in just 1 years' time. In this article, we will describe the complete process of how to apply online for Ganga quiz competition.
Ganga Quest – National Level Quiz Competition
Ganga Quest is a competitive knowledge-building platform, an awareness initiative and scientific baseline determination exercise to assess the knowledge gaps and attitude orientation about Ganga and Rivers. Ganga Quest is an international bilingual (Hindi and English) online quiz on Ganga being organized by National Mission for Clean Ganga (NMCG), an authority under Government of India which implements "Namami Gange" programme and TREE Craze Foundation (TCF), a not for profit organization committed to Ganga, Rivers, and Environment.
Apart from engaging and creating awareness and knowledge among participants, Ganga Quest initiative aims at analyzing and evaluating the nature of participation and status of awareness among the participants. The targeted objectives are; Knowledge Building, Awareness Creation, Attitude Orientation, Knowledge Gap Assessment, and Baseline Determination. Its ultimate aim is to increase the public participation for 'Namami Gange' programme and to enhance ownership of children and youth for rivers and Ganga. Anyone above 10 years of age can participate in the quiz.
Ganga Quest Quiz Competition Online Registration / Login
STEP 1: Firstly visit the official website at https://gangaquest.com/
STEP 2: At the homepage, click at the "Register Now" tab to apply online for Ganga Quest Quiz Competition as shown below:-
STEP 3: Accordingly, the page to make Ganga Quest Registration as Individual and Group will appear as shown below:-
STEP 4: Afterwards, the Ganga Quest online registration form 2021 will appear as shown below:-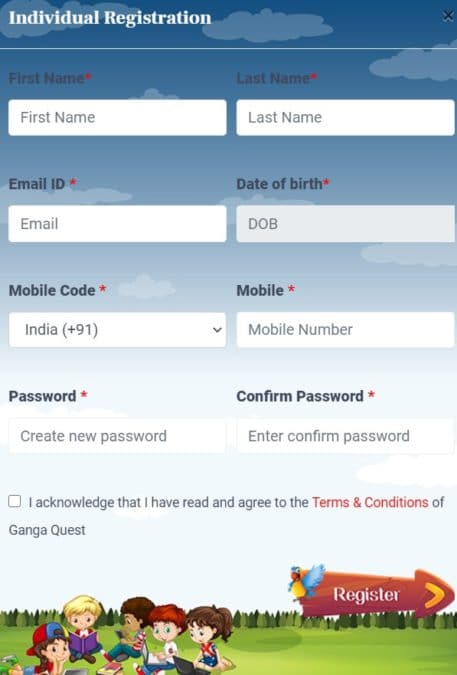 STEP 5: Here applicants can enter their name, e-mail ID, date of birth, mobile code, mobile number, password and then click at "Register" button.
Central Government Schemes 2021केंद्र सरकारी योजना हिन्दीPopular Schemes in Central:प्रधानमंत्री आवास योजना 2021PM Awas Yojana Gramin (PMAY-G)Pradhan Mantri Awas Yojana
STEP 6: Applicants can make login at the homepage to make Ganga Quest Quiz Competition Login:-
STEP 7: Here candidates can enter the registration number, password and then click at "Login" button to make Ganga Quest Login.
Alternate Link for Registration – https://www.gangaquest.com/index.php?/registeration
Exclusive Partners for Ganga Quest
Central Board of Secondary Education
Wildlife Institute of India
The World Bank
Kendriya Vidyalaya Sangathan
Jawahar Navodaya Vidyalaya Samiti
Mission of Ganga Quest Competition
Ganga river is the national river of India because of its deep and rich cultural, historical, and religious heritage. Despite that, people have turned their back to the river Ganga and people-river connect has worsened with deteriorating condition of the river. Ganga Quest aims to improve the connect of children and youth to our national river through enhancing awareness and knowledge.
Ganga Quest Important Dates
Here are the ganga quest important dates which must be kept in mind while applying online:-
| | |
| --- | --- |
| Launch of Registration | 22 March 2021 (World Water Day) |
| Quiz Launch | 7 April 2021 (World Health Day) |
| Completion of Quiz | 8 May 2021 (World Migratory Birds Day) |
| Live Quiz | 5 June 2021 (World Environment Day) |
| Winners Prize Distribution | 20 June 2021 (Ganga Dusshera) |
Ganga Quest Dates
Rules for Ganga Quest Quiz Competition 2021
Anyone of age 10 years or above is eligible to participate in Ganga Quest.
Ganga Quest 2021 is a global quiz and therefore open to everyone irrespective of their nationality.
Participants willing to participate in Ganga Quest should register in the website with a valid ID, such as students admission no. or school id for school students or Aadhar Card for school passouts. However, if Aadhar Card is not available, participant can enter any other valid ID details.
Valid ID includes passport, birth certificate, and school ID.
Mass registration is available for schools/universities/institutions/organisations.
Students from school should mention the correct details of their schools. If the details of the schools are found incorrect, then they may get disqualified as the verification process will not be complete.
Since the quiz is online, participants must ensure accessibility to computer and Internet connectivity with a minimum speed of 512 Kbps.
Anyone who has graduated from school must take care in providing correct personal details to ensure validation.
Name of top 3 scorers in four categories will be published on TREE Craze Foundation and NMCG website after verification of details.
In case of entering any incorrect detail and multiple registrations, the participant runs into the risk of disqualification and hence should be avoided.
Only one prize can be claimed per individual. In case of the same person winning more than one prizes, he would be awarded with the prize with higher value.
Keeping in mind the current COVID scenario, a virtual prize distribution ceremony shall be organised. No travel allowance shall be reimbursed for claiming the prizes.
At any point, if you face any issues, then please send the feedback through the feedback form on website or send us an email at [email protected]
Awards under Ganga Quest Quiz Competition
Overall Top 3 Winners in Each Grade After Live Quiz – Certificate of Merit & Exciting Prize
Top 3 Winners in Each Grade Per Week – Certificate of Merit & Exciting Prize
Top 3 Winners in Each Theme Per Week – Certificate of Merit & Exciting Prize
Top 25 Winners in Each Grade Per Week – Excluding Top 3 Winners
First 100 Participating – Certificate of Merit & Exciting Prize
First 50 Participating Each Week – Certificate of Merit & Exciting Prize
School With Maximum Participation – Special Recognition
Rounds under Ganga Quest National Level Quiz Competition
Round I – It is the qualifying round. There is no right or wrong answer in this round. We just want to capture what you perceive about our rivers. Only when you have attempted all 10 answers, you can attempt Round II. In this round, I want you to give your honest opinions and not get influenced by opinions of your friends, parents, teachers, etc.
Round II – You can move to the next round only when you have attempted all 10 questions correctly. The good news is that you can attempt it as many number of times as you want. Once you submit an unanswered question or an answer, I will tell you the correct answer and will also tell some interesting facts related to the question. It is a wonderful round where you will enhance your knowledge and expand your thoughts.
Round III – It is the last online round to select the candidates for the final live quiz. Before you start attempting this round, please make sure you are sitting at a comfortable and quiet place with a computer or laptop connected to a charger. If you are using a computer, please make sure that you are protected from power-cuts. In case you are using a laptop, make sure it is charged. You only get to attempt it once, and accuracy along with time taken to answer decides the winner.
A live quiz will be conducted for each grade between the top 3 theme-wise weekly winners of round III. The winners of live quiz will be declared as the overall winners of Ganga Quest 2021.
Themes under Ganga Quest Quiz Competition
To start with, you need to select one of the following four themes:-
Historical and Cultural & Socio-economic Significance of Ganga
Physical geography & Famous places and personalities
Current Affairs & Governance
Flora and Fauna & Pollution/water treatment technology
Questions will be asked only from the theme chosen. Any attempt to use Google or other search engines to answer the question will increase the time taken and hence would reduce your chances to be a winner. At the end of the quiz, your performance will be displayed on the screen along with the average time taken by other participants.
Helpline Number for Ganga Quest Competition
Contact Number: +91 882 627 6004
Send us a Message: [email protected]
Visit our Location: C-98, Sector-10, Noida – 201301
Rules to Apply – https://gangaquest.com/rules
For more information of Ganga Quest, visit the official website at https://www.gangaquest.com/