उत्तर प्रदेश मजदूर भत्ता योजना फॉर्म | UP Shramik Bharan Poshan Yojana 2023 | Majdur Bhatta Yojana Online Apply | | Dihadi Majdur Bhatta Yojana in Hindi | योगी मजदूर योजना | यूपी भरण पोषण योजना: Uttar Pradesh government on 3 January 2022 transferred Rs. 1,000 maintenance allowance in the bank accounts of 1.50 crore migrant and unorganised workers. In the first phase, a total amount of Rs. 1500 crore has been transferred while the remaining workers will get their allowance after necessary formalities are done, as per a press release issued by the state government. Applicants can apply online at upbocw.in or e-shram portal at eshram.gov.in.
Ealier on 9 June 2021 transferred online a sum of Rs. 230 crore to 23 lakh (2.3 million) labourers/workers as sustenance allowance under a relief scheme amid the Covid-19 pandemic. The Uttar Pradesh Bhawan Evam Anya Sannirman Karmkar Kalyan Board is running the scheme. CM also launched a portal for registration of labourers of unorganised sector.
UP Shramik Bharan Poshan Yojana 2023 Latest Update
Speaking at a programme organised to transfer the maintenance allowance through Direct Benefit Transfer (DBT) in the bank accounts of 1.50 crore migrant labourers and construction workers, at Lok Bhawan here, Yogi said that Bharatiya Janata Party (BJP) government was working for the welfare of migrant workers in Uttar Pradesh. During the Covid pandemic, the state government gave allowances to these migrant workers employed in the organised and the unorganised sectors and it has given a new direction to the public welfare schemes, CM Yogi Adityanath said.
The CM said, "3.81 crore migrant workers have been linked to this scheme. Out of which, the accounts of 1.50 crore workers have been checked and the money is being deposited in their accounts in the first phase. Within the next four months, the maintenance allowance will be transferred in the accounts of the remaining workers. The government has also decided to include sanitation workers in the scheme under the 'Life and livelihood policy' in view of the Covid pandemic."
Uttar Pradesh govt. is coming with several relief measures and as a part of this, Yogi Adityanath starts UP Shramik Bharan Poshan Yojana or Dihadi Majdur Bhatta Yojana. The state govt. invites UP Yogi Dihadi Majdur Bhatta Yojana Online Application Form 2023 at upbocw.in.
UP Dihadi Majdur Bhatta Yojana Amount
The state govt. has released Rs. 1,000 as UP Dihadi Majdoor Bharan Poshan Bhatta Yojna Amount. Labourers/workers stood with the state government with full commitment in fight against Covid-19. The state government is consistently working in the interest of farmers, labourers/workers and the youths.
Prime Minister Narendra Modi had even extended "PM Garib Kalyan Anna Yojana" for labourers/workers till March 2022. The state govt. constituted Uttar Pradesh Kamgar Aur Shramik (Sevayojan Evam Rozgar) Ayog for the welfare of unorganized sector workers. The commission is working to protect the interests of labourers and provide them jobs. He said state government's model of working in the interest of labourers is lauded at every level.
Several relief measures have been started including shelter homes to poor and labour class people. The state govt. of UP has also ensured adequate supply of ration and food items to workers. In addition to this, Rs. 1,000 assistance has also been sent to bank accounts of registered labourers. But the problem is arising as most of the shramik are not registered under govt. schemes. Now all those left out poor people or daily wage laborers who are still not registered can now apply by filling Yogi Majdur Bhatta online / offline application form. Such newly enrolled beneficiaries will then get the benefits of future UP government schemes.
Uttar Pradesh Govt Schemes 2023Popular Schemes in Uttar Pradesh:UP Ration Card ListUP Shadi Anudan YojanaYogi Adityanath Schemes 2023 List – Complete List of Sarkari Yojana of Uttar Pradesh Government
UP Dihadi Majdoor Bharan Poshan Bhatta Yojana 2023 Apply
The state govt. has started inviting UP Yogi Majdur Bhatta Yojana Application Form 2023 for daily wage labourers. This scheme will ensure that the workers gets adequate assistance from the Uttar Pradesh government. UP chief minister said that before 2017, the workers were victims of exploitation. "They did not get the benefit of government schemes. During the rainy days, they had to go hungry as there was no cooking gas. If a labourer fell sick, the family was in crisis, there was no facility for treatment. The Modi government mantra of "sabka ka saath, sabka vikas", has paved way for health insurance, housing, electricity, and toilets for each poor family," CM Said. The direct link to apply online for Shramik Bharan Poshan Yojana is https://eshram.gov.in/home or https://register.eshram.gov.in/#/user/self. Read complete process of e-shram card registration – Click Here
The BJP government is setting up Atal residential schools in all commissionerates of the state to provide state-of-the-art education to the children of labourers who are migrating from one district to another. "Along with the skill development of carpenters, cobblers, confectioners and masons, the state government is also providing them honorarium and loans. Uttar Pradesh was the first state, during the pandemic, that provided the social security of Rs. 2 lakh and medical insurance of Rs. 5 lakh to every worker in association with Bharatiya Mazdoor Sangh." CM said.
Yogi Majdur Bhatta Yojana Online Registration Form
To assist daily wage labourers, govt. has started various schemes for their welfare and one of the schemes is named as Majdoor Grant Scheme. All the persons who made registration had received Rs. 1,000 in their bank accounts through DBT mode. Below is the complete process to fill UP Yogi Majdur Bhatta online registration form 2023:-
STEP 1: Firstly visit the official website at https://www.upbocw.in/english/index.aspx
STEP 2: At the homepage, scroll over the "Worker" tab present in the main menu and then click at the "Labour Registration / Correction" tab as shown here:-
STEP 3: Then the UP Labour Registration online application form will appear as shown below:-
STEP 4: All the interested applicants can enter their aadhar card number, mandal, district, mobile number and click at the "Aavedan / Sanshodhan Karein" button to complete the registration process with Uttar Pradesh labour department.
It is important to note that all the labourers registered with the UP Labour department would be eligible for the UP Dihadi Majdoor Bharan Poshan Bhatta Yojana.
UP Dihadi Majdur Bharan Poshan Bhatta Yojana Offline Application Form
The daily wage earners can even apply for Yogi Dihadi Majdur Bharan Poshan Bhatta Yojana through offline mode, the process is mentioned here:-
Daily wage workers are required to go to either municipal council or municipal corporation or civic bodies or gram panchayat for offline avedan.
The offline application form for daily wage labourers for Yogi Majdur Bhatta Yojana will appear as shown below:-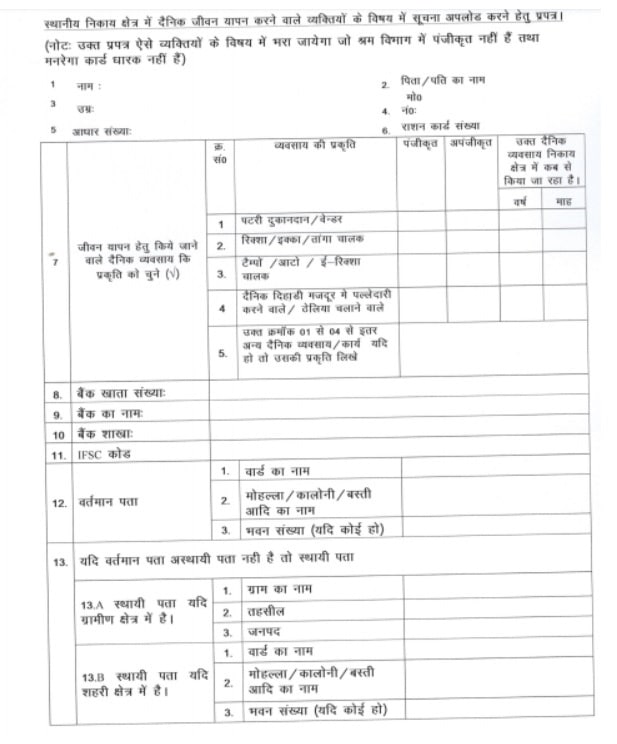 Only those labourers whose name is not registered at the UP Labour dept. portal or applicants name is not present in MGNREGA Workers List can only apply.
पटरी दुकानदार/ वेंडर, रिक्शा/ तांगा चालक, टेम्पो/ ऑटो/ ई रिक्शा चालक, दैनिक दिहाड़ी मजदूर/ मंडियो मे पल्लेदारी करने वाले / ठेलिया चलाने वाले, अन्य दैनिक कार्य करने वाले व्यक्ति can apply offline or online.
In municipal council, nominated nodal officer and in municipal corporation or civic bodies, executive officers will make registration of labourers. The collector has been given the responsibility to nominate nodal officer.
UP Shramik Bharan Poshan Yojana Eligibility Criteria / Documents List
In case you are a daily wage earner, then you must possess some documents for Yogi Majdur Yojana registration to avail scheme benefits:-
Laborer must be a permanent resident of Uttar Pradesh.
Labourers must have registration certificate from UP labour department, municipal council / corporation or gram sabha.
If the applicant worker is registered in any of the above mentioned departments, then assistance amount would be transferred directly into their bank accounts. Kiln workers can make online registration at the official website www.upbocw.in
Benefits of Yogi Majdur Bhatta Yojana
इस योजना के तहत गरीब दिहाड़ी मजदूर और निर्माण श्रमिक (रिक्शा वाले, खोमचे वाले, रेहड़ी वाले, फेरी वाले, निर्माण कार्य करने वाले) को यूपी सरकार द्वारा 1000 रुपये मदद दी जा रही है.
The UP CM Yogi Adityanath has decided to give Rs. 1,000 to daily wage labourers, rickshaw pullers etc. who are registered with labour department. More than 1.5 crore people who are dependent on daily income for their livelihood would be given this monetary relief. The money distribution exercise under UP Shramik Bharan Poshan Yojana will be carried with the help of labour department.
Source / Reference Link: https://www.hindustantimes.com/cities/lucknow-news/uttar-pradesh-yogi-transfers-1000-each-in-bank-accounts-of-1-50-cr-unorganised-workers-101641237993106.html