Delhi Government is inviting online registrations/application for the admission in Nursery / KG / Class 1 in Sarvodaya Schools through its portal edudel.nic.in. The registrations are open between 11 April 2022 till 25 April 2022. Interested candidates can register themselves for online applications for  Nursery / KG / Class 1 for 2022-2023 academic year. Admission process has been started from 5 May 2022 and will end on 13 May 2022. If any seat is left vacant, children placed in waiting list will be admitted from 17 May to 19 May 2022 in order of their names in waiting list.
Latest Update – Delhi Nursery School Admission Online Application Form
Apply Online for Admission in 6th and 9th Standard
edudel.nic.in – Apply Online for Nursery / KG / 1st Admissions
The interested applicants can register themselves for the online applications at the official website of Directorate of Education at edudel.nic.in. Below is the step by step procedure to apply online for nursery admission in Delhi government schools.
Delhi Sarvodaya Vidyalaya Admission 2022-23 Application Form PDF
The offline application form for admission to entry classes (Nursery / KG / Class 1) in Sarvodaya Vidyalaya is now available. The Delhi Sarvodaya Vidyalaya Admission 2022-23 Application Form PDF will appear as shown below:-
The link to download Delhi Sarvodaya Vidyalaya Admission Form 2022-23 is https://www.edudel.nic.in/upload/upload_2021_22/460_dt_04052022a.pdf
How to Register / Apply Online
STEP 1: Visit the official website at edudel.nic.in.
STEP 2: Click on the "Govt. School Admission" link as given in the below image.
STEP 3: On the next page, click on "Online Registration form to Apply" or click the below link to directly visit the application form page
Online application / registration form link: http://edustud.nic.in/mis/student/RTREGISTRATIONFNONPLANADMISSION.aspx.
STEP 4: Fill all the mandatory details in online application / registration form as given below.
Delhi Govt Schemes 2022Popular Schemes in Delhi:DDA Housing SchemeDelhi Rozgar Bazaar Job Portal RegistrationDelhi Doorstep Service Delivery Services List

STEP 5: Fill the school choices and preview the form and then submit and take a printout.
The applicants can also re-print or delete the registration form using the below links
Re-Print link | Deletion link
The detailed guidelines and list of documents required for the admission is given in the document which can be downloaded from the below link
Application form Guidelines
List of Sarvodaya Schools in Delhi
The detailed list of Sarvodya Schools for Nursery admissions in Delhi can be accessed using at the below link
List of schools
Age Limit
The application forms of only those children will be considered for admission to
Nursery class, who have completed 3 years of age and are less than 4 years as on 31 March 2022 (i.e child born b/w 1 April 2018 to 31 March 2019)
Class KG, who have completed 4 years of age and are less than 5 years as on 31 March 2022 (i.e child born b/w 1 April 2017 to 31 March 2018)
Class 1st, who have completed 5 years of age and are less than 6 years as on 31 March 2022 (i.e child born b/w 1 April 2016 to 31 March 2017)
Eligibility
Those children who live within the vicinity of 1 kilometre radius are eligible to apply for admission at the Sarvodaya schools. However, in case a Sarvodaya school is not available within 1 km radius, residents who are within 3 kms of the radius will also be eligible. Children who are divyang, asylum seeker or belong to a migrant family will not be denied admissions if essential documents are unavailable at the time of the submission.
Important Dates for Delhi Nursery / KG / 1st Admission
Commencement of online registration procedure: 11 April 2022
Last date to fill out the application form: 25 April 2022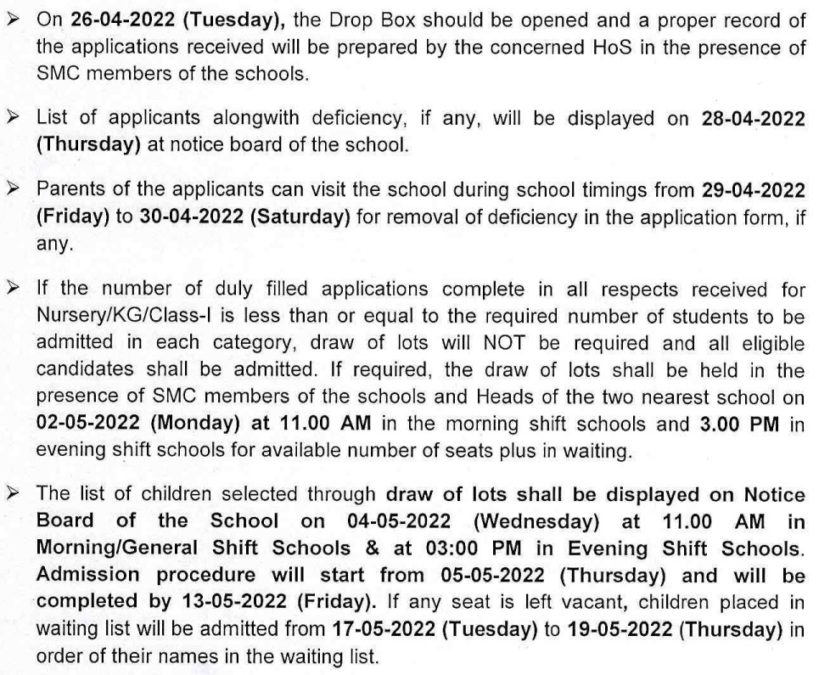 More details can be checked at http://www.edudel.nic.in/mis/misadmin/DoeNewPublicCircular.htm