Sarthak Rozgar Sarathi Portal registration 2023 and login process starts at www.rozgarsarathi.org. Sarthak Educational Trust has launched Rozgar Sarathi Portal as a new job portal for persons with disabilities (PwD's). The main objective of Job Portal for disabled persons is to assist person with disability to find suitable employment opportunities for them. In this article, we will tell how a specially abled person can make Sarthak Rojgar Sarathi Portal registration and login.
Sarthak Rozgar Sathi Portal Registration 2023 / Login
Below is the complete process to make Sarthak Rozgar Portal registration 2023 and login:-
STEP 1: Firstly visit the official website at www.rozgarsarathi.org
STEP 2: At the homepage, click at the "Login / Register" tab present in the main menu or directly click www.sarthakcars.com/auth/login
STEP 3: Then the Sarthak Rozgar Sarathi Portal Login page will open as shown below:-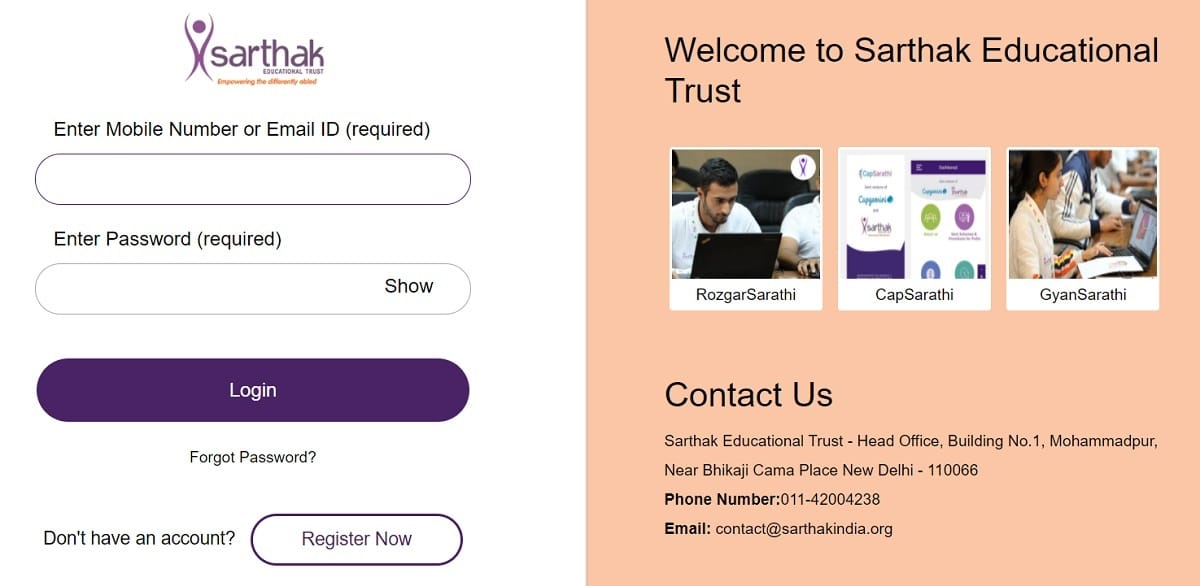 STEP 4: All the existing users can enter mobile number or e-mail ID, password and click at "Login" button to make Sarthak Rojgar Sarathi Portal login. However, new users will have to make registration first by clicking at "Register Now" tab.
STEP 5: Upon clicking the "Register Now" tab, a new page will open where any candidate, parent, employer / NGO can make registration at job portal for persons with disabilities.
STEP 6: Here we select the option "Candidate" to open the Sarthak Rozgar Sarathi Portal candidate registration form as below:-
Central Government Govt Schemes 2023Popular Schemes in Central Government:प्रधानमंत्री आवास योजना 2023Pradhan Mantri Awas YojanaPM Awas Yojana Gramin (PMAY-G)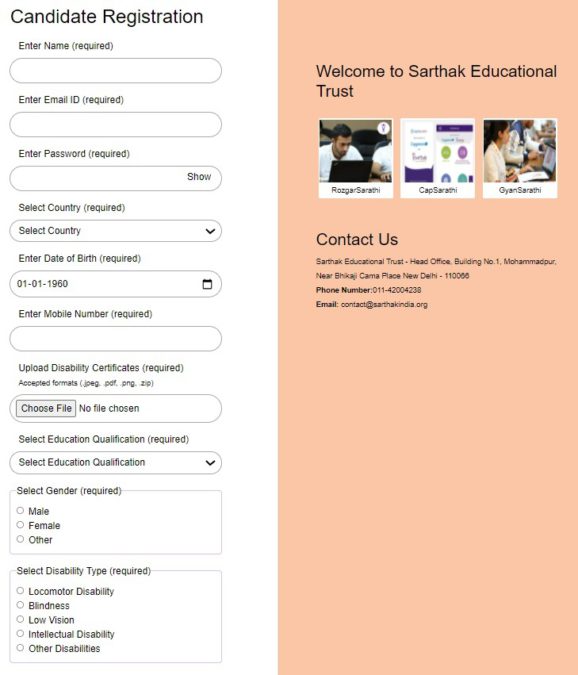 STEP 7: However, if we select the option "Parent" in STEP 5, then Sarthak Rozgar Sarathi Portal parent registration form will appear as shown below:-
STEP 8: Enter all the asked details in the candidate / parent registration form to complete Sarthak Rozgar Sarathi Portal registration process.
Need for Job Portal for Persons with Disabilities
It is a tedious task to find employment opportunity for persons with disability. Even with reservations provided to them, it is not very easy on them to find a suitable job. There are a total of 1.29 crore persons with disabilities in the country. If such a large number of people are not able to contribute to the economy, it can cause a huge dent to it. So to provide such disabled persons with job opportunities, the central government has launched a new job portal for person with disabilities namely Sarthak Rozgar Sarathi Portal.
The average percentage of employment of people with disabilities in the public sector is 0.54 per cent; in the private sector: 0.28 per cent; and in the multinationals: 0.05 per cent. Despite 4% reservation in Government jobs for certain persons or class of persons with benchmark disability, not even half the number is met. By 2025, Sarthak Educational Trust aims to provide employment to 1 million Divyang youth from rural & urban india.
Launch of Sarthak Rojgar Sarathi Portal
PwDs often are fiercely independent and have a huge potential to be productive members of the society. Recognising the trait, at the 8th National Conference on Disability hosted by Sarthak Educational Trust and National Abilympics Association of India, Shri. Nitin Gadkari (Union Minister for Road Transport & Highways) launched Sarthak's Rozgar Sarathi online job portal. The new https://www.rozgarsarathi.org/ portal will provide private as well as government jobs for Persons with Disabilities (PwD's). The portal enables people with visual impairments access the website using assistive technologies, such as screen readers.
Find Job Openings at Rozgar Sarathi Org Portal
STEP 1: Firstly visit the official website at www.rozgarsarathi.org
STEP 2: At the homepage, you can find various job openings in e-commerce, entrepreneurship, IT, hospitality, IT/ITES, Marketing, Retail sectors. Moreover, in order to filter job openings, you can go to filter jobs sections.
STEP 3: The filter jobs section is present on the left hand side of the Rozgar Sarathi job portal as shown below:-
STEP 4: Here you can filter jobs by choosing job type as private or government and selecting sector, job role, employer, country etc.
Job Fair for Divyangjans (PwDs)
While launching the Rozgar Sarathi Portal, Union Minister Shri Nitin Gadkari said "Disabled people have a wonderful capacity, we need to extract the best of them and NGO like Sarthak is doing good work. For the people who are divyang, it is very difficult to survive, hence it's a duty of society to give them employment and sustainable life. It's the time of the country to lend a helping hand and give them an appropriate vision. We need thousands of such organisations that are working towards social consciousness. Sarthak is giving professional guidance to sustain their life and I extend my support to this service of divyang, which is like service to God."
A massive virtual Job fair was held on the portal during Rozgar Sarathi Portal launch. This job fair saw the participation of top recruiters from the country like Flipkart, Amazon, Vishal mega mart, ICCS, Reliance Fresh, Magus, Big basket, Wipro, Startek, IndiaMart Intermesh Ltd, Genpact, Accenture, Reliance trends, Cognizant and more from government & semi-government organizations.
Importance of Technology for Specially Abled People (PwDs)
Technology can be a powerful tool but will face an ethical challenge for humanity. Tools like artificial intelligence & machine learning will replace humans. Hence, divyangs to lead & be role model in future to come and focus on how to go beyond and shine in challenging times. Sarthak Educational Trust can make an outreach at 112 districts with early detection centres. NITI Aayog is keen to take the entire agenda forward for the service towards divyang and help direct its attention to vulnerable classes in rural India.
Sarthak came up with a Rozgar Sarathi – Job Portal for Persons with disabilities (One stop solution for all private sector, public sector and government jobs for Persons with disability). Sarthak has also developed a mobile App for Divyangjan – CapSarathi, which has all information related to Disability and will be especially useful for reaching out the rural Divyangjan. The Sarthak Educational Trust is also coming up with Sarthak Global Resource Center for Persons with disability in Gurugram which is a solution for all disability-related concerns.
For more details, visit the official Sarthak Rozgar Sarathi Portal at https://www.rozgarsarathi.org/ui/#/