PM Suman Scheme Portal Registration 2023 / Login at suman.nhp.gov.in. Central govt. has launched Surakshit Matritva Aashwasan Yojana or PM Suman Yojana to ensure zero preventable maternal and newborn deaths in India. Suman scheme focuses on assured delivery of maternal and newborn healthcare services to all the beneficiaries who makes a visit to public health facilities. It encompass wider access to free, and quality services, zero tolerance for denial of services, assured management of complications along with respect for women's autonomy, dignity, feelings, choices and preferences etc.
PM Suman Yojana Portal Registration 2023 / Login
These services under PM SUMAN Yojana will include at-least 4 ante natal check-ups which includes 1 checkup during 1st trimester, at-least 1 checkup under PM Surakshit Matritva Abhiyan, Iron Folic Acid supplementation, Tetanus diptheria injection and other components of comprehensive ANC package and six home-based newborn care visits.
Under Suman initiative, pregnant women and mothers upto 6 months after delivery as well as all sick newborns would be able to avail several free healthcare benefits. This scheme is going to help in bringing down maternal and infant mortality rates in the country. In this article, we will tell you about the complete details of the Suman Scheme launched by the Union government.
How to Make Grievance Registration at Suman Yojana Portal
Firstly visit the official Suman Scheme Portal at https://suman.nhp.gov.in/
At the homepage, scroll the cursor to the bottom of the page and then click at "Register on Suman Web Portal"
If you have any grievance related to the SUMAN programme, then you may fill up the form which can even be opened using the direct link – https://suman.nhp.gov.in/grievance.
Upon clicking this link, the Suman Scheme Grievance Registration Form will appear as shown below:-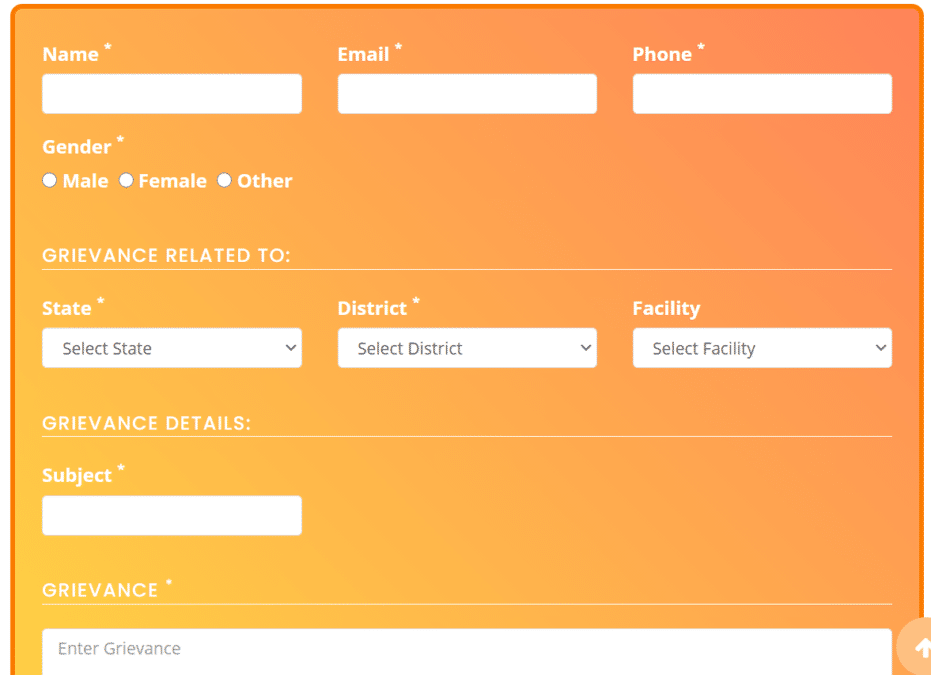 Fill in all the details in the Suman Yojana Grievance Registration Form and then click on the submit button.
System will forward the grievance to the respective district CMO / SUMAN Nodal officer. Also an email would be sent to your valid email address.
Respective district CMO / SUMAN Nodal officer would reply to your query through phone or email.
You may also call our Toll Free number 1800-180-1104 to register your grievance through the SUMAN Helpdesk agents.
PM Suman Scheme Portal Login
Firstly visit the official PM Suman Yojana portal at https://suman.nhp.gov.in/
At the homepage, click at the "Login" tab present on the top right corner of the page or directly click https://suman.nhp.gov.in/login
The the PM Suman Scheme Login page will appear as shown below:-
Here candidates can enter their username and password to track their grievance and then click at "Submit" button.
Objectives of Surakshit Matritva Aashwasan Yojana
Suman Yojana aims assured, dignified and respectful delivery of quality healthcare services at no cost. There would be zero tolerance for denial of services to any woman and newborn visiting a public health facility in order to end all preventable maternal and newborn deaths and morbidities. This initiative would be helpful in providing a positive birthing experience. Under Surakshit Matritva Aashwasan Scheme, there would be 0 expense access to identification and management of complications during and after pregnancy.
Salient Features of PM Suman Yojana
Zero Tolerance for Any Negligence
Integrates Existing Initiatives (JSSK, PMSMA, LaQshya, FRUs, etc.)
Respect for Women's Autonomy, Dignity, Feelings and Choices
100% Maternal Death Reporting and Reviews
Grievance Redressal Mechanism
Client Feedback Mechanism
Awards to Champions
Community Level Maternal Death Reporting
Community Engagement & Mega IEC/BCC
Intersectoral Convergence
Service Guarantee Charter under Suman Scheme
All Pregnant Women/Newborns visiting public health facilities are entitled to the following free services:-
Provision of at-least 4 ANC checkup and 6 HBNC visits.
Safe motherhood booklet and mother and child protection card.
Deliveries by trained personnel (including midwife / SBA).
Free and zero expense access for identification and management of maternal complications.
Early initiation and support for breastfeeding.
Respectful care with privacy and dignity.
Choice for delayed cord clamping beyond 5 minutes / upto delivery of placenta.
Elimination of mother to child transmission of HIV, HBV and Syphilis.
Zero Dose Vaccination.
Free Transport from Home to Health Institution (Dial 102 / 108).
Assured referral services with scope of reaching health facility within 1 hour of any critical case emergency.
Drop Back from institution to home after due discharge (minimum 48 hours).
Management of sick neonates and infants.
Time bound redressal of grievances through a responsive call center / helpline.
Birth registration certificates from healthcare facilities.
Conditional cash transfers / Direct benefit transfer under various schemes.
Postpartum FP counselling.
Counselling and IEC/ BCC for safe motherhood.
Under SUMAN scheme, the pregnant women will have zero expense delivery and C-section facility in case of complications at public health facilities. The central govt. said that it will ensure respectful care with privacy and dignity. There will be early initiation and support for breastfeeding, zero dose vaccination and free and zero expense services for sick newborns and neonates.
As per the govt. reports, India's maternal mortality rate has declined from 254 per 1,00,000 live births in 2004-06 to 130 in 2014-16. Between 2001 and 2016, the infant mortality rate came down from 66 per 1,000 live births to 34.
The World Health Organization (WHO) defines quality of care for mothers and newborns as the extent to which health care services provided to individuals and patient populations improve desired health outcomes. To achieve this outcome, health care must be safe, effective, timely, efficiently integrated, equitable and people-centered.
Central Government Govt Schemes 2023Popular Schemes in Central Government:NREGA Job Card ListPMAY-U List of BeneficiariesPM Kisan Samman Nidhi Yojana
Grievance Redressal Mechanism
If you have any grievance related to the SUMAN programme, then you may:-
Call Toll Free No: 1800-180-1104
SMS SUMAN space your name to 5616115
Access Help Desk at high Case load Facility
Other Important Links
PMSMA – https://pmsma.nhp.gov.in/
LAQSHYA – https://laqshya.nhp.gov.in/
Other Maternal and New Born Health Programmes – https://nhm.gov.in/index1.php?lang=1&level=2&sublinkid=822&lid=218