The ambitious Mukhyamantri Jal Swavlamban Abhiyan (MJSA) has been launched in Rajasthan. Rajasthan Jal Swavalamban Yojana will play an essential role in climate change adaption and water harvesting purposes with use of high tech applications. In this article, we will tell you about the complete details of Mukhyamantri Jal Sanrakshan Abhiyan including objectives, features, sign up, login process at Water Resources Department (Jal Sansadhan) Portal at mjsa.water.rajasthan.gov.in.
About Mukhyamantri Jal Swavlamban Abhiyan – MJSA Mission
Rajasthan is the largest state of the country has an area of 343 lac hectare. Out of this only 168 lac hectares is arable land. State has 101 lac hectare of land under wasteland.
The Aravali range extends from South West to North East divides the state in two parts; on its best there is Thar desert which has an area around 60% of the state. The annual rainfall is 100 mm in dry hot West to 900 mm in South East. Generally out of five years, 3 years are drought affected means untimely, uncertain & varied distribution of rainfall, this is responsible for the unstable crop production. Large part of the rainfall goes waste due to high intensity of rainfall in small time. Proper utilization of runoff does not take place due to lack of Water Harvesting Structures in the watershed area results continuous decline in water level of the wells.
Normally in Rajasthan duration of rainfall is large which has adverse effect on crop production. Due to decline in crop production of farmer and conversion of arable land to wasteland, there is scarcity of fuel, fodder, milk resulting for their weak socio- economic condition.
Scarcity of water is the main reason for this situation. Watershed Department if work for preparation of an Action Plan in coordination with other departments, it will definitely be able to provide water for drinking purpose and for assured irrigation.
As State has 75 percent rural population which depends on agriculture and livestock for their livelihood, hence in light of these conditions of state there is need of Mukhya Mantri Jal Swavlamban Abhiyan to utilize the Four Waters- Rainfall, runoff, Ground Water & in-situ Soil Moisture keeping watershed or Cluster/ index catchment as a unit for Western Rajasthan where there is scanty rainfall & no defined drainage lines.
Objectives of Rajasthan Mukhyamantri Jal Swavalamban Yojana
Here are some of the objectives of Rajasthan Mukhyamantri Jal Swavlamban Yojana:-
Emergence of self water reliant villages.
Increase in groundwater level, availability of surface flow in the main stream of watershed and availability of drinking water.
Increase in irrigated area, cultivable area and crop production.
Change in the cropping pattern.
Reduction in suspended sediments in flowing water of main streams and reduction in depletion of ground water.
Scope of राजस्थान जल स्वावलंबन योजना
Water Harvesting & conservation works will be implemented from the funds available under State departments, Non Government Organizations, Corporate Social Responsibility (CSR), peoples participation, Non Residents Villagers Club (NRV Club) etc to prevent the villages of Rajasthan from drought by doing watershed wise water budgeting for permanent solution. In first year around 3000 villages on the basis of priority will be identified and, in coming 3 years by including around 6000 villages every year 21000 villages of the State will be benefited by the mission & permanent solution will be achieved by making them self sufficient in terms of water. In remaining villages works will be implemented as per priority list in phased manner.
Institutional Arrangements for Rajasthan Mukhyamantri Jal Sanrakshan Scheme
State Rural Water Conservation Mission
State level Directional Committee
State level task group
District level Monitoring Committee
District Level Committee
Block Level Committee
Village Level Committee to prepare Action Plan
Sanction of District Action Plan
A District Mission Plan will be issued by the District Collector after approval from the District Level Committee on priority of the works approved by the Gram Sabha
Preparation of Priority list of villages by Rajasthan Jal Sansadhan Vibhag
Villages where IWMP / other watershed Project e.g. "Four Water Concept" etc. are sanctioned.
Villages where drinking water is not potable or fluoride quantity is in excess.
Villages where drinking water supplied by tankers during last five years.
Villages those declared famine / deficit during last five years.
Villages where 70 % of agriculture land is rainfed.
Adarsh villages under Chief Minister, MP, MLA & other schemes.
Villages come under cluster in forest department.
Villages willing to participate/contribute in this scheme.
Administrative / Financial / Technical Sanction
The administrative and financial sanctions of the amount received under "Mukhya Mantri Jal Swavlamban Abhiyan" will be issued by district collector or the officer authorized by him after the approval of District Level Committee constituted under the chairmanship of District Collector. Sanction of departmental works will be issued by the competent authority as per the guidelines of the Mission. Detailed direction will be issued separately.
Technical sanction will be issued by competent technical officer of the concerned department. Separate record & registers of technical sanctions will be maintained by the technical officers, authorized by District Collector, under "Mukhya Mantri Jal Swavlamban Abhiyan".
Salient Features of Mission to Mitigate Mukhyamantri Jal Sankat
Making villages self-sufficient in water & creating "Islands of Excellence"
Four year program, each phase of one year
Launched across 295 Blocks of 33 districts
People's participation
Mobilizing financial resources from multiple sources- Line Departments, NGOS, Corporate houses, Religious Trusts,Nonresident villagers, Social groups etc.
Use of technology
Construction of low cost water harvesting structures on watershed approach
Progress of Mukhyamantri Jal Swavalamban Yojana
Total Villages Covered – 23,653
Total Work – 681,142
Total Donations – 673,083,183
Mukhyamantri Jal Swavalamban Yojana Registration 2023 / Login
Below is the complete process to make Rajasthan Mukhyamantri Jal Swavalamban Yojana Registration to fund the campaign.
STEP 1: Firstly visit the official Rajasthan Water Resources Department portal at http://mjsa.water.rajasthan.gov.in/
Rajasthan Govt Schemes 2023Popular Schemes in Rajasthan:Rajasthan Ration Card ListRajasthan Ration Card Application FormJan Aadhaar Yojana
STEP 2: At the homepage, click at the "Sign Up" link present in the header or directly click https://sso.rajasthan.gov.in/register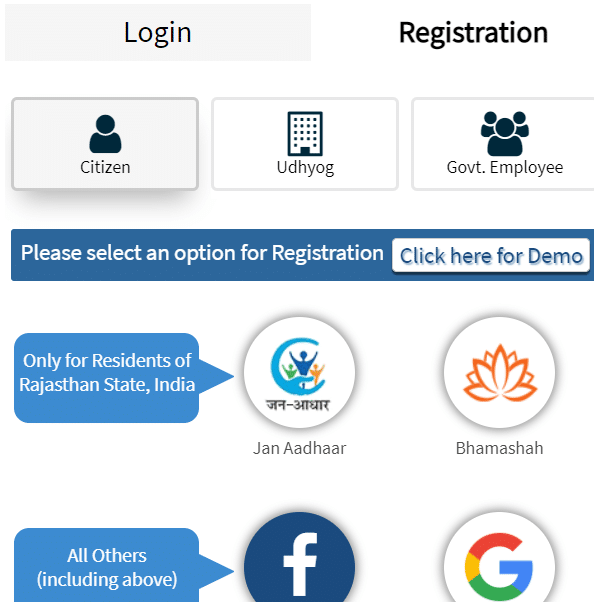 STEP 3: After making registration, applicants can make login at the official Rajasthan Water Resources Department Portal by clicking at the "SSO Login / Sign In" link present in the header or directly click https://sso.rajasthan.gov.in/signin.
STEP 4: Then the page to make Rajasthan Mukhyamantri Jal Swavlamban Abhiyan Login page will open as shown below:-
STEP 5: Here enter the digital identity (SSO ID / Username) and password anf click at the "Login" button to make Mukhyamantri Jal Swavlamban Yojana login.
Contact us
IT Building, Yojana Bhawan Premises, Tilak Marg, C-Scheme, Jaipur, Rajasthan India – 302005,
Landline : 0141-2921351
Email: [email protected]
For more details on Jal Swavlamban Scheme, visit the official website at http://mjsa.water.rajasthan.gov.in/