गोबर धन योजना 2020 ऑनलाइन रजिस्ट्रेशन फॉर्म भरिये sbm.gov.in/Gobardhan आधिकारिक वेबसाइट पर, जानिये किसानों के लिए क्या है आवेदन की प्रक्रिया व पूरी जानकारी
Central government is inviting Gobar Dhan Scheme 2020 online registration form at https://sbm.gov.in/Gobardhan/. The scheme namely Galvanizing Organic Bio-Agro Resources (Gobar) Dhan Scheme was firstly announced by the then FM Arun Jaitley on 1 February 2018. Gobar-Dhan shall benefit rural people in general and women in particular from clean bio gas fuel. It would be done through improvements on health and improvement in cleanliness in the villages.
Gobar Dhan initiative shall support biodegradable waste recovery and conversion of waste into resources. This shall provide economic and resource benefits to farmers and households and also support creating clean villages which is the objective of Swachh Bharat Mission (Gramin). This Gobar Dhan Scheme will focus on managing cattle dung and use it as bio-fuel / bio-CNG. Accordingly, this scheme is another step of central govt. to "Double the Farmers Income by 2022".
PM in 41st Man Ki Baat Programme on 25 February 2018 asked farmers to convert waste into compost, bio-gas and bio fuel. This will reduce pollution as well as will generate additional income for the farmers. For this, govt. has opened Gobar Dhan Yojana Portal.
Gobar Dhan Scheme Online Registration Form 2020
Below is the complete process to fill Gobar Dhan Scheme Online Registration Form 2020:-
Step 1: Firstly visit the official website at https://sbm.gov.in/Gobardhan/
Step 2: At the homepage, click at the "Registration" tab present in the main menu as shown here:-
Step 4: In this form, all the applicant farmers can enter personal details such as name, e-mail ID, address details such as complete address, state / block / district / gram panchayat / village, registration details such as USER ID, enter mobile no, OTP code, password, captcha code.
Finally, applicants can click at the "Submit" button to complete the Gobar Dhan Scheme online registration form 2020. After successful registration, applicant farmers can make "Login" using their username, password and click at "Log In" button.
Objectives of SBM Gobardhan Scheme
The main objectives of the SBM Gobardhan Scheme is to increase rural income, rural jobs and to keep villages clean through solid waste management. Accordingly, Gobar Dhan Scheme 2020 aims to positively impact the Gram Panchayats with 3Es, which are as follows:-
Energy : Self-reliance with respect to energy through utilisation of agricultural and animal waste to generate bio-energy through bio-gas plants.
Empowerment : Engaging rural people, especially women self-help groups in construction, management and day to day operations of bio-gas plants.
Employment : Generating jobs among the rural youth and women through collection of waste, transportation to treatment plants, management of treatment plant, sale and distribution of bio-gas generated etc.
The scheme is intended to manage and convert cattle dung and solid waste in farms to compost, bio-slurry, bio-gas and bio-CNG. This initiative shall support biodegradable waste recovery and conversion of waste into resources. For more details, click at the link – https://sbm.gov.in/Gobardhan/SLRM_AboutUs.aspx
Check Gobar Dhan Scheme Application Status
The current status of applications under the Gobar Dhan Scheme (as on 5 September 2020) is given in the table below:-
Central Government Schemes 2020-2021केंद्र सरकारी योजना हिन्दीPopular Schemes in Central:Narendra Modi Schemes ListNREGA Job Card Listसरकारी योजनाओं की सूची हिंदी में
| | |
| --- | --- |
| Application / DPR Received | 340 |
| Application / DPR Awaiting Approval | 198 |
| Number of Villages where Application / DPR Received | 319 |
| Application / DPR Approved | 117 |
| Application / DPR Approved by Block | 169 |
| Application/DPR Rejected | 14 |
| Number of STAC Formed | 23 |
| Total Number of Technical Agency Empanelled | 129 |
Gobar Dhan Yojana Application Status
Salient Features of Gobar Dhan Yojana
The main aim of Gobar Dhan Yojana is to make farmers self reliant apart from converting waste to energy. This scheme will help in managing and reuse cattle dung and thus makes the nation "Open Defecation Free". Accordingly, farmers can reuse this waste as compost and fertilizer in agriculture. This agri-focused scheme was firstly announced in Union Budget 2018-19 to improve the life of villagers. The important features and highlights of this scheme are as follows:-
Central govt. has launched Galvanizing Organic Bio-Agro Resources Dhan (Gobar Dhan) Scheme to promote the management of cattle dung and reusing it.
Subsequently, this scheme will contribute towards "Swachh Bharat Mission" and help in making India ODF Free.
In addition to this, Gobar Dhan scheme will improve the life of people living in rural areas.
Moreover, farmers can utilize this solid waste & cow dung in their farms and reuse it as compost, fertilizer, bio-gas and also as bio-fuel.
Furthermore, central govt. has also taken other decisions to open various health and wellness centers in villages, improvement of infrastructure for rural business centers, better connectivity between villages and cities and also centers for higher education.
Central govt. has also identified 115 districts where govt. will make investment in various social services and develop them as role models. Accordingly, these social services will include health & education, nutrition, rural electrification and drinking water in a timely manner. Farmers can even check the Gobar Dhan Scheme User Manual at https://sbm.gov.in/Gobardhan/UserManual/OperationalManual_AgencyV1.0.pdf
PM Modi Man Ki Baat – 41st Programme
In his 41st address to the Nation (Man Ki Baat), PM Modi has announced that the central govt. is going to launch an Online Gobar Dhan Yojana Portal to connect farmers to buyers. Central govt. aims to create new jobs through waste collection and transportation. Moreover under Swacch Bharat Mission Gramin, govt. will focus on converting dung, farm waste, kitchen waste into biogas energy.
Under this scheme, govt. will lay special emphasis of "waste to health" and "waste to energy" through biogas for villages. This Gobar Dhan Scheme will make villages clean and raise the income of the small and marginal farmers.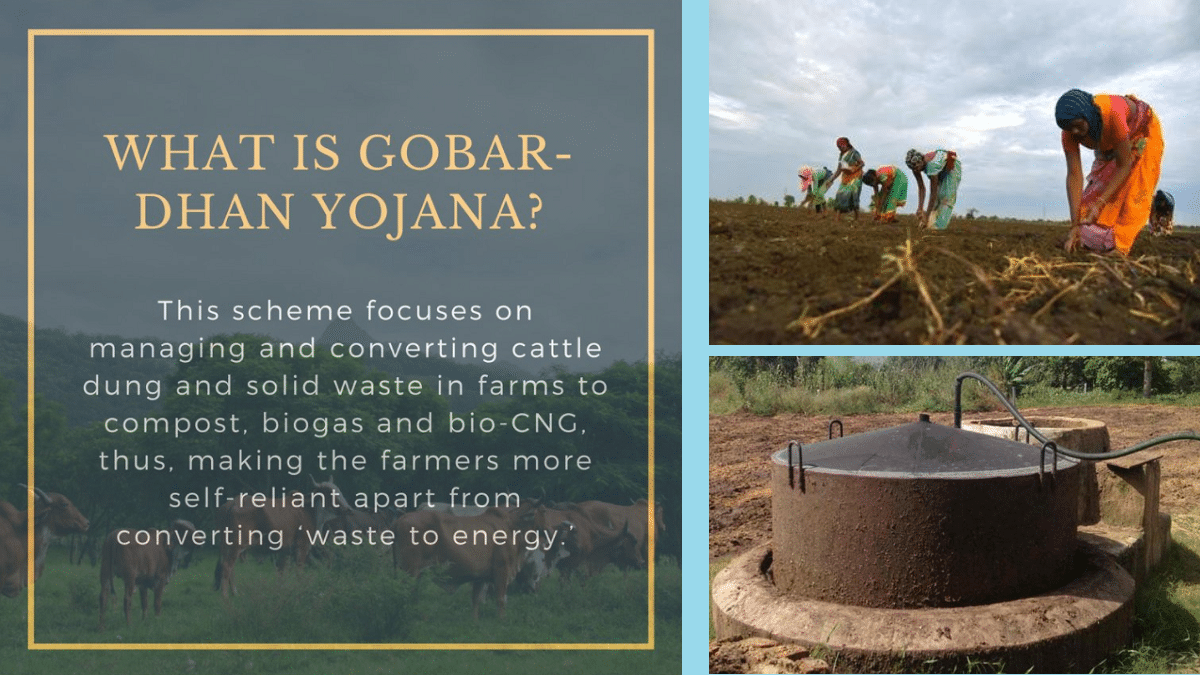 SAVE AS PDF