The state government of National Capital Territory (NCT) is inviting Delhi Job Portal Registration 2023 at jobs.delhi.gov.in. The new Delhi government rojgar portal is named as Rojgar Bazaar 2.0 (रोजगार बाजार) similar to the one which was launched earlier on 27 July 2020. Chief Minister Arvind Kejriwal has started this jobs portal for employers and the job seekers. The newly launched Delhi Rozgar Bazaar Govt. Job Portal is a sort of marketplace for job seekers and the people recruiters.
The recruiters can go to the website and update their requirement by making registration as employer at "I Want to Hire" section. Moreover, job seekers can also go at portal and update their qualification, experience and requirement at "I Want a Job" section.
Delhi Job Portal Registration 2023
All the interested Job Seekers / Employers can now make Delhi Job Portal registration online at the new Rojgar Bazaar portal at jobs.delhi.gov.in. Youths either 12th pass, freshers or graduates can apply online at the Delhi Govt. New Job Portal. CM has also mentioned that an order is being passed in favor of street hawkers so that they can start their work from today onward.
Rojgar Bazaar 2.0
Delhi govt. will soon launch second phase of Rojgar Bazaar Portal as first-of-its-kind digital job matching platform for entry-level jobs. The first Rojgar Bazaar Portal became a lifeline for lakhs of youths looking for jobs and small businesses looking for skilled workers in Delhi, last year during the first lockdown. Built on the success of Rojgar Bazaar 1.0, the new portal will provide Artificial Intelligence (AI) based job matching services, as well as, end-to-end employment related services to the youth of Delhi on a single platform.
Rojgar Bazaar 2.0 will bring all services related to skill training, career guidance and job matching under one umbrella. No other job matching platform by any state government in India has attained success to this level its its first phase. Rojgar Bazaar 1.0 was launched in August 2020 by Chief Minister Arvind Kejriwal at the peak of the Covid pandemic. As per the government, over 14 lakh job-seekers and 10 lakh jobs have already been advertised on the current Rojgar Bazaar portal.
The new version will have additional feature of national and international job portals. Based on the expertise achieved following Rojgar Bazaar 1.0 efforts will be on to create better opportunities for the unorganised sector. As a substantial number of unorganised workers cannot access the digital platform, the Delhi government will also institutionalise physical centres to increase access to Rojgar Bazaar platform and drive synergy with other ongoing social sector programmes.
How to Apply Online at Delhi Government Rojgar Bazaar Portal
Delhi Rojgar Bazaar Job Portal has been launched for better coordination between job seekers and employers in the National Capital. CM said "Today construction work has started but workers are missing, employees who lost their jobs are not being able to find new ones. To provide a common meeting ground for both job seekers, Delhi govt. is going to start a portal jobs.delhi.gov.in. Any employer seeking personnel can register and enlist what all qualifications he is seeking. Similarly those searching for jobs can also register on this website, enlisting their experience, qualifications, and areas in which they are interested in finding work. There are many categories on the portal, I believe this will help every sector and jobseekers.
Job Seekers Online Registration Form at jobs.delhi.gov.in (Rojgar Bazaar)
Below is the complete procedure to job seekers online registration form at Rojgar Bazaar Portal:-
Delhi Govt Schemes 2023Popular Schemes in Delhi:Apply Online for Class Nursery / KG / 1st Admission in Delhi at edudel.nic.inDelhi Doorstep Service Delivery Services ListDelhi Mukhyamantri Tirth Yatra Yojana
STEP 1: Firstly visit the official Rozgar Bazaar website at https://jobs.delhi.gov.in/
STEP 2: At the homepage, jobseekers can click at the "I want a job" tab as shown here.
STEP 3: Upon clicking the link, the Job seeker login page will appear as shown below. Here applicants will have to enter their mobile number and make jobseeker login. Applicants will have to enter the OTP received from Delhi Government Rojgar Bazaar and click at the "Verify" button.
STEP 4: Here applicants will have to enter "what type of a job do you want?". Accordingly, the job page will appear as shown:-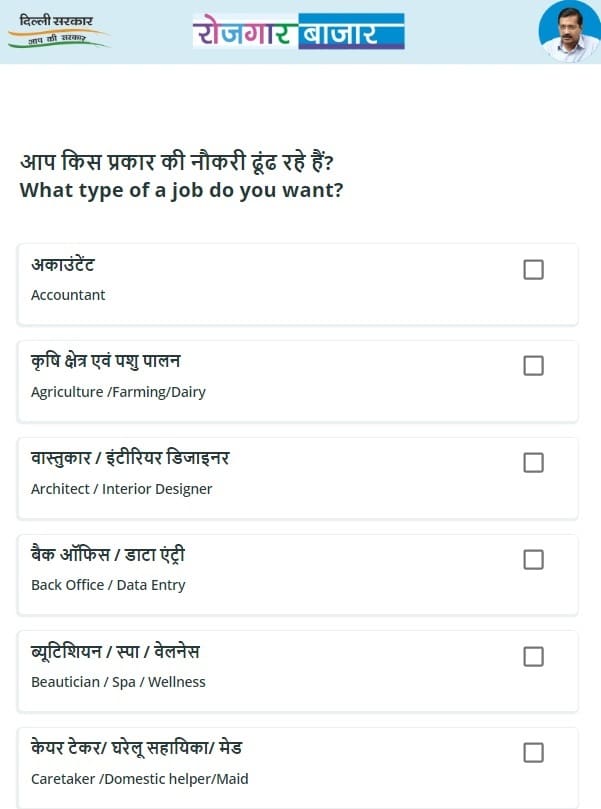 STEP 5: Here candidates can update their profile and fill the jobseeker application form.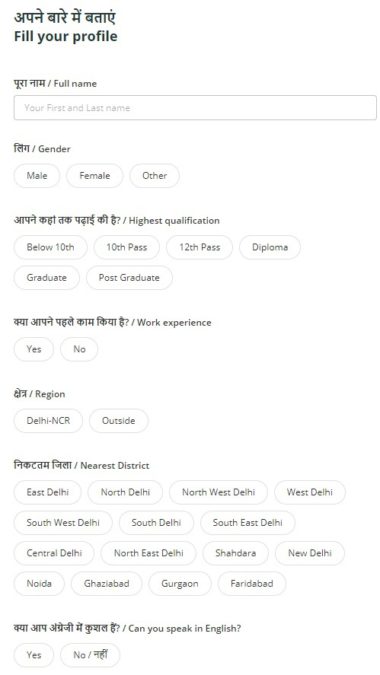 STEP 6: Here candidates can update the profile of job seeker and click at the "Submit" button to complete the Delhi Job Portal Registration Form filling process for jobseekers at Delhi Govt. Rojgar Bazaar Portal.
Frequently Asked Questions (FAQ's)
Here are some of the most frequently asked questions about Rojgar Bazaar Portal:-
✔️ What is Rozgar Bazaar Portal
It is a new Job Portal launched by Delhi government which is completely free for both Recruiters and Job Seekers. Any person can register for employment as jobseekers and can even hire candidates as employers.
✔️ What is the official website of Rojgar Bazaar or Delhi Job Portal Registration
The official website of Delhi Govt. New Job Portal namely रोजगार बाजार is http://jobs.delhi.gov.in/
✔️ How can one make Delhi Job Portal Registration for employment as jobseeker
Candidates can visit the official website at jobs.delhi.gov.in. At homepage, click at "I Want A Job" link, then enter your Mobile Number and verify OTP. After confirmation, you need to enter your Email id, education profile details and create login credentials.
On clicking 'whatsapp' or 'Call' by the Jobseeker, Jobseeker's Name and other details including Mobile No. will be shared with the Employer so that you may be contacted by the Employer for further process related with your employment.
✔️ How can an employer post a job
Employers will have to visit the official website and click at the "I Want to hire" link, register their details to complete employer registration process. On submitting job posting by the employer, vacancy details with the details of employers organization will appear on the rozgar bazaar portal so that eligible candidates may apply against such vacancies for gainful employment
✔️ Is there any privacy concern while making Delhi Job Portal Registration
Jobseekers' data, shared with the Employers are for the sole purpose of gainful employment. Accordingly it should not be used otherwise.
For more details, visit the official Rojgar Bazaar website at http://jobs.delhi.gov.in/