AP Ysr Jala Kala Scheme 2020 to be launched by the Andhra Pradesh government on 28 September 2020. In this scheme, govt. will dug up free of cost borewells for farmers. In this article, we will tell you about the apply online process of Free Borewell Scheme, how to fill its application / registration form at ysrjalakala.ap.gov.in, benefits and complete details. Chief Minister Y.S. Jagan Mohan Reddy will launch this Jagananna Jalakala Scheme online through video conferencing from his camp office. The state govt. of Andhra Pradesh has earmarked Rs. 2,340 crore to implement YSR Jalakalha Scheme.
AP YSR Jala Kala Scheme 2020 Apply Online
As India is an agrarian country, farmers depend mainly on groundwater for irrigation. With increasing population, lesser land holdings and urbanisation, deeper borewells are dug for groundwater abstraction. However, farmers are not able to utilize borewell benefits as the cost of installation is high. Accordingly, the state govt. of Andhra Pradesh has now decided to provide free of cost bore-wells to farmers under AP YSR Jala Kala Scheme. The farmer or a group of farmers with a land holding of 2.5 to 5 acres can apply for the YSR Jala Kala by applying either online or through the village secretariats. Now check the AP YSR Jalakalha Scheme 2020 apply online process for farmers.
How to Fill YSR Jala Kala Scheme Application / Registration Form
Below is the complete process to fill AP YSR Jala Kala Scheme application / registration form 2020:-
Step 1: Firstly visit the official website at http://ysrjalakala.ap.gov.in/YSRRB/LaunchPage.aspx
Step 2: At the launch page of AP YSR Jala Kala Scheme, click at the "Launch" tab to open the YSR Jalakala web homepage or directly click this link
Step 3: At the AP YSR Jala Kala Scheme homepage, click at the "Apply for Borewell" link present in the main menu as shown here:-
Step 4: Upon clicking the link, a new window asking about the Aadhaar number, OTP and Submit button would open as shown below:-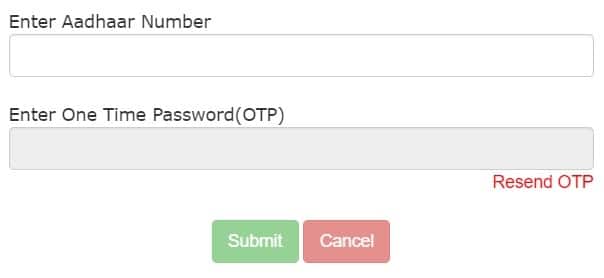 Step 5: After entering the aadhaar number, validate OTP and click at the "Submit" button to open the YSR Jalakala Scheme Free Borewell online application form.
Andhra Pradesh Government Schemes 2020Popular Schemes in Andhra Pradesh:AP Jagananna Vidya Kanuka Scheme 2020-21 – YSR Educational Kits to Govt. School StudentsGrid Connected Solar BLDC Pump Sets SchemeAP YSR Bheema Scheme 2020
Upon successful approval from the state govt's concerned authorities, applicant would be able to get free of cost borewell.
Benefits of Free Borewell Scheme in Andhra Pradesh
Here are some of the major benefits of Free Borewell Scheme in Andhra Pradesh state:-
2 lakh bore-wells would be dug up at free of cost to farmers.
AP Free Borewell Scheme will provide irrigation water to 5 lakh acres.
Around 3 lakh farmers would be benefited.
Implementation of AP YSR Jalakala Scheme 2020
The bore wells would be dug up wherever underground water resources are found. The experts would conduct a survey at the fields through hydrogeological and geographical survey and identify the location where borewells should be dug up. Permission for digging up bore wells should be given after the completion of the process. This AP YSR Jalakala Scheme will ensure proper supply of water for irrigation and will help in raising income of farmers.
Geo-tagging of AP YSR Jala Kala Scheme
Every borewell which is dug up under the AP YSR Jala Kala Scheme 2020 would be geo tagged. Constructions for water harvesting would also be taken up to maintain recharge of underground water resources. The digging of borewells would be taken up scientifically in order to protect the environment. The scientific measures would ensure that underground water resources should not be depleted.
Jala Kala – Free Borewells is aimed at utilising the available groundwater Resources for the improvement of livelihoods of the farmers and thereby improve the GSDP under primary sector.
Salient Features of YSR Jala Kala Scheme
The important features and highlights of the AP YSR Jala Kala Scheme 2020:-
Under YSR Jala Kala programme of Navaratnalu, government have decided to drill free borewells to needy and eligible farmers in all thirteen (13) districts of the State by for the purpose of irrigating every acre of arable land.
The borewell sites shall be identified scientifically by conducting ground water surveys before taking up the drilling.
Any farmer without an existing borewell and with a contiguous land of 2.5 acres is eligible. If the farmer is not having contiguous land of 2.5 acres, a group may be formed and can apply for free borewell.
Priority shall be given to small & marginal farmers and SC / ST / Women farmers.
Farmers can apply for free borewell through online or offline through village secretariat and VRO will verify and forward the application to concerned APD / MPDO.
Assigned drilling contractor will conduct ground water survey by engaging qualified geologist and submit the feasibility report to concerned APD / MPDO for generating estimate.
PD will take administrative approval from District Collector / JC, Aasara and entrust the work to drilling contractor.
Information regarding the sanction of borewells will be communicated to the applicants at each stage through SMS.
The digital photograph with geo-tag will be taken by the concerned authorities along with beneficiary in the presence of drilling contractor after completion of borewell drilling.
The depth of borewell drilled and depth of casing will be measured with advanced IoT enabled equipments minimizing human intervention.
Payment to drilling contractors will be made as per the predefined success rates of districts.
If a borewell fails, a second borewell will be drilled if feasible.
Construction of recharge pit / water harvesting structure will be taken up at successful borewell site.
Social Audit will be conducted for all the borewells drilled under this program.
A programme management unit (PMU) will be set up at headquarters for effective monitoring of the implementation of the programme.
Roles & responsibilities of various functionaries for implementation of the programme are defined and are included in the GO.
District Collectors will guide and direct all the stakeholders for effective implementation of the programme.
YSR Jala Kala Helpdesk
In case of any query, applicants can contact the helpline number at 9121296053 or can even send an e-mail to [email protected]
SAVE AS PDF