Department of Empowerment of Persons with Disabilities (DEPD) is inviting online applications for Disabled Pre Matric Scholarship Scheme 2022. Under this Pre-matric Scholarship for Students with Disabilities scheme, central government provides financial assistance in the form of maintenance allowance, book grant, disability allowance to persons with disability. All the disabled students studying in Class 9th and 10th can now fill Pre Matric Scholarship Scheme Application Form at National Scholarship Portal scholarships.gov.in
In 2022 session, govt. is offering a total number of 25,000+ Renewal Pre-Matric Scholarships. This scheme will reduce the drop-out rate of candidates upto Secondary stage i.e Class 10th. Disabled Pre Matric Scholarship Scheme 2022 will enable the students with disability to lead a life with dignity, harness their talent and to earn their livelihood.
All the interested and eligible Class 9th and 10th students can apply online for Pre Matric Scholarship Scheme for students with Disabilities before last date.
Disabled Pre Matric Scholarship Scheme Application Form 2022
Below is the complete procedure to apply online for Disabled Pre Matric Scholarship 2022 for Students with Disabilities:-
STEP 1: Visit the official National Scholarship Portal at scholarships.gov.in
STEP 2: At homepage, click at the "New Registration" tab present in the main menu or directly click scholarships.gov.in/fresh/
STEP 3: Then Pre Matric Scholarship Scheme Registration Guidelines page will appear as follows:-
Central Govt Schemes 2022Popular Schemes in Central:प्रधानमंत्री आवास योजना 2022Pradhan Mantri Awas YojanaPM Awas Yojana Gramin (PMAY-G)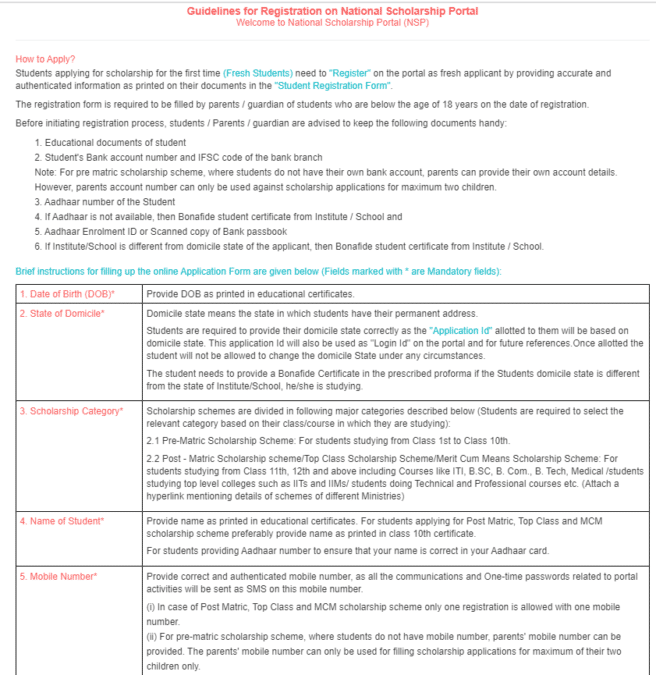 STEP 4: Read all the instructions carefully and click at the "Continue" button at the bottom to open the Pre Matric Disabled Scholarship Scheme Registration Form 2022:-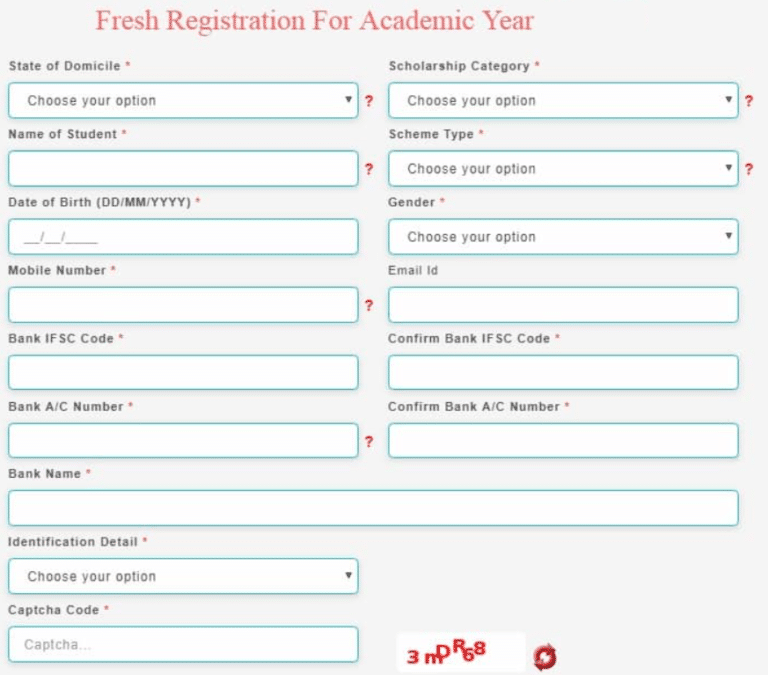 STEP 5: Fill the necessary details, click at the "Register" button to get Username and ID on your registered Mobile Number.
STEP 7: After candidates can "Login" using the details sent on Mobile number, Verify OTP, Change Password and then click at the "Apply" link on the dashboard to fill the Pre Matric Scholarship 2022 Online Application Form for PWDs which will appear as follows:-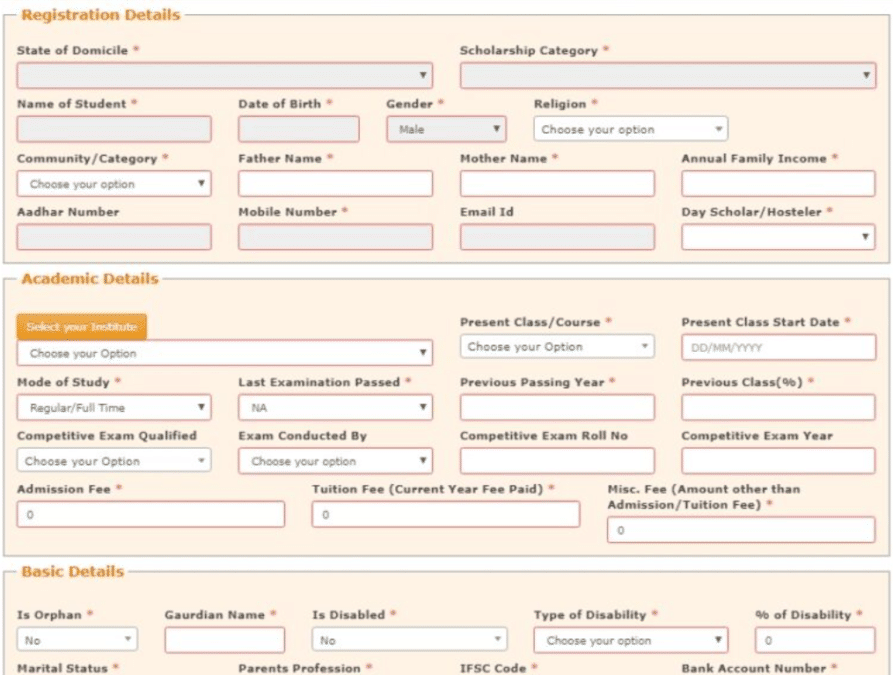 STEP 8: Fill all the details and click at the "Save & Continue" button to complete the online application process for Disabled Pre Matric Scholarship Scheme 2022.
This scheme focuses on Empowerment of Persons with Disabilities (PWDs) through education and will lead to upliftment of socio economic conditions of the students from disabled category.
Pre Matric Disabled Scholarship Eligibility Criteria for Disabled
All the applicants must fulfill the following eligibility criteria to apply online for the Disabled Pre Matric Scholarship Scheme:-
Only Indian nationals can apply online.
He / She must be a regular, full time student studying in Class 9th or 10th in any govt. school or school recognized by Govt. or by a Central / State Board of Secondary Education.
Applicant must possess more than 40% disability and a valid Disability Certificate as mentioned in Rights of persons with Disabilities Act, 2016.
Only 2 children from a single family can take scheme benefits.
This scheme will be applicable only for a single year in a single class. If any candidate fails and repeats same class, then such candidates would stop receiving scholarship.
Any candidate who is already receiving some other scholarship (scholarship holders) are Not eligible.
Scholarship holders who are receiving free coaching in pre-exam training centers with assistance from central / state govt. will not receive stipend during their coaching.
The family income of the applicants from all sources must not exceed Rs. 2.5 lakh per annum.
50% of total scholarships are reserved for girl candidates.
National Scholarship portal will implement Pre Matric Scholarship Scheme. The scholarship amount would be credited directly into the bank accounts of the students through PFMS portal.
Pre Matric Disability Scholarship 2022 Duration & Rate
Govt. will provide Pre Matric Scholarship 2022 for the entire course duration. The rate of Scholarship is given below:-
Disabled Pre Matric Scholarship 2022 Amount
| Item | Day Scholars | Hostellers |
| --- | --- | --- |
| Maintenance Allowance (payable for 12 months) | Rs. 500 per month | Rs. 800 p.m |
| Book Grant | Rs. 1000 p.m | Rs. 1000 p.m |
| Visually Impaired Disability Allowance | Rs. 4000 p.a | Rs. 4000 p.a |
| Hearing Impaired Disability Allowance | Rs. 2000 p.a | Rs. 2000 p.a |
| Physically Disabled Allowance (OH) | Rs. 2000 p.a | Rs. 2000 p.a |
| Intellectual Disabilities | Rs. 4000 p.a | Rs. 4000 p.a |
| All other types of Disability not covered under above | Rs. 2000 p.a | Rs. 2000 p.a |
Pre Matric Disabled Scholarship Amount
Central govt. will implement this scholarship scheme through National Scholarship Portal. To get all the details, click at the link – https://scholarships.gov.in/public/schemeGuidelines/DEPDGuidelines.pdf
References
— For more details, visit the official website https://scholarships.gov.in/