राजस्थान बेरोजगारी भत्ता योजना अनलाइन रेजिस्ट्रैशन 2023 | राजस्थान बेरोजगारी भत्ता ऐप्लकैशन फॉर्म | Rajasthan Berojgari Bhatta Online Form. Rajasthan government invites Rajasthan Berojgari Bhatta Online Registration 2023 at www.employment.livelihoods.rajasthan.gov.in or rajasthan.gov.in. Under Mukhyamantri Yuva Sambal Yojana, girls will get unemployment allowance of Rs. 4500 and boys will get Rs. 4000 amount per month for 2 years. All the jobless candidates who are seeking employment and are still unemployed can now apply online for CM Yuva Sambal Yojana. Moreover, jobless candidates can download Rajasthan Berojgari Bhatta Apply online form in PDF format to get eems registration number.
Amendment in Unemployment Allowance Scheme of Rajasthan
Unemployment allowance is not a free cake now in Rajasthan as the government has made it mandatory to do an internship in government offices to get the allowance. The unemployed youth will have to work for 4 hours a day in selected departments for which male employees will get Rs. 4000 whereas a female employee will get Rs. 4500 per month.
The Ashok Gehlot-led Congress government in Rajasthan had launched the scheme of unemployment allowance in 2019 after coming to power. Every year 1.50 lakh jobless youth were getting the allowance up to Rs 3500. Now, the government has recently amended the scheme and the condition of internship in government offices and 3 months skill training has been made compulsory to get the benefit. The allowance will be given for a maximum of two years.
Though there are more than 14.81 lakh registered unemployed youth in Rajasthan, the allowance will be given to only 2 lakh unemployed youth every year and those who will be selected will be allotted government departments to do internships according to their educational qualification and skill.
Need for Amendment in Rajasthan Berojgari Bhatta Yojana
The order issued for the scheme says that these youth may be given any kind of job in selected 29 departments that include agriculture, health, education, forest, police, tourism, dairy and others. The selected youth will be given a special cap or a jacket to wear at the office so that these youth can easily be identified. The need for this amendment was felt during the Covid-19 pandemic when the government was in need to have some extra workforce for the management in hospitals and the enforcement of Covid-19 protocols and lock-down rules.
Though the youth are not in favour of the scheme, Upen Yadav, president of Rajasthan Berojgar Sayunkt Mahasangh said, "The unemployment allowance was announced in the manifesto of Congress and it has no such condition. Besides this, the youth which is getting this benefit is preparing for his competitions also and this condition of working for 4 hours a day will adversely affect his preparations.
Rajasthan Berojgari Bhatta 2023 Apply Online
State govt. started providing unemployment allowance amount in Rajasthan from 1 March 2019. The unemployment allowance scheme was introduced by CM Ashok Gehlot where berojgari bhatta amount for youths in Rajasthan was upto Rs. 3500 p.m for female and Rs. 3000 p.m for male candidates. This amount is now raised by Rs. 1000 for both male / female candidates. The state govt. has also started preparations to ensure minimum income guarantee to poor citizens for the welfare of citizens.
Rajasthan Berojgari Bhatta Application Form 2023 @ rajasthan.gov.in
Below is the complete procedure to make online application and to apply online for Unemployment Allowance Scheme:-
Rajasthan Govt Schemes 2023Popular Schemes in Rajasthan:Rajasthan Ration Card ListRajasthan Ration Card Application FormJan Aadhaar Yojana
Step 1 – Firstly visit the official website https://rajasthan.gov.in/
Step 2 – At the homepage, scroll over the "Employment" tab and click at the "Careers" option to open the page as shown below:-
Step 3 – Afterwards, candidates can make Rajasthan SSO ID Registration & Login to apply online and make online registration for Berojgari Bhatta.
Step 4 – After making registration and login for SSO ID portal, candidates can click at the "Employment" tab:-
Step 5 – Here candidates can fill the Berojgari Bhatta Rajasthan Online Form. This will complete the process to avail enhanced berojgari bhatta amount under the unemployment allowance scheme.
Moreover, candidates can download / print the duly filled in berojgari bhatta form in PDF format for any future reference.
Rajasthan Berojgari Bhatta Online Registration @ employment.livelihoods.rajasthan.gov.in
Here is the complete process to fill Rajasthan Berojgari Bhatta Online Registration Form 2023 @ employment.livelihoods.rajasthan.gov.in website:-
STEP 1: Firstly visit the official website at www.employment.livelihoods.rajasthan.gov.in
STEP 2: At the homepage, click at the "Menu" option and then click at the "Apply For Unemployment Allowance" link under 'Job-seekers' section:-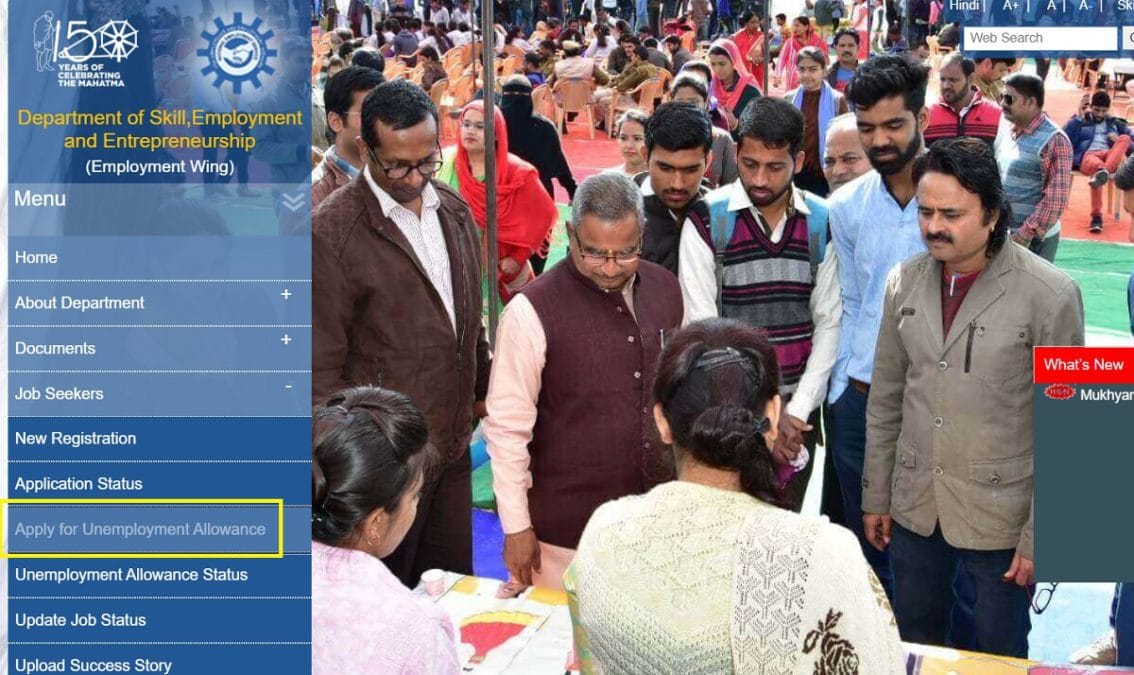 Step 3 to 5 are same as mentioned above.
Rajasthan CM Yuva Sambal Yojana Eligibility
All the jobless candidates can check the eligibility criteria before making Berojgari Bhatta online registration as mentioned below:-
Candidates must be a permanent resident of Rajasthan.
All the candidates must belong to the age group of 21 to 35 years.
He / She must have completed their 12th class along with graduation / post-graduation degree.
All the applicants must be unemployed and those who have worked previously and are currently idle can also apply online for berojgari bhatta.
The annual income of the family of the applicant from all sources must not exceed Rs. 3 lakh per annum.
To avail assistance under Berojgari Bhatta scheme in Rajasthan, candidates must possess Aadhaar Card, Voter ID Card, Bhamashah ID, SSO ID, domicile certificate, e-mail ID and mobile number.
Rajasthan Berojgari Bhatta Scheme Helpline Number
For all the jobless candidates, the state govt. has started a helpline number to provide assistance to the unemployed youths to get berojgari bhatta in Rajasthan. The toll free number is 1800-180-6127 where unemployed candidates can get more information about the departmental plans.
Rajasthan Unemployment Allowance Amount
The raised berojgari bhatta amount in Rajasthan is to be given by the state govt. from 1 March 2019. As per the announcement, the new amount under the unemployment allowance scheme is Rs. 4500 for girls and Rs. 4000 for boys.
To get more details and apply form PDF download, check Berojgari Bhatta Guidelines at this link or visit the official website http://www.employment.livelihoods.rajasthan.gov.in/