Arunachal Pradesh govt. has launched a new Health Insurance Scheme named Chief Minister Arogya Arunachal Yojana (CMAAY). Both Ayushman Bhart – National health protection Mission (AB-PMJAY) and CMAAY will provide an enhanced coverage of Rs. 5 lakh per family to provide quality health care. CMAAY Scheme will provide cashless treatment to poor people in "Assurance Mode" and will replace the existing CM's Universal Health Insurance Scheme (CMUHIS). Interested candidates can apply online for CM's Arogya Arunachal Yojana at cmaay.com
CMAAY Enrollment – Apply Online for CM Arogya Arunachal Yojana
CM's Arogya Arunachal Yojana (CMAAY) aims to provide the cashless hospitalisation to poor and vulnerable groups upto Rs. 5 lakh per family per year. Under this scheme, govt. will provide Rs. 1 lakh for Secondary Care and Rs. 4 lakh for Tertiary Care. All the beneficiaries can avail benefits of this Health Assurance Scheme in any empanelled hospitals through a new web portal. The main focus is to ensure "Health for All" by 2022. Below is the complete procedure to apply online:-
STEP 1: Visit the official website https://cmaay.com/CMAAY_home.aspx
STEP 2: At the homepage, click at the "Apply" link present in the Enrollment section as shown below or directly click https://cmaay.com/NewEnrollment.aspx:-
STEP 3: Then select the option as "Public" to open the Chief Minister Arogya Arunachal Yojana online registration. The CM Arogya Arunachal Yojana Online Registration Form will appear as follows:-
STEP 4: Here enter all the asked details accurately and click at "Save" button to complete the online registration process.
Check Status through the link – https://cmaay.com/CheckStatus.aspx
List of Documents Required for CM Arogya Arunachal Yojana
Aadhar Card (All Family Members) (Both Sides : Front and Back)
APST Certificate
Resident Certificate (Only for eligible non apst resident of Lohit,Changlang and Namsai)
Family Declaration Form (Both Pages)
PMJAY Card
Eligibility Criteria for CM Arogya Arunachal Yojana
Beneficiary covered are:-
Arunachal Pradesh Govt Schemes 2023Popular Schemes in Arunachal Pradesh:Deen Dayal Upadhyaya Swavalamban Yojana Startup Loan Scheme 2023 – Application Form & DetailsArunachal Pradesh Voter List / Voters ID Card DownloadDulari Kanya Scheme
Arunachal Pradesh Scheduled Tribe(APST) members
Non-APST residents of Changlang, Lohit, Namsai possessing Resident Certificate(RC) who are people with permanent land holding documents
State Govt. Employees and their dependents
Exclusion Criteria: Natives of Arunachal Pradesh working for Public Sector Undertakings (PSUs) and Central Govt.
Documents which are required to establish the identity & proof of valid beneficiary are:
Aadhaar Card along with following documents:
For APST: APST certificate
For Non-APST but bonafide members of Lohit, Namsai & Changlang districts: Resident Certificate (RC) issued by Competent Authority.
For State Government employees: Government ID card issued by competent Authority – Dependent of State Government employees/RC holders should produce any legal document (along with Aadhaar card) to prove their relation to the State Government employees/RC holder.(birth certificate & marriage certificate for newly added members in the family.)
What is Chief Minister Arogya Arunachal Yojana 2023
Pradhan Mantri Jan Arogya Yojana (PMJAY) (AB-PMJAY) & Chief Minister Arogya Arunachal Yojana (CMAAY) are the initiatives of Central & State Govt. respectively, which is being implemented by the Chief Minister Arogya Arunachal Society with a vision to accord quality and cashless health care services to the people of the State envisaging Universal Health care to all by 2030.
Chief Minister Arogya Arunachal Society under Health Dept. will implement this scheme. The state govt. had announced this scheme earlier on 15 August 2018. The state govt. has approved the enrollment and pre-authorization of beneficiaries through online mode availing AB-NHPM and CMAAY. Govt. will provide benefits on the basis of annual coverage and package charges on specific treatment procedures.
CMAAY Hospitalization Benefits
Cashless Services
Cashless transaction to the Beneficiary right from his/her reporting & up to 10 days after discharge.
The package rate shall mean all including
Registration Charges
Bed charges (General Ward)
Nursing and Boarding charges
Surgeons charges
Anesthetists charges
Medical Practitioner fees
Consultants fees Anesthesia
Blood, Oxygen & O.T. charges
Cost of Surgical Appliances
Diagnostic tests (Including radiological) from the reporting to discharge
Pre-hospitalization upto 3 days and post hospitalization upto 10 days will be covered for all medicines and diagnostic test for the same ailment/surgery
Cost of Prosthetic Devices & implants
Important Points:
Pre‐existing disease are covered
Complications are a part of the procedure
Medical & surgical packages cannot be taken together for same patient in same episode of hospitalization
Exclusions under the policy are listed below:
Conditions that do not require hospitalization
Hospitalization primarily for evaluation / diagnostic purpose
Any dental treatment or surgery which is corrective, cosmetic or of aesthetic procedure, filling of cavity, root canal including wear and tear etc. unless arising from disease, illness or injury and which requires hospitalization for treatment.
Congenital external diseases
Fertility related procedures
Drugs and Alcohol Induced illness
Vaccination
Suicide
Persistent Vegetative State
CMAAY Package Benefits – Specialty Wise Package Rate List
Here is the direct link to check Specialty Wise Package Rate List under Chief Minister Arogya Arunachal Yojana – https://cmaay.com/packageratelist.aspx
The page to track CMAAY Package Rate List will appear as shown below:-
CM Arogya Arunachal Yojana Application Form PDF Download
STEP 1: Visit the official website https://cmaay.com/CMAAY_home.aspx
STEP 2: At the homepage, scroll over the "Documents" link present in the main menu, next "Forms & Downloads", next "Enrollment Forms Download" and then at "Beneficiary Enrollment" link as shown below:-
STEP 3: Candidates can even click at https://cmaay.com/PDF/6_BeneficiaryEnrolment.pdf to open the CMAAY Application Form PDF as shown below:-
CMAAY Hospital Empanelment Application Form
Hospital Empanelment lines are open for CMAAY Scheme. All the Govt. / Semi govt. / Private / Charitable / Trust hospitals can fill the hospital empanelment online application form to enroll for this scheme. Every hospitals must understand the Process Flow first and then fill CMAAY Hospital Empanelment Form:-
Visit the same official website https://cmaay.com/CMAAY_home.aspx
Apply Online for Hospital Empanelment – At the homepage, click at the "Apply" link under the Empanelment section or directly click https://cmaay.com/common/RGJAYEmpanelElegibility.aspx
Then click at "Click Here for Application", read instructions and agree to Terms and Conditions, and then click the type of hospital. It could be any govt./ private/ charitable/ trust hospital. Clicking on that particular type will open the application form for that hospital.
For instance, if we click at the "Govt. / Semi Govt." tab, then Hospital Empanelment form will appear as follows:-
Here give all the Hospital details, Registration details, Accrediation & Certification details, bank Details, Taxation details and Submit the form to complete the CMAAY application process.
Patient Enrollment Data Search (Search Enrollment Details at Hospitals) – https://cmaay.com/Hospital/SearchEnrollmentDtls.aspx
CMAAY Approved List of Procedures
There will be approved list of procedures in 23 specialties as given in the table below:-
| | |
| --- | --- |
| Cardiology | Cardio-thoracic Surgery |
| Cardio-Vascular Surgery | Ophthalmology |
| ENT | Orthopedics |
| Poly trauma | Urology |
| Obstetrics & Gynaecology | General Surgery |
| Neuro-Surgery | Interventional Neuro-Radiology |
| Plastic and Reconstructive | Burns Management |
| Oral and Maxillofacial Surgery | Paediatrics Medical Management |
| Neo-Natal | Paediatrics Cancer |
| Paediatrics Surgery | Medical Packages |
| Oncology | Mental Disorders Package |
| Emergency Room Packages (Care requiring less than 12 hrs stay) | |
CMAAY Approved Procedures List
CMAAY Empaneled Hospitals (Outside the State of Arunachal Pradesh)
Here is the list of CMAAY empaneled hospitals outside the state of Arunachal Pradesh:-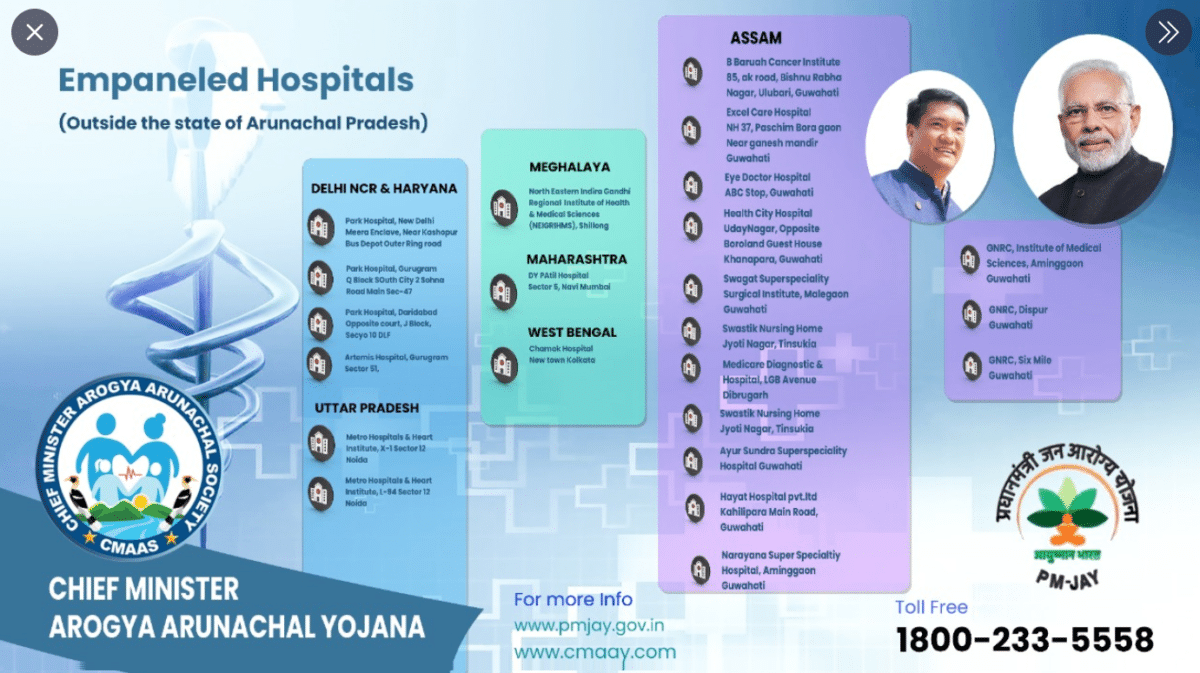 For more benefits and details on the CMAAY Health Scheme, please click the link – https://cmaay.com/CMAAYscheme.aspx