Election Commission of India (ECI) has launched Voter Helpline App for Android and IOS users. Now people can download Voter Helpline APK to access online services for voters. People can download voter ID card, find name in voter list, search electoral roll, make complaints and fill forms. Voter Helpline Android App APK is 9.5 MB in size with 1 million+ installations till date.
The Voter Helpline Android App was last updated on 15 March 2019 with current running version of v1.1.14. All the android users with more than 4.1 and up version can download this Voter Helpline mobile app by ECI. This app is of great important in view of the upcoming Lok Sabha elections.
Previously, ECI had announced the Lok Sabha election dates and voting is to be done in 7 phases i.e on 11th April, 18th April, 23rd April, 29th April, 6th May, 12th May & 19th May 2019.
Voter Helpline Android App Download from Google Play Store
This section will provide you the information on how to download Voter Helpline App from Google Playstore. The direct link to download Voter Helpline Android App (APK) is given below:-
Voter Helpline APK Download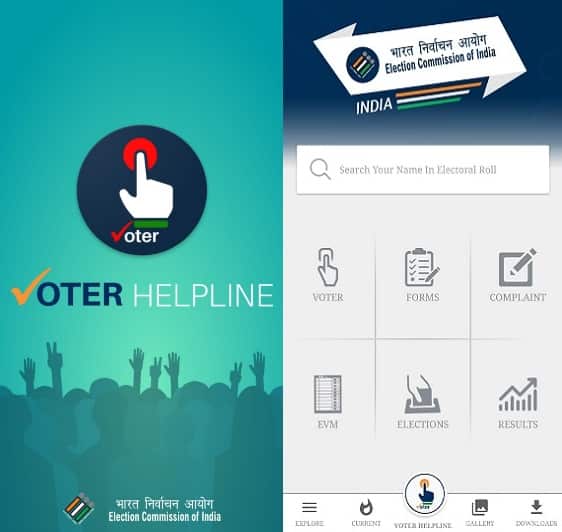 Election Commission of India has taken this new initiative to design a mobile application to develop a culture of electoral engagement and making informed and ethical ballot decisions among citizens of the country.
About Voter Helpline App APK
As a part of the continuous efforts by ECI to build an active democratic citizenry in the country, the Voter Helpline App APK has been launched. Voter Helpline APK will provide the following facilities to the Indian voters:-
Electoral Search – Here people can #GoVerify your name in the electoral roll
Forms – Submission of online forms for new voter registration or for voters who are shifting to a different assembly constituency, for overseas voters, deletion or objection in electoral roll, correction of entries and transposition within assembly.
Complaint Registration – To register complaints related to electoral services and track its disposal status.
FAQ's – Candidates can check FAQ's on Voter, Elections, EVM & Results.
Online Services – Services and Resources for Voters and Electoral Officers.

Voter Online Service App
This Voter Helpline app provides a single point of service and information delivery to voters across the country.