vidya lakshmi portal registration | vidya lakshmi portal student / bank login | vidya lakshmi portal documents required | vidyalakshmi portal registration | vidya laxmi portal application form | vidyalakshmi portal form
Vidya Lakshmi Portal Registration 2023 & Login process started by central government. All the students can now apply online for education loan at the official Vidya Laxmi Portal. Central govt. is inviting Education loan online application form at vidyalakshmi.co.in. Students can view, apply and track the education loan applications to banks anytime, anywhere by accessing the Vidyalaxmi Portal. Interested candidates can now make Vidyalakshmi Portal online registration & login as student to get loans for pursuing their studies.
The complete process to apply online for education loan at Vidya Laxmi Portal is very simple. It involves registration at Vidyalaxmi portal, filling up of common loan application form and then apply to multiple banks.
Vidya Lakshmi Portal at vidyalakshmi.co.in
Vidya Lakshmi Portal is a first of its kind portal now functional for students who requires Education Loan to pursue their studies. Vidya Laxmi portal has been developed under the guidance of Department of Financial Services (Ministry of Finance), Department of Higher Education (Ministry of Education) and Indian Banks Association (IBA). The Vidyalakshmi portal has been developed and being maintained by NSDL e-Governance Infrastructure Limited.
Vidya Laxmi Portal Registration 2023
Vidya Lakshmi Portal provides single window for Students to access information about various loan schemes provided by banks and make applications for educational loans. If you want to apply for education loan on Vidyalakshmi portal, you must register on portal. Please provide essential details as mentioned in registration form. Here is the complete process to make Vidya Laxmi Portal Registration:-
STEP 1: Firstly visit the official website at https://www.vidyalakshmi.co.in/Students/
STEP 2: On the homepage, click at either "Register" tab present in header or click at "Apply Now" button as shown below:-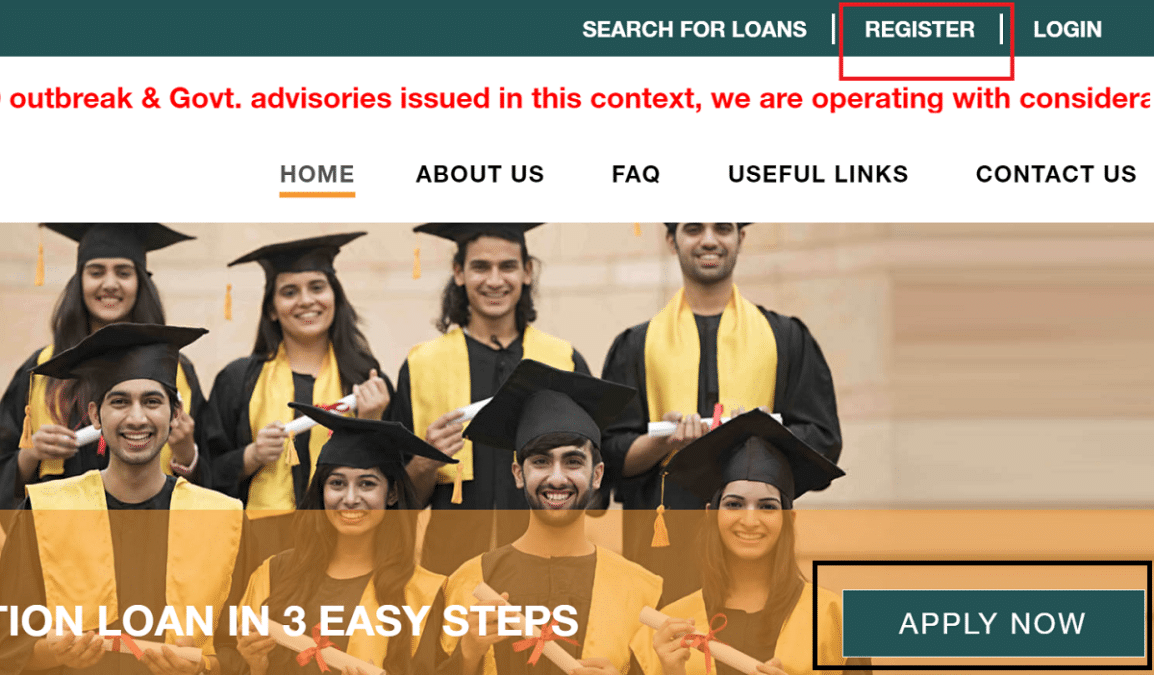 STEP 3: Direct Link – https://www.vidyalakshmi.co.in/Students/signup
Central Government Govt Schemes 2023Popular Schemes in Central Government:प्रधानमंत्री आवास योजना 2023Pradhan Mantri Awas YojanaPM Awas Yojana Gramin (PMAY-G)
STEP 4: Then the Vidya Lakshmi Portal registration form online will appear as shown below:-
STEP 5: Candidates can fill in all the details accurately to complete Vidya Lakshmi Portal registration process and proceed to Login page.
Important Instructions
Please ensure that the registration details filled in are correct. Please enter password in required format.
Guidelines for Registering on Vidya Lakshmi Portal
Name – Please enter student name as per 10th class marksheet or as per the marksheet attached with your loan application
Mobile Number – Enter a valid mobile number. Student can provide mobile number of parent/guardian
Email ID – Enter a valid email ID. Email ID will not be allowed to change. All necessary communications will be sent on this email ID.
Make Vidyalaxmi Portal Login
Interested students who wants to apply online for education loan can now make Vidyalaxmi Portal login at the homepage of official Vidya Lakshmi Portal. The direct link to make Vidya Laxmi Portal login is https://www.vidyalakshmi.co.in/Students/index/. The section where login has to take place will be displayed on the home screen similar to the one in the image below:-
Here applicants can enter e-mail ID and password and click at "Login" button to proceed to fill Vidyalakshmi Education loan application form.
List of Registered Banks for Education Loan at Vidyalakshmi Portal
There are a total of 38 banks registered banks at Vidya Lakshmi Portal. Out of these banks, the major banks which are registered at Vidyalakshmi portal are as follows:-
Canara Bank
Bank of India
Corporation Bank
Punjab National Bank
UCO Bank
Indian Overseas Bank
Axis Bank
Federal Bank
RBL Bank
Allahabad Bank
Andhra Bank
Bank of Baroda
Dena Bank
Central Bank of India
IDBI Bank
HDFC Bank
State Bank of India
Tamilnad Mercantile Bank Ltd.
GP Parsik Bank
New India Bank
Union Bank of India
Karur Vysya Bank
Syndicate Bank
Vijaya Bank
Need for Vidya Lakshmi Yojana
India is one of the youngest nations in the world with more than 54% of the total population below 25 years of age. Our young people have to be both, educated and employable for the jobs of the 21st century. The Prime Minister has explained how Skill India needs to be closely coordinated with Make in India. Yet, today less than 5% of our potential workforce gets formal skill training to be employable and stay employable.
With a view to enable all poor and middle class students to pursue higher education of their choice without any constraint of funds, PM proposed to set up a fully IT based Student Financial Aid Authority to administer and monitor Scholarship as well Educational Loan Schemes, through the Pradhan Mantri Vidya Lakshmi Karyakram.
The central govt. wants to ensure that no student misses out on higher education for lack of funds. The IT based mechanism under the Pradhan Mantri Vidya Lakshmi Karyakram is expected to provide to students a single window electronic platform for Scholarships and Educational Loans.
Search for Loan Schemes at Vidya Lakshmi Portal
Students would be able to perform search for loan schemes at Vidyalakshmi.co.in portal after making successful login. There are 127 loan schemes to select from which are available at the Vidyalaxmi Portal.
Head Office / Branches
Head Office
Mumbai Address – Times Tower, 1st Floor, Kamala Mills Compound, Lower Parel, Mumbai – 400 013. Fax – (022) 2491 5217
Head Office Working Hours- Monday to Friday – 9:30 am to 6 pm
Branches
Kolkata Address: 5th Floor, The Millenium, Flat No. 5W, 235/2A, Acharya Jagdish Chandra Bose Road, Kolkata – 700 020.
Chennai Address: 6A, 6th Floor, Kences Towers, #1 Ramkrishna Street, North Usman Road, T. Nagar, Chennai – 600 017.
New Delhi Address: 409/410, Ashoka Estate Building, 4th floor, Barakhamba Road, Connaught Place, New Delhi – 110001.
Ahmedabad Address: Unit No. 407, 4th floor, 3rd Eye One Commercial Complex Co-op. Soc. Ltd., Above Vijay Sales Stores C. G. Road, Near Panchvati Circle, Ahmedabad – 380006.
Branches Working Hours- Monday to Friday – 9:30 am to 6 pm
Helpline Number
Tel – 020-2567 8300, e-mail ID: [email protected]