West Bengal govt. is inviting Swapno Bhor Prakalpa Scheme 2023 online registration at www.pbssd.gov.in. This Swapno Bhor Yojana aims to provide employment linked training to Kanyashree Prakalpa beneficiaries. Under this scheme, all the K2-level Kanyashree beneficiaries who have crossed the age of 18 years would be given technical training. The state govt. flagship Kanyashree Prakalpa Scheme is now being extended to provide job opportunities to the women.
WB Swapno Bhor Prakalpa Scheme 2023
CM Mamata Banerjee has given the name to Kanyashree Prakalpa and this Swapno Bhor Prakalpa Scheme too to provide job-oriented training to women employable. According to the State Women & Social Welfare Minister, the state govt. will implement this WB Swapner Bhor Scheme for Kanyashree beneficiaries. The state govt. will provide training to women beneficiaries in collaboration with Technical Education, Training & Skill Development (TET&SD) department.
Swapno Bhor Registration for Kanyashree Girls
"Swapno Bhor", a convergence programme for skill development of Kanyashree Girls, to provide opportunity to Kanyashree Girls to gain skills & knowledge to become economically independent through Utkarsh Bangla programme of the Government. Kanyshree Girls will have priority in the admission in Skill Development Courses under Utkarsh Bangla. Below is the complete process to make Swapno Bhor Registration for Kanyashree girls:-
STEP 1: The direct link to apply online for Swapno Bhor Prakalpa is https://www.pbssd.gov.in/swapno_bhor
STEP 2: At this page, all the applicants will have to click the "Apply Now" link. Then the List of Training Providers will appear on the screen.
STEP 3: Applicants can select their district, sector and click on search. They can also give their pin code to search nearby Training Centers. Here Press "Click to view Training Centers" as shown above to open Swapno Bhor Training Centres List as shown below:-
STEP 4: In this window, hit at the "Click to View Courses" link to open the Swapno Bhor Courses List as below:-
STEP 5: In this window, press "Apply Now" tab to open the Swapno Bhor Trainee Pre-Registration Form for Kanyashree Girls.
West Bengal Govt Schemes 2023Popular Schemes in West Bengal:Karma Sathi Prakalpa SchemeYuvasree SchemeManabik Prakalpa Scheme
STEP 6: Please provide your Kanyashree Id and Year of Registration and click at the "Submit" button. In case you are not a kanyashree beneficiary, then hit at "No" button to open Swapno Bhor Training Pre Registration Form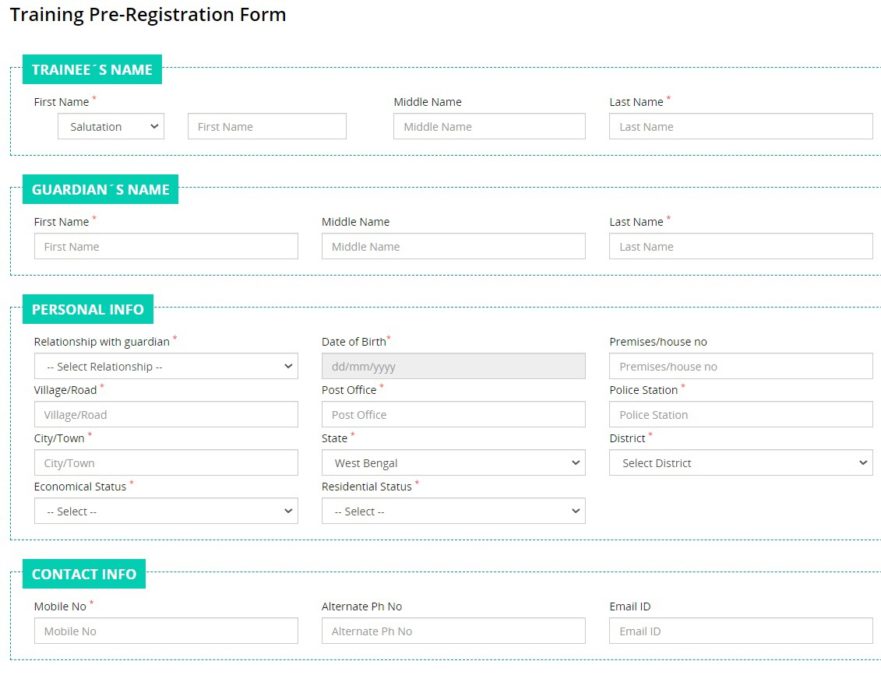 STEP 7: Here candidates can enter all the details in the Swapno Bhor Scheme online registration form.
Salient Features of Swopno Bhor Prakalpa Scheme
Kanyashree girls can develop their skills under Utkarsha Bangla with the help of Swopno Bhor and become financially independent.
The portal of Kanyashree Prakalpa and Utkarsha Bangla will be linked through Swopno Bhor.
Kanyashree girls will get the opportunity to undertake their preferred training course free of cost.
On successful completion of training, Kanyashree girls will get employment opportunities.
Swopno Bhor can be accessed on www.wbkanyashree.gov.in.
Check Features of Kanyashree Swapno Bhor Scheme – https://www.wbkanyashree.gov.in/kp_4.0/kp_swapnobhor.php
WB Swapner Bhor Scheme Training
Now all the girls are proposed to get technical training along-with their studies in Swapner Bhor Scheme. This would resolve the problem of getting suitable jobs as per their talent. The state govt. is planning to provide training to girls in 2 categories – technical and mechanical. Each K2 beneficiary can apply online for any one branch, through the official website of Kanyashree Prakalpa.
Eligibility Criteria for Swapner Bhor Scheme
All the K2-level Kanyashree beneficiaries are entitled to get Rs. 25,000 but subject to fulfillment of 2 clauses:-
Firstly girls should remain unmarried till the age of 18 years.
Secondly girls must continue their studies.
After acceptance of the application forms, each applicant would be provided counselling with regard to course contents, benefits and types of job opportunities available. Every course content would be given 300 hours of training. Each trainee would be given a daily stipend of Rs. 50 for WB Swapner Bhor Scheme. Till date, there are around 16 lakh K2 beneficiaries. All the beneficiaries residing in various districts as well as in Kolkata will be provided the training.
Who are Kanyashree Prakalpa Scheme Beneficiaries
Kanyashree Prakalpa aims to improve the status and well-being of girls belonging to socio-economically disadvantaged families through Conditional Cash Transfers by:-
To provide incentives to girls to continue their education for a longer period of time. This would enable girls to complete secondary or higher secondary education or equivalent.
To dis incentivize marriage till the age of 18 years (legal age of marriage of girls). This will reduce the risks of early pregnancies, risks of maternal and child mortality and to reduce malnutrition.
For financial inclusion and empowerment of adolescent girls. Govt. will transfer the benefits directly into the bank accounts of girls.
Behaviour change communication strategy is adopted to create awareness about the Kanyashree Scheme, promotes adolescent friendly events, competitions and Kanyashree clubs.
This scheme will allow girls to remain in schools and to gain skills and knowledge to make them economically independent. For more details on the scheme & its beneficiaries, click the link – https://sarkariyojana.com/kanyashree-prakalpa-scheme/
Utkarsh Bangla Yojana 2016 – Background
The Government aims to introduce a Flagship Scheme in the State of West Bengal for the entire non-institutional, non-project mode, short term Skill Development interventions to provide wage/ self employment linked skills training to the residents of the State. Integrating all Skill Development interventions at the State level, this scheme shall be called the "UTKARSH BANGLA 2016".
Objectives of Utkarsh Bangla Initiative
The objective of the Utkarsh Bangla Scheme is to skill individuals to empower them to engage in wage employment or self-employment leading to improved livelihood through increased earnings, and/or improved working conditions, and/or opportunities to move from informal to formal work sectors.The skills imparted will be compliant with National Skills Qualifications Framework (NSQF)/ NCVT/ QP – NOS and conform to prevalent National norm and Standards. The training shall be in National Council(s)/ Industry validated and market relevant skills based modules followed by assessment and certification procedures that have an all India acceptance.
For more details on Utkarsh Bangla, click at link – https://www.pbssd.gov.in/files/public/publications/guideline/1534182694.pdf
Official Website of Paschim Banga Society for Skill Development – https://www.pbssd.gov.in/