CCEA, Central government has approved Centrally Sponsored Scheme of Restructured Rashtriya Gram Swaraj Abhiyan 2023. Restructed RGSA Scheme will develop governance capabilities of 2.55 lakh Panchayati Raj Institutions (PRIs) for delivery of Sustainable Development Goals (SDGs). Govt. is implementing this RGSA scheme from 1 April 2018 to 31 March 2022 with a total outlay of Rs. 7255.50 crore.
Rashtriya Gram Swaraj Abhiyan lays emphasis on local governance in order to make optimum utilization of resources. This scheme is specifically designed to work in convergence with Mission Antyodaya for Gram Panchayats and 116 Aspirational districts (identified by NITI Aayog).
Gram Panchayats are the institutions closest to grassroot level and comprises of SC, ST & women. So, strengthening of GPs will ensure the growth of poor people along with equity, inclusiveness, social and economic development
Restructured Rashtriya Gram Swaraj Abhiyan 2023 Framework
The total expenditure for Restructured RGSA 2023 as specified by the central govt. is 7255.50 crore for 4 years. Out of this, share of the Central govt. is Rs. 4500 crore while that of state govt. is Rs. 2755.50 crore. The distribution of share is as follows:-
Distribution of Expenditure
| Financial Year | State Share | Central Govt. Share |
| --- | --- | --- |
| 2018-19 | Rs. 585.51 crore | Rs. 969.27 crore |
| 2019-20 | Rs. 877.84 crore | Rs. 1407.76 crore |
| 2020-21 | Rs. 712.63 crore | Rs. 1160.94 crore |
| 2021-22 | Rs. 579.52 crore | Rs. 962.03 crore |
| Total Expenditure | Rs. 2755.50 crore | Rs. 4500 crore |
Expenditure for Rashtriya Gram Swaraj Abhiyan
Through this scheme, Panchayati Raj Institutions will make increased usage of e-governance to provide effective service delivery and transparency. Restructured RGSA will strengthen Gram Sabhas to work efficiently with social inclusion of vulnerable groups.
Details of Restructured Rashtriya Gram Swaraj Abhiyan 2023
The important features and highlights of RGSA 2023 are as follows:-
RGSA 2023 will now extends to all states and Union Territories. It also includes rural local govt. institutions in non-Part IX areas where Panchayats does not exists.
Restructured RGSA has 2 components – Central Component and State Component. These 2 components comprises of the following activities:-

Central Component (National Activities) – This includes 'National Plan of Technical Assistance', 'Mission Mode Project on e-Panchayat' and 'Incentivization of Panchayats'. Govt. of India will provide complete funds for the Central Component.
State Component – Capacity Building of Panchayati Raj Institutions (PRIs). For State component, the Centre : State funding pattern will be in the ratio of 60:40 for states, 90:10 for North East & Hill States. Central govt. share will be 100% for UTs with and without legislatures.
The primary objective is to achieve Sustainable Development Goals (SDGs) with focus on panchayats identified under Mission Antodaya and other 115 aspirational districts (identified by NITI Aayog).
Restructured Rashtriya Gram Swaraj Abhiyan will converge all the capacity building initiatives of other ministries as well.
Sunset date for RGSA will be 31 March 2030.
Implementation – Central and State govt. will perform and complete activities as per their defined roles. Restructured RGSA will be implemented in a demand driven mode. All the states will formulate their Annual Action Plans to seek financial assistance from Central govt. as per their needs and requirements.
Impact of Restructured Gram Swaraj Abhiyan 2023
The newly approved RGSA 2018-22 Scheme will provide assistance to 2.55 lakh PRIs to develop governance capabilities to deliver on SHGs through inclusive governance. Key Features of SDGs are as follows:-
Central Government Govt Schemes 2023Popular Schemes in Central Government:PM Awas Yojana Gramin (PMAY-G)NREGA Job Card ListSECC Family Member Details
To reach the last mile person and not to leave anybody in the process of development.
To embed gender equality in all capacity building interventions which includes training, training modules and other materials.
Central govt. will give priority to subjects of national importance which mostly affects the excluded groups. These subjects includes poverty, primary health services, nutrition, immunization, sanitation, education, water conservation, digital transactions etc.
Restructured RGSA will establish institutional structure for capacity building of PRIs at national, state and district level with necessary human resources and infrastructure.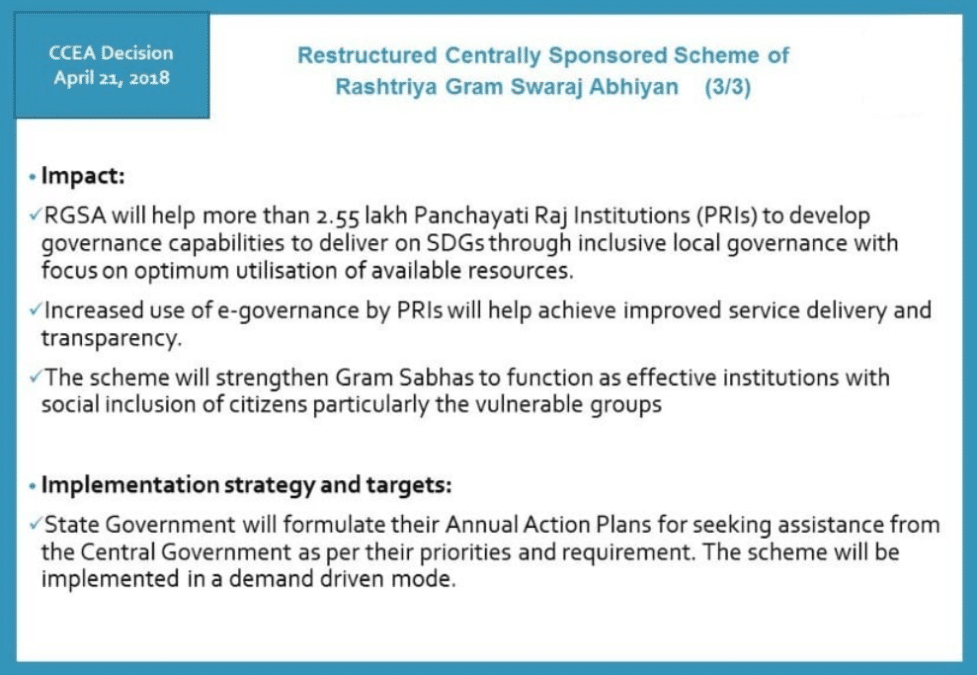 In Budget 2017-18, govt. announced to undertake Mission Antyodaya to bring 1 crore families out of poverty line and to make 50,000 GPs free from poverty. So, govt. has approved restructured Rashtriya Gram Swaraj Abhiyan for convergent action with Mission Antyodaya.
Helpdesk
Address : Ministry of Panchayati Raj Government of India 11th Floor, J.P. Building, Kasturba Gandhi Marg, Connaught Place, New Delhi – 110001
Email ID : [email protected]
Helpdesk : 011-24305284
For more details on RGSA 2022-2023, please visit the official website – rgsa.nic.in