Rajasthan voter list 2023 can be downloaded from the official website of CEO Rajasthan in PDF format. Chief Electoral Officer (CEO), Rajasthan has published the final CEO Voter List 2023 and name search facility is now available in PDF Electoral Rolls. People can find their name in Rajasthan CEO Voters List 2023 @ ceorajasthan.nic.in and can Download Voter ID Card to cast their important vote.
The voter list PDF download procedure on the official website of CEO Rajasthan is very easy, you just have to select the name of the district and then assembly constituency and click the search button. Below is the complete easy procedure to download the Rajasthan voter list 2023 PDF.
People can also check their name in the district-wise / gram panchayat wise voter list along with their photo. Moreover, people can also download the entire PDF file of the Electoral Roll (Voter List) and perform manual searching in the CEO Rajasthan Voter List 2023.
Latest Update
| | |
| --- | --- |
| Date of Voting | 23 November 2023 |
| Counting of Votes | 3 December 2023 |
Rajasthan Assembly Elections Dates 2023
Rajasthan Voter List 2023 PDF Download
Below is the complete procedure to download Draft Electoral Roll / District-Wise Voters List 2023:-
STEP 1: Visit the official website ceorajasthan.nic.in
STEP 2: On the homepage, click the "Final Photo Electoral Rolls-SSR 2-2023" under the "Citizen Center" section. Direct Link – To directly download the PDF File of district-wise voter list, candidates can click the link – https://voters.eci.gov.in/download-eroll?stateCode=S20
STEP 3: A screen similar to the given below will open, where candidates have to select the "District Name" and "Assembly Constituency" and enter the captcha text.
Rajasthan Govt Schemes 2023Popular Schemes in Rajasthan:Rajasthan Ration Card ListRajasthan Ration Card Application FormJan Aadhaar Yojana
STEP 4: Then District / Assembly Constituency wise Voter List Rajasthan 2023 will appear as shown in figure:-
STEP 5: Here click the 'download arrow' under "Final Roll-2023" to download the Rajasthan Voter List in PDF format along with their photograph.
STEP 6: Finally, candidates can perform manual search in downloaded file to find there name in complete list.
Candidates can download the Service Voters Electoral Roll through the link –
Alternate Link to Download Rajasthan Voter List PDF – https://sec.rajasthan.gov.in/se_pdfdownload.aspx
Rajasthan Voter ID Card Download
In order to download Rajasthan Voter ID card, candidates will first have to search their name online in the Rajasthan Voters List.
Find Name in Rajasthan Voters List Online by Details
The complete procedure to find your name online and download the Voter ID Card is specified as follows:-
STEP 1: Candidates can Search Name Online in Electoral Roll at the official website of CEO Rajasthan
STEP 2: Subsequently, candidates have to click at "Search Name in Electoral Roll" or directly click link – https://electoralsearch.in/
STEP 3: A new window for finding name in Rajasthan Voter List 2023 Online appears as shown below:-
STEP 4: Here candidates can easily check / find their name online in the Gram Panchayat Wise Voter List Rajasthan using their ID Card No. / EPIC Number, Name and Area / Locality.
STEP 5: Moreover, candidates can register their mobile number and also download the Mobile App for Rajasthan Elections through the link – https://ceorajasthan.nic.in/How%20to%20install%20Android%20application.pdf
STEP 6: Finally, after finding their name online, candidates can download the Voter ID Card and take a printout to caste their important vote.
In case of difficulty in finding name online, click at https://ceorajasthan.nic.in/SMS.pdf
Search Name in Rajasthan Voter List by EPIC Number
All the candidates are advised to check their name online in the Rajasthan Voter List before the general assembly elections to avoid last minute rush. They can find their name online using either with their Name or Voter ID Card details (EPIC – Electoral Photo ID Card) using the link given below:-
Search Name with EPIC ID Card Number in Voters List 2023, visit official website at https://electoralsearch.in/
At the page, click at the "Search by EPIC Number" tab to open the page as shown below:-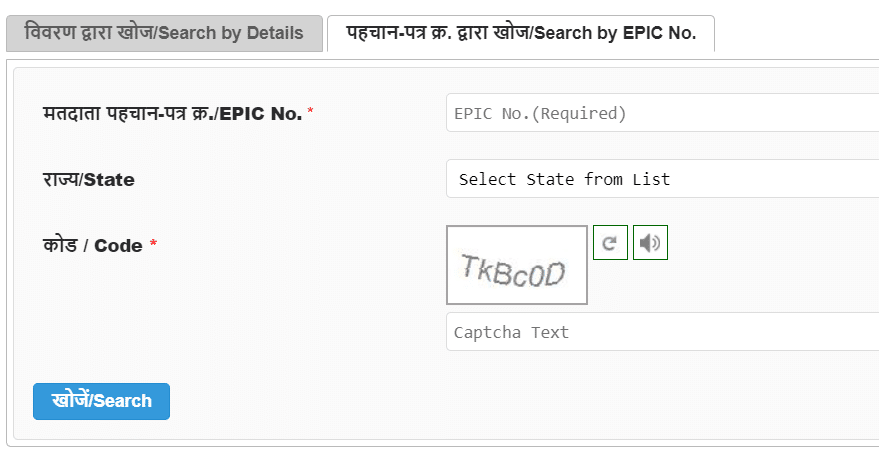 Here candidates can enter their Voter ID Card with Photo – EPIC Number details and find their name in CEO Rajasthan Voters List. Then all the details of the citizen eligible for voting will get displayed on the screen. Finally can download this file and take a printout of their Voter ID Card.
Other Important Links
References
Candidates can also see List of All Polling Stations and Location of Polling Stations on Google Map.