Central government has started PM Vishwakarma Yojana 2023 apply online process at pmvishwakarma.gov.in. PM Vishwakarma is a new scheme and envisages to provide end-to-end holistic support to the traditional artisans and craftspeople in scaling up of their conventional products and services. Finance Minister Nirmala Sitharaman had earlier announced PM Vishwakarma Kaushal Samman Yojana on 1 February while presenting the Union Budget 2023-24. In this article, we will tell you about PM Vishwakarma Kaushal Samman Yojana registration and other details.
PM Vishwakarma Yojana Online Registration 2023
STEP 1: Firstly, visit the official website https://pmvishwakarma.gov.in/
STEP 2: On reaching the homepage, click at "How to Register" link
STEP 3: Then it will show you how to make PM Vishwakarma Yojana 2023-24 Registration, steps are defined here.
Mobile and Aadhaar Verification – Do your mobile authentication and Aadhaar EKYC
Artisan Registration Form – Apply for the registration form.
PM Vishwakarma Certificate – Download the PM Vishwakarma Digital ID and Certificate
Apply for scheme components – Start Applying for different Components
STEP 4: After you apply for various components, then your application would be scruitinized and after approval, you would be able to get PM Vishwakarma Yojana benefits.
PM Vishwakarma Scheme 2023 Benefits
Recognition: Recognition as Vishwakarma through Certificate and ID Card
Skilling:

Skill Verification followed by 5-7 days (40 hours) Basic Training
Interested candidates can also enroll for 15 days (120 hours) Advanced Training
Training Stipend: Rs 500 per day

Toolkit Incentive: Rs 15,000 grant
Credit Support:

Collateral free Enterprise Development Loans: Rs 1 lakh (First Tranche for 18 months repayment) & Rs 2 lakh (Second Tranche for 30 months repayment)
Concessional Rate of Interest: 5% to be charged from the beneficiary with Interest Subvention cap of 8% to be paid by MoMSME
Credit Guarantee fees to be borne by GoI

Incentive for Digital Transaction: Re 1 per transaction for maximum upto100 transactions (monthly)
Marketing Support: National Committee for Marketing (NCM) will provide services such as Quality Certification, Branding & Promotion, E-commerce linkage, Trade Fairs advertising, publicity and other marketing activities.
PM Vishwakarma Portal (pmvishwakarma.gov.in) Login
Firstly, visit the official website https://pmvishwakarma.gov.in/
On reaching the homepage, scroll over "Login" tab and click at "Applicant/Beneficiary Login" link.
On clicking the link, the PM Vishwakarma Yojana Login page will appear.
Enter mobile number, captcha and click "Login" button to make PM Vishwakarma login.
Objectives of PM Vishwakarma Yojana 2023
The objectives of the PM Vishwakarma scheme are as given below:-
To enable the recognition of artisans and craftspeople as Vishwakarma making them eligible to avail all the benefits under the Scheme.
To provide skill upgradation to hone their skills and make relevant and suitable training opportunities available to them.
To provide support for better and modern tools to enhance their capability, productivity, and quality of products.
To provide the intended beneficiaries an easy access to collateral free credit and reduce the cost of credit by providing interest subvention.
To provide incentives for digital transaction to encourage the digital empowerment of these Vishwakarmas.
To provide a platform for brand promotion and market linkages to help them access new opportunities for growth.
PM Vishwakarma Kaushal Samman Yojana in Union Budget 2023-24
For centuries, traditional artisans and craftspeople, who work with their hands using tools, have brought renown for India. They are generally referred to as Vishwakarma. The art and handicraft created by them represents the true spirit of Atmanirbhar Bharat. For the first time, a package of assistance for them has been conceptualized. The new PM Vishwakarma Kaushal Samman Yojana or PM Vikas scheme will enable them to improve the quality, scale and reach of their products, integrating them with the MSME value chain.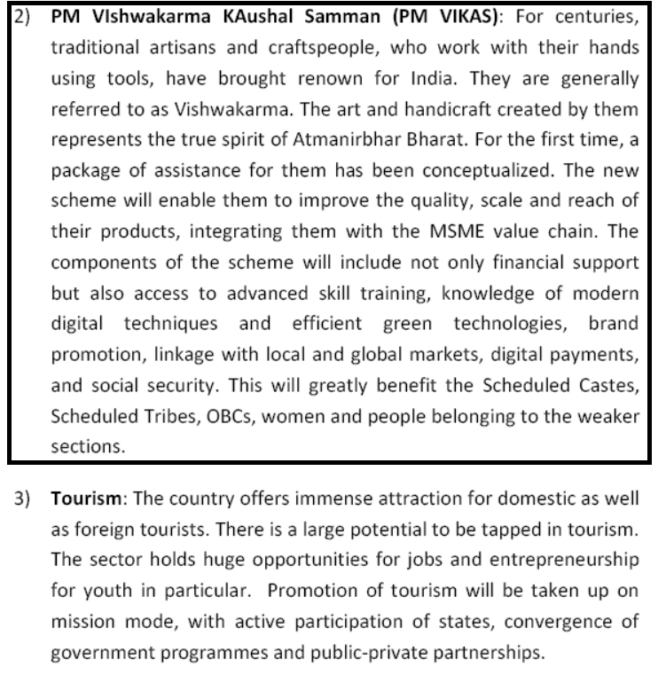 Overview of PM Vishwakarma Kaushal Samman Scheme
| | |
| --- | --- |
| Name of Scheme | PM Vishwakarma Kaushal Samman Yojana |
| Short Form | PM Vishwakarma Yojana or PM VIKAS Yojana |
| in Hindi | पीएम विश्वकर्मा कौशल सम्मान योजना |
| Date of Announcement | 1 February 2023 |
| Who made Announcement | Finance Minister, Smt. Nirmala Sitharaman |
| Beneficiaries | Traditional artisans and craftspeople |
| Portal Link to Apply Online | pmvishwakarma.gov.in |
PM Vishwakarma Kaushal Samman Yojana Overview
The components of the PM Vishwakarma Kaushal Samman Yojana (पीएम विश्वकर्मा कौशल सम्मान योजना) will include not only financial support but also access to advanced skill training, knowledge of modern digital techniques and efficient green technologies, brand promotion, linkage with local and global markets, digital payments and social security. This PM Vikas Yojana will greatly benefit the Scheduled Castes, Scheduled Tribes, OBCs, women and people belonging to the weaker sections.
Central Government Govt Schemes 2023Popular Schemes in Central Government:NREGA Job Card ListPradhan Mantri Jan Arogya YojanaSECC Family Member Details