Bihar Patrakar Samman Pension Yojana 2023 has been launched by Chief Minister Nitish Kumar. Bihar government is planning a strategy to modify the old version of Bihar Journalists Pension Scheme by making some amendments in pension rules. In this article, we will tell you about the complete details of the Bihar Patrakar Samman Pension Yojana.
What is Bihar Patrakar Samman Pension Yojana 2023
Information & Public Relations Department (IPRD) on directions from Bihar CM Nitish Kumar renamed the scheme earlier from Patrakar Pension Yojana to Patrakar Samman Pension Yojana. IPRD has even made necessary amendments in the existing pension rules to benefits the eligible retired journalists.
Benefits of Bihar Patrakar Samman Pension Yojana
As per the existing rules of the scheme, the beneficiary would get the pension benefits. An amount of 6,000 per month would be given to the beneficiary (retired journalist) in the form of pension.
Eligibility Criteria for Bihar Patrakar Samman Yojana
A retired journalist having 20 years of minimum experience would be eligible for Bihar Patrakar Samman Pension Yojana.
Any retired journalist who have crossed the age of 60 years would be eligible for the journalist pension scheme.
Beneficiaries of Bihar Patrakar Samman Pension Yojana
The state govt. of Bihar has selected altogether 46 retired journalists for providing financial assistance in the current year. However, pension amount was transferred in bank accounts of only those journalists whose application was approved till November last year. The application of remaining journalists were approved in March 2023. Hence pension amount in their bank accounts will be transferred on completion of the month.
Bihar Patrakar Pension Yojana in Budget 2023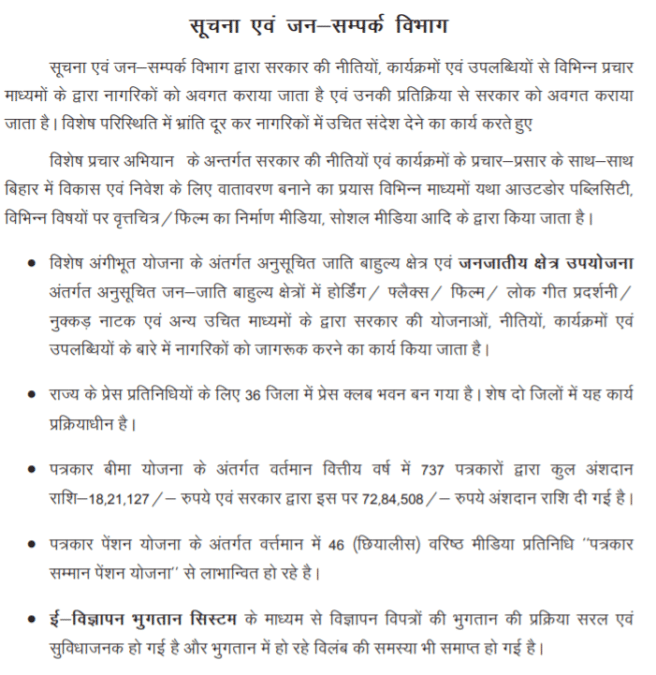 The government also requested the journalist's delegation to come with some effective suggestions for the Patrakar Samman Pension Scheme. CM asked journalists for what method should be used to certify the qualifying criteria of minimum 20 years of working experience in the field of journalism.
Earlier, some journalists requested the government to increase the amount of pension but the government declined the request. Bihar Patrakar Samman Yojana was formed in the governance period of former CM Jitan Ram Manjhi in February 2015.
Source / Reference Link: https://state.bihar.gov.in/finance/cache/12/Budget/Budget/Minister%20Speech%202021-22%20Final.pdf
Bihar Govt Schemes 2023Popular Schemes in Bihar:Bihar Ration Card ListBihar Ration Card Apply Form PDF DownloadVriddhjan Pension Yojana