Odisha government has launched a new Balaram Yojana 2023 to provide agricultural credit of Rs. 1,040 crore to landless farmers. This agriculture credit amount will help farmers who are facing difficulties due to the Coronavirus (COVID-19) pandemic outbreak. Around 7 lakh landless cultivators would be benefited from the Balaram Scheme in the upcoming 2 years. In this article, we will tell you about apply online process and how to fill Odisha Balaram Yojana online registration form at agriodisha.nic.in.
Odisha Balaram Yojana 2023 Apply Online
The decision to launch Odisha Balaram Yojana was taken at a high-level meeting presided over by chief secretary A K Tripathy on 2 July 2020. All the landless farmers who were unable to get farm credit earlier will now get loans through joint liability groups. This loan amount will act as social collateral for land-less farmers.
The new Balaram Yojana is designed in collaboration with the National Bank for Agriculture and Rural Development (NABARD). Moreover, the village agriculture workers will implement the agricultural credit programme at the field level.
Balaram Yojana Online Registration Form
In the Odisha Balaram Yojana 2023, the state govt. will extend credit to cultivators which would be a firm step towards enhancing productivity in the agricultural sector. As the nation-wide COVID-19 lockdown had been imposed to prevent Coronavirus outbreak, many landless farmers along with their families had suffered the most. Now there is a need to provide such farmers with an agricultural credit, for which the new Balaram Yojana has been started. The direct link of application for issue of certificate of cultivation is given here – https://agriodisha.nic.in/content/pdf/BALARAM_OG_FINAL.pdf
The Odisha Balaram Yojana Online Application / Registration Form 2023 will appear as shown below:-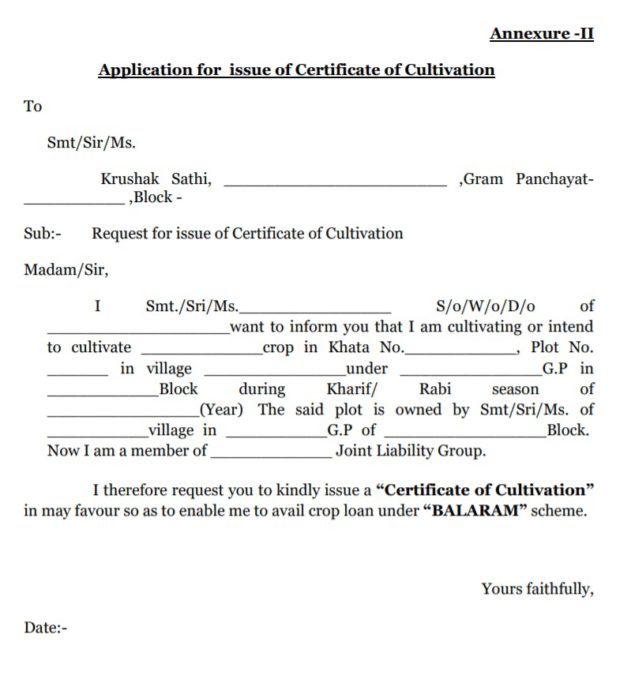 Here applicants can fill the application form for issue of certificate of cultivation to get loans under Balaram Yojana. Then the Certificate of Cultivation will appear as shown below:-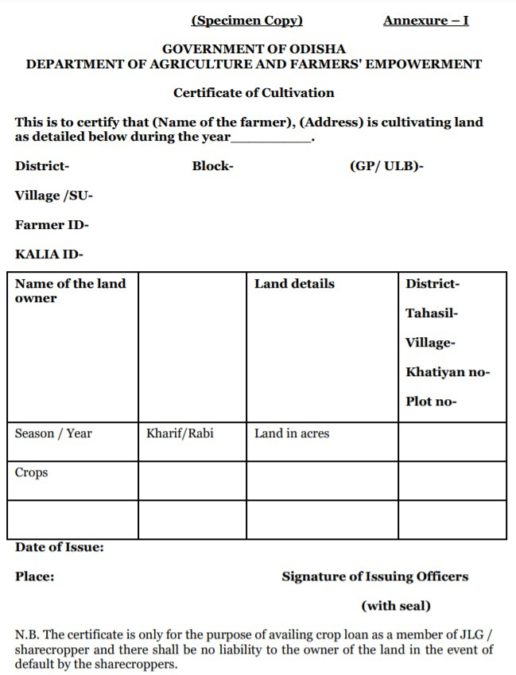 Implementation of Odisha Balaram Scheme 2023
The state govt. of Odisha has given directions to the officials to mobilize the banking sector through State Level Bankers Committee. The SLBC will now extend credit support to the landless farmers and sharecroppers who do not get loans due to lack of resources. The 2 state run organizations will be the nodal agencies at the state and district levels for implementation of the Balaram Yojana in Odisha:-
Institute on Management of Agricultural Extension (IMAE) will be nodal agency at the state level for Balaram Scheme implementation.
Agricultural Technology Management Agency (ATMA) will be nodal agency at the district level for Balaram Scheme implementation.
The agricultural credit would be made available to landless farmers as a normal crop loan. The state govt. has also directed officials to work out an appropriate institutional mechanism for coordination and monitoring at different levels.
Odisha Govt Schemes 2023Popular Schemes in Odisha:KALIA Scheme Beneficiary ListOdisha Ration Card ListOdisha Ration Card Application Form PDF
Incentivise Krushak Sathis in Odisha
The Odisha state govt. has also decided to incentivise Krushak Sathis and village agriculture workers through the ATMA which would help in the following things:-
Formation of JLGs
Linking them to the banks
Mobilizing credit disbursal
Facilitating repayment of the loans
Each lender will finance at least 10 JLGs in a year. Each JLG will have 5 members and one group will get Rs 1.6 lakh. The target is to cover around 7 lakh landless cultivators through 1.40 lakh JLGs within two years. There are around 7,000 branches of different banks and the Primary Agriculture Cooperative Societies (PACS) in rural and semi-urban areas.
The Odisha Balaram Scheme is the first of its kind initiative to provide agricultural credit in the country. Through this programme, the field-level agricultural workers will get a credit of around Rs 1,040 crore.