Prime Minister Narendra Modi has launched the Gujarat Kisan Suryoday Yojana 2023 for farmers. In this Kisaan Suryodaya Scheme, govt. will spend Rs. 3,500 crore over next 3 years to provide solar power to farmers for irrigation during daytime. After Sujalam Sufalam and SAUNI yojana (both irrigation projects), now Kisan Suryoday Yojna will be a milestone for the farmers of Gujarat.
Kisan Suryoday Yojana in Gujarat Budget 2023-24
Finance Minister presented Gujarat Budget 2023-24 on 24 February 2023. FM said "A Provision of Rs. 1570 crore for the life changing scheme for the farmers i.e. Kisan Suryoday Yojana to provide a day time power to the farmers instead of in the night".
Apply Online for Gujarat Kisan Suryoday Yojana 2023
Gujarat Kisan Survoday Yojana 2023 aims to provide 16 hours (5 a.m to 9 p.m) of power supply to farmers in the state every day. The daytime electricity would help in expansion of micro-irrigation coverage in state. PM Modi urges farmers to follow per drop more crop mantra to conserve every drop of water. If farmers gets electricity during daytime, then govt. would be able to conserve water.
| | |
| --- | --- |
| Name of Scheme | Kisan Suryoday Yojana |
| in Language | किसान सूर्योदय योजना |
| Launched by | By PM Modi and the Government of Gujarat |
| Beneficiaries | Farmers of the state |
| Major Benefit | Get three-phase electricity during the morning i.e. from 5 am to 9 pm. |
| Scheme Objective | Supply of electricity for irrigation in the state |
| Scheme under | State Government |
| Name of State | Gujarat |
| Start / Last Date to Apply Online | Not Available |
| Apply Online | Not Available |
| Notification | Not Available |
Gujarat Kisan Suryoday Yojana
Water Conservation through Kisan Suryodaya Yojana
Daytime power supply will lead to saving of water. When farmers were getting electricity at night, they would switch on their motor pumps and go to bed even as water would flow out. But now with farmers getting power during the daytime, this would stop and a lot of water will be saved.
Kisan Suryoday Yojana Village List
Gujarat Government will cover 4000 villages under the Kisan Suryoday Yojana by the end of January 2023. Kisan Suryoday Yojana was inaugurated by Prime Minister Narendra Modi in Gujarat in the year 2020. Under this ambitious scheme, farmers are getting the day time agriculture power supply. Gujarat Government has planned to cover all the villages under this scheme by the end of 2024. 1 lakh farmers have been covered under this scheme in the first phase while the second phase will cover 1 lakh 90 thousand farmers.

Under this scheme, the state government is going to install new transmission lines and sub-stations at an estimated cost of Rs. 35 thousand crore in three years. The aim of this scheme is to protect the farmers from snakes and other wild animals during the night time.
Implementation of Gujarat Kisan Suryoday Yojana
A new transmission network capacity was being created under which 3,500 circuit km of new transmission lines will be laid in the next 2-3 years. This includes setting up of nine 220 KV substations and 234 new transmission lines of 66 KV. In the upcoming days, farmers in 1,055 villages in Junagadh, Gir Somnath and Dahod districts will be given solar power and this scheme will be extended to farmers across the state in next three years.
3 Phase Electricity Supply for Irrigation
Under the new scheme, farmers will get 3 phase power supply from 5 AM to 9 PM for irrigation purposes. All stakeholders will work continuously in line with the changing times to help the farmers in doubling their income. This Kisan Suryoday Yojana would reduce investment and overcome their difficulties in getting power supply.
Doubling of Farmers Income by 2022
Gujarat govt. has listed the initiatives to double the income of the farmers like the formation of thousands of FPOs, neem coating urea, Soil Health Cards, and launching of many new initiatives. KUSUM yojana, FPOs, Panchayats and all such organizations are assisted in setting up small solar plants on barren lands and that irrigation pumps of farmers are also connected to the solar energy. Moreover, electricity generated from this will be used by the farmers for their irrigation and they can sell the surplus power.
Gujarat Govt Schemes 2023Popular Schemes in Gujarat:Atmanirbhar Gujarat Sahay YojanaNamo E Tab SchemeGujarat Bhulekh Naksha - Check Land Records Online
Providing electricity during the day would help the farmers in setting up micro-irrigation and Kisan Suryodaya Yojana would help in the expansion of micro-irrigation in the state.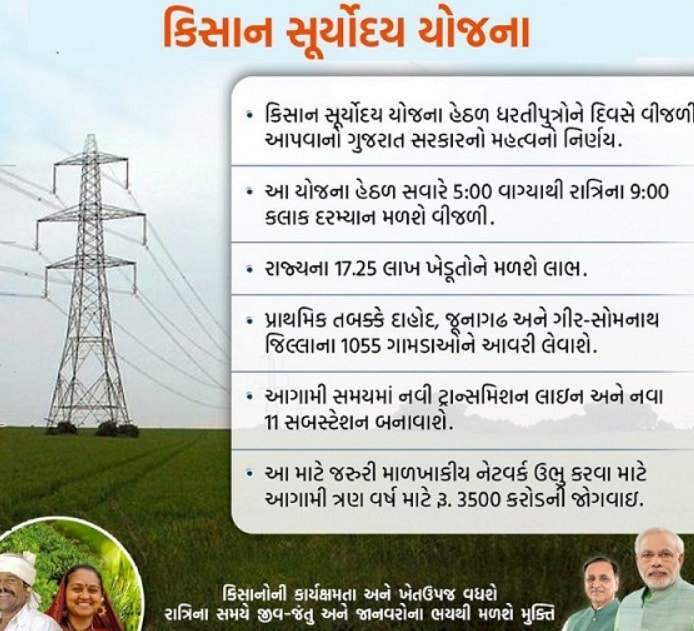 PM Modi Launch of Kisan Suryoday Yojana
PM Modi has launched Kisan Suryoday Yojana and said that Gujarat has always been an exemplary model for the determination and dedication of the common man. After the Sujalam-Suflam and Sauni scheme, Gujarat through the Kisan Suryoday Yojna has set a milestone in meeting the needs of the Gujarat Farmers. Prime Minister applauded the work done in Gujarat for years in the field of electricity which has become the basis of this scheme. Power generation to transmission all the works were carried out in mission mode to improve the capacity in the state.
Pradhan Mantri Narendra Modi also mentioned that in 2010 when the Solar Power Plant was inaugurated in Patan, nobody could have imagined that India would show the world the path for One Sun, One World, One Grid. And PM even appreciates the fact that India has now reached 5th position in the world in the last few years in solar power and is advancing fast. On Kisan Suryodaya Yojana the PM said, earlier most of the farmers got power for irrigation in the night only and had to wake up all night. Now these problems would be resolved.
Budget Allocation for Day Time Power Supply to Farmers
The state government of Gujarat has allocated a budget of Rs. 3500 crore for installing transmission infrastructure under this scheme by 2023. PM lauded the efforts of the Gujarat govt. for doing this work by preparing a completely new capacity of transmission, without affecting the other existing systems.
Under this scheme, about 3500 circuit kilometers of new transmission lines will be laid in the next 2-3 years and will be implemented in more than a thousand villages in the coming days and most of these villages are in tribal-dominated areas. He said it will change the lives of lakhs of farmers when entire Gujarat gets the power supply through Kisan Suryoday Yojana.
Background
Gujarat was the first state in the country to have made a detailed policy for solar power, a decade ago. In 2010, when solar power park was inaugurated at Patan, nobody had imagined that one day, India will show the way to the world about one sun, one world and one grid.