Income Tax dept. has started the online application process to generate Instant e PAN Card at incometaxindiaefiling.gov.in. People can apply online for Instant e-PAN using Aadhar Card absolutely free of cost in just 10 minutes. It is a simple and hassle free process and requires only Aadhaar Card 12 Digit Biometric Number for online application. Aadhar Number can be used as Identity (ID), Address and Date of Birth (D.O.B) Proof. In this article, we will tell you about how to get your PAN Card ready instantly, check e-PAN status and download it.
Instant e PAN Card allotment (Beta version) in near to real time is available free of cost for limited period. Individuals (other than minors) with a valid Aadhaar number (with updated Mobile number) can avail the e-PAN allotment facility. This facility is not applicable to undivided hindu families, companies and trusts. PAN pdf would be generated and issued to the applicant in a hassle free manner. To get instant e-PAN card, all you need is your aadhaar card & linked mobile number. Instant PAN card allotment follows an easy and paperless process and holds same value as physical PAN Card.
The facility to obtain PAN Number through Aadhaar Card is on the first come first serve basis. All the individuals who does not possess a PAN Card (PAN Number) can apply online and also check status. Income tax dept. is very thankful to the applicants and participants for the positive and overwhelming response of previously launched beta version of Instant e-PAN. The feedback / suggestions received on the Beta version have been examined and full scale version has now been launched by the FM Nirmala Sitharaman.
Apply Online for Instant e PAN Card using Aadhaar Number
This is a paperless process and no physical documents are required to be sent by PAN applicant. All the details in the e-PAN Application Form must match exactly with the Aadhaar Card details as it is the sole proof in this process. Below is the complete procedure to fill the online application form for Instant e-PAN:-
STEP 1: First of all, visit the official website incometaxindiaefiling.gov.in
STEP 2: At homepage, click at the "Instant Pan Through Aadhaar" link under 'Quick Links' section or directly click this link to open the page as shown below:-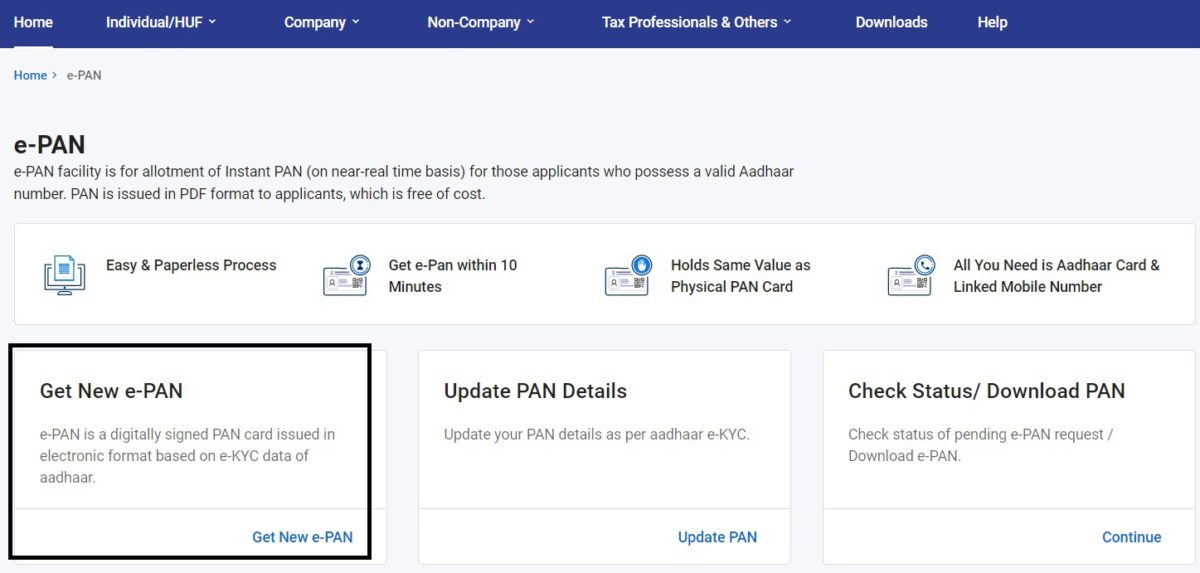 STEP 3: The Instant e-PAN page having link to get new e-pan, update PAN details, check status / download PAN will open. You can select "Get New e-PAN" option. e-PAN facility is for allotment of Instant PAN (on near-real time basis) for those applicants who possess a valid Aadhaar number. PAN is issued in PDF format to applicants, which is free of cost.
STEP 4: Then the Instant e-PAN Card apply online page will appear as shown below:-
Central Government Govt Schemes 2023Popular Schemes in Central Government:प्रधानमंत्री आवास योजना 2023Pradhan Mantri Awas YojanaPM Awas Yojana Gramin (PMAY-G)
STEP 5: Here applicants can enter your Aadhaar number, tick declaration and continue to apply online for instant e-pan card allotment.
IT dept. of India has now started Instant e-PAN card application process online at income tax India e-filing website. It requires only 12 digit bio-metric number or aadhaar card number to apply online. Aadhar No. simplifies the process in the manner that it could be used as an identity (ID), address, d.o.b proof in real time.
Once Aadhar e-KYC is done, then the process to apply for e-PAN will be initiated. After successful filing of e-PAN Application Form, 15 digit acknowledgement number will be generated and will be sent to the mobile number / e-mail id registered in the application form. PAN allotment based on Aadhaar is free of cost. PAN pdf will be generated and issued to applicant.
Pre-Conditions / Eligibility Criteria to Get New e PAN Card
You must have never been allotted a Permanent Account Number (PAN). Applicants who already possess PAN Number should not apply for Instant e PAN Card.
Your active mobile number is linked with Aadhaar. Aadhaar OTP is required in this process for verification (other documents not required).
Your complete date of birth (DD-MM-YYYY) is available on Aadhaar card. Aadhaar Card details like Name, Gender, Address, Mobile Number, Date of Birth must be correct and updated as e-KYC will be done through Aadhaar Database.
You are not minor as on application date of Permanent Account Number (PAN).
e-PAN facility is only applicable for Resident Individuals (Except minors and others covered under u/s of IT Act, 1961). This facility is not applicable for HUF, Firms, Trusts and Companies.
The facility to obtain PAN Number through Aadhaar Card is on the first come first serve basis. All the individuals who does not possess a PAN Card Number can apply online and also check status.
Track TAN / PAN Card Application Status
Below is the complete process by which you can track your PAN/TAN Application Status:-
STEP 1: Visit the official link – https://tin.tin.nsdl.com/pantan/StatusTrack.html
STEP 2: Select the Application Type as "PAN – New / Change Request" and enter acknowledgment number and click at "Submit" button. Then page showing your PAN Card application status would get displayed.
This facility is available for PAN holders whose latest application was processed through NSDL e-Gov. For the PAN applications submitted to NSDL e-Gov where PAN is alloted or changes are confirmed by ITD within last 30 days, instant e PAN card can be downloaded free of cost three times. If the PAN is allotted / changes in PAN Data are confirmed by ITD prior to 30 days then charges applicable for download of e-PAN Card is Rs. 8.26/- (inclusive of taxes).
You can also track your PAN Card status if you have applied through UTIITSL – https://www.trackpan.utiitsl.com/PANONLINE/trackApp#forward
Download e-PAN Card
People can download e-PAN Card through the received acknowledgement number or with the help of PAN and aadhar number using the link – https://www.onlineservices.nsdl.com/paam/requestAndDownloadEPAN.html. The page to download e PAN card with the acknowledgement no. or PAN & aadhar will open:-
Here people can enter the PAN card number, aadhar card number, date of birth and click at the "Submit" button. You can also download e-PAN with acknowledgement number. The new page containing your information will be displayed then. You can generate OTP, validate it and get Instant e PAN card downloaded.
Verify your PAN Card Number
STEP 1: Go to official website at https://www.incometax.gov.in/iec/foportal
STEP 2: Click at "Verify your PAN" option under "Quick Links" section.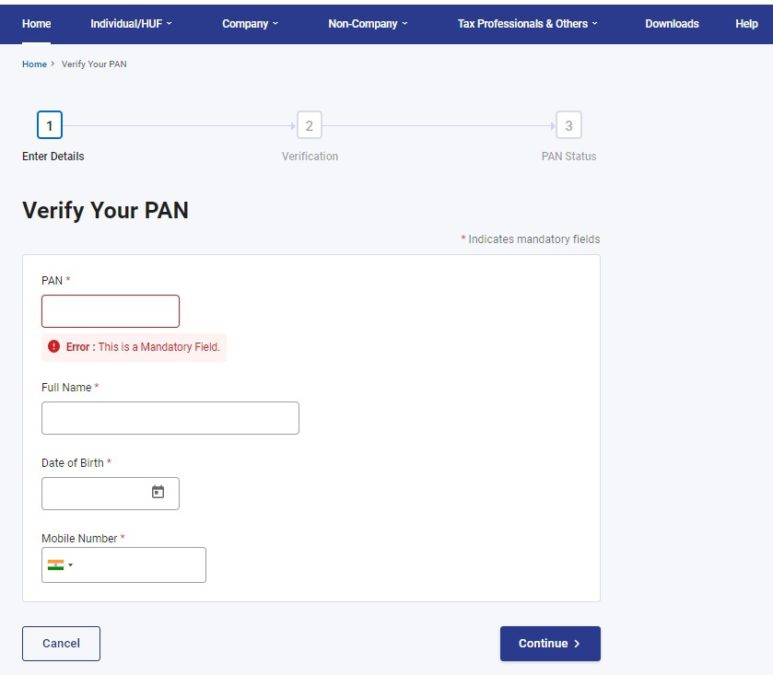 STEP 3: Enter PAN card number, full name, date of birth, mobile number, and click "Continue".
STEP 4: Validate OTP and PAN verification details will open.
Instant e PAN Card Benefits
Currently for getting PAN card, applicants are required to fill offline form and submit documents which takes upto 15 days. Now people who wants to get it within 10 minutes can apply for instant e PAN Card. For this, applicants are required to enter basic details such as name, address, aadhar details. Applicants can verify their details using one time password (OTP) on their registered mobile phone number and get instant e-pan within ten minutes.
Usage of Aadhaar in Getting Instant e PAN Card
Aadhaar already has details like address, father's name and date of birth, so there will be no need to upload any further physical document for getting PAN card. Applicants need to ensure that their Aadhaar details are correct as the application may get rejected in case of data mismatch.
On successful verification of Aadhar details using the OTP, the applicant will be issued a digitally signed e PAN along with a QR code. This QR code will carry demographic data alongwith photo of the applicant. As a security measure, the information in the QR code will be encrypted to prevent forgery or digital photoshopping.
Instant e PAN Card initiative is part of greater digitization of income tax services. This facility will enable people to get PAN Card through online mode without making unnecessary visits at the office.
References
For more details, visit the official website at https://www.incometax.gov.in/iec/foportal