The labour department Haryana has launched Bicycle Scheme for registered labourers. Under this Haryana Labour Welfare Fund Bicycle Scheme 2023, workers will get financial assistance on purchase of cycle upto Rs. 3,000. The Haryana Labour Welfare Board Cycle Yojana Scheme Form is now available at hrylabour.gov.in for building and construction workers (BOCW).
The main objective of the Haryana Labour Bicycle Scheme is to provide Rs. 3,000 to buy a bicycle for registered workers. Labour department of Haryana aims to provide facilities to the registered laborers for going up to work. Registered labourers would be encouraged to purchase cycle which will also keep them healthy and independent.
All the unorganized sector workers can now apply online for Cycle Yojana and fill Haryana Labour Bicycle Scheme online registration / application form.
Haryana Labour Bicycle Scheme 2023 – Cycle Yojana Apply Online
Haryana Labour Welfare Fund Bicycle Scheme 2023 aims to provide financial assistance of Rs. 3,000 to the registered labourers for purchase of cycle. The main aim of Cycle Yojana in Haryana is to provide financial assistance to uplift the life of unorganized sector workers. Moreover, labour department wants to create the best environment for the registered workers.
Haryana Labour Welfare Fund Bicycle Scheme 2023 Application Form
All the candidates can firstly visit the official website at hrylabour.gov.in. At the homepage, go to the "E-Services" section and make registration using Aadhaar card. Then make a login at the homepage of the official Labour dept. website and fill the Haryana Labour Welfare Fund Bicycle Scheme online registration form. To read the complete scheme details, click at the link – Haryana Labour Welfare Fund Bicycle Scheme
Download Undertaking for Cycle Yojana of Haryana Labour Department
Download Undertaking Link – http://storage.hrylabour.gov.in/uploads_new_2/bocw/scheme_undertaking/1549264406.pdf
The undertaking form for Cycle Yojana for Labourers in Haryana will appear as shown below:-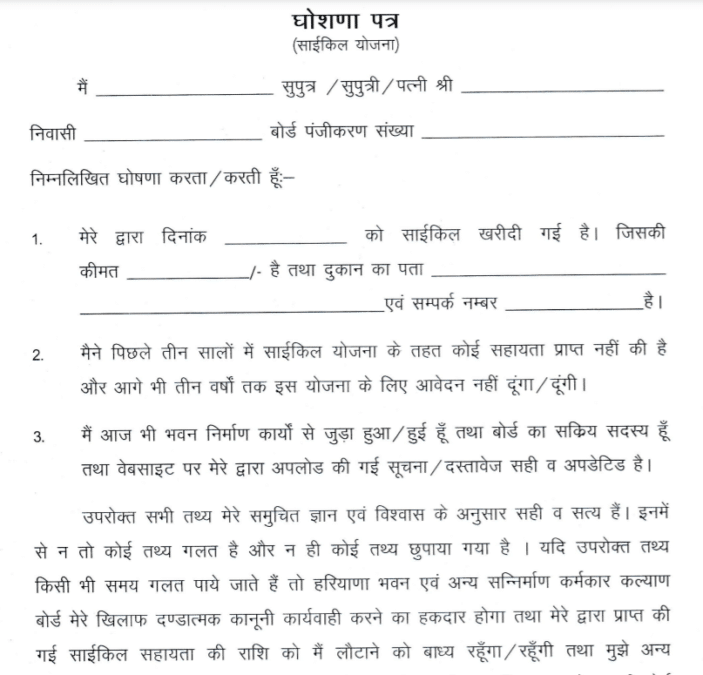 BOCW Board Work Slip (काम पर्ची) for Bicycle Yojana for Haryana Labour
Download Work Slip – https://hrylabour.gov.in/staticdocs/parman-patars.jpg
Haryana Govt Schemes 2023Popular Schemes in Haryana:Haryana Ration Card Application FormHaryana Solar Inverter Charger Schemeमेरी फसल मेरा ब्यौरा
The work slip for Bicycle Scheme by BOCW Board for Haryana Labour will appear as shown below:-
Haryana Labour Welfare Board Cycle Yojana Conditions
Under the scheme the state government of Haryana gives Rs. 3000 to purchase bicycle for going to work place without any hassle and is available for all registered workers of the Haryana state. The terms and conditions to avail Haryana Labour Bicycle Scheme are as follows:-
The worker must be registered with at-least 1 year of regular membership / subscription
This facility is only available for 1 time in 5 years duration and at-most 5 times in their lifetime.
Labourer will have to disclose cost, trade mark, source and date of purchase of bicycle.
Moreover, applicant must be a resident of Haryana.
Haryana Labour Cycle Yojana Eligibility Criteria
The eligibility criteria for Cycle Yojana of Haryana Labour Department is mentioned in the table below:-
| | |
| --- | --- |
| Membership Years / सदस्यता वर्ष | 1 |
| Apply Frequency / आवेदन की सीमा | 1 |
| Scheme For / इस योजना के लिए | All |
| Continue After Death / मृत्यु के बाद जारी | No |
Haryana Cycle Yojana Eligibility
For more details contact the Haryana Labour Welfare Board : 0172-2560226, Bays No. 29-30 (Pocket-II), Sector-04, Panchkula (Haryana) – 134112, contact number : 1800-180-2129 (Toll Free Number), head office : 0172-2701373, IT Cell: 0172-2971057.