Central govt. has launched CLSS Awas Portal (CLAP) under PM Awas Yojana Urban at pmayuclap.gov.in. At this portal, people can keep a track of their CLSS Interest Subsidy Application. At this CLAP portal, PMAY-U beneficiaries can avail facilities like CLSS tracker, subsidy calculator and can even check their eligibility.
PMAY Urban aims to provide affordable housing to the urban poor by 2022. One of the verticals under the PM Awas Yojana mission is Credit Linked Subsidy Scheme. CLSS covers eligible beneficiaries under EWS / LIG / MIG categories to avail benefit of interest subsidy on home loan. The upfront interest subsidy under CLSS component of PM Awas Yojana Urban ranges from 3% to 6.5%
CLAP portal is a transparent and robust real time web-based monitoring system for CLSS beneficiaries.
CLSS Tracker at CLAP Portal – PMAY Urban
CLSS tracker has been designed, developed and implemented for its CLSS borrower /co-borrower to track their application status for CLSS interest subsidy. People can now easily track their interest subsidy at CLAP Portal at pmayuclap.gov.in. There are 5 stages which have been incorporated in CLSS tracker as mentioned below:-
Application ID generated
Due diligence by PLI
Claim uploaded on Central Nodal Agency Portal
Subsidy claim approved
Subsidy released to PLI

CLSS Tracker CLAP Portal PMAY U
Individual will not have to go to banks to the check the status of their application for CLSS subsidy amount. CLAP software will send status of application of CLSS interest subsidy to borrower and as well as co-borrower on their mobile number as registered in CLAP portal by PLIs.
PMAY Urban Subsidy Calculator at CLSS Awas Portal
People can now calculate interest subsidy at CLSS Awas Portal (CLAP) under PM Awas Yojana Urban as shown below:-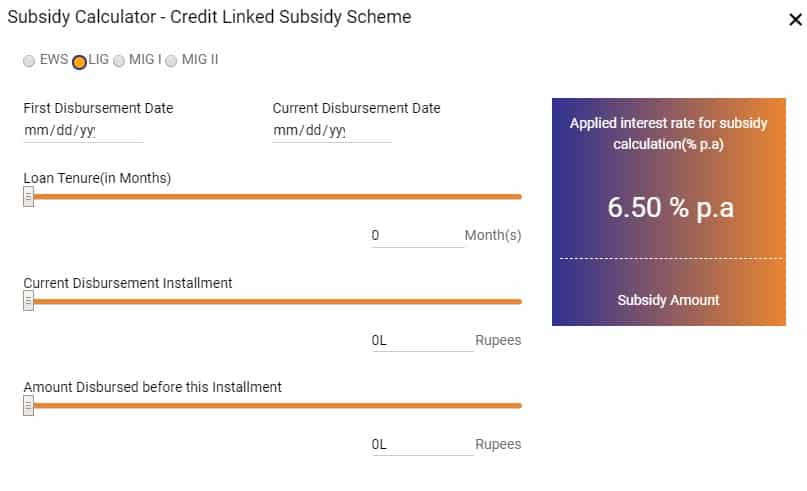 CLSS Eligibility for PMAY-U Home Loans
The eligibility to avail home loans under CLSS component of PMAY-U housing scheme is as follows:-
| | Economically Weaker Sections (EWS) | Low Income Group (LIG) | Medium Income Group I (MIG-I) | Medium Income Group II (MIG-II) |
| --- | --- | --- | --- | --- |
| Annual Household Income | Upto Rs. 3 lakh | Rs. 3 to 6 lakh | Rs. 6 to 12 lakh | Rs. 12 lakh to Rs. 18 Lakh |
| Minimum Carpet Area (sq.mt) | 60 sq.mt | 60 sq.mt | 160 sq.mt | 200 sq.mt |
| Reduction in EMI per month | Rs. 2500 | Rs. 2500 | Rs. 2250 | Rs. 2200 |
| Overall Savings (INR) | More than 6 lakh | More than 6 lakh | More than 5.4 lakh | More than 5.3 lakh |
What is CLSS Component of PMAY U Housing Scheme
Interest Subsidy on home loans up to 2.67 lakh per house is admissible for beneficiaries of Economically Weaker Section (EWS)/Low Income Group (LIG), Middle Income Group (MIG)-I and Middle Income Group (MIG)-II category. People can seek housing loans from Banks, Housing Finance Companies and other such institutions for acquiring/constructing houses.
With the help of the CLAP web portal, beneficiaries will now be able to keep a track of their CLSS interest subsidy application.#HousingForAll pic.twitter.com/PWjBhGMeDe

— Housing For All (@PMAYUrban) November 20, 2019
The interest subsidies of 6.5%, 4% and 3% on loan amount up to Rs. 6 lakh, Rs. 9 lakh and Rs. 12 lakh are admissible for a house with carpet area of up to 60, 160 and 200 Sq. meter for EWS/LIG, MIG I and MIG II respectively. The scheme for MIG category was up to 31st March 2019 which has been now extended up to 31st March 2020. The benefit for EWS/LIG beneficiaries under CLSS works out to as high as Rs. 6 lakh over a loan period of 20 years.
Content Source / Reference Link: pmayuclap.gov.in
SAVE AS PDF