Mukhyamantri Anuprati Coaching Yojana 2023 online registration form: Rajasthan government is inviting Chief Minister Free Coaching Scheme online application form at the official website sje.rajasthan.gov.in. Interested candidates can now apply for Mukhyamantri Nishulk Coaching Yojana (मुख्यमंत्री निःशुल्क कोचिंग योजना) before the last date. Under the Chief Minister Anuprati coaching scheme, the state government would provide free coaching to students to prepare for Indian Civil Services, Rajasthan Civil Services, IIT, IIM, CPMT, NIT, Engineering and Medical exams.
The state government is inviting applications for Mukhyamantri free coaching scheme through its official portal at sje.rajasthan.gov.in. The applications can also be done offline by downloading the application form from sje.rajasthan.gov.in. The are some seats reserved for the girl students. In case the girls do not apply the online application form, then the official board will allot these seats for the tentative category boys students.
Mukhyamantri Anuprati Coaching Yojana Latest Update
Chief Minister Ashok Gehlot has approved the proposal to increase the number of beneficiaries from 15000 to 30000 under the 'Mukhyamantri Anuprati Coaching Yojana' – Read Circular. CM has approved a financial provision of Rs. 56.40 crore for this Anuprati Coaching scheme. With this important decision, students belonging to economically weaker sections of the state will get opportunities to get free coaching for preparation for various professional courses and competitive exams.
The state government had started this scheme with the objective of providing free preparation facilities for professional courses and competitive examinations to the students of the state from weak economic backgrounds. In view of the success of this scheme, the number of beneficiaries was increased from 10 thousand to 15 thousand in the Budget of the financial year 2022-23, which has been increased to 30 thousand in the Budget of the financial year 2023-24. This is expected to greatly benefit the students of the weaker sections.
क्या है राजस्थान मुख्यमंत्री अनुप्रति कोचिंग योजना 2023
Rajasthan government plans to spend over Rs. 56 crore the 2023-24 financial year for providing coaching to students for competitive exams. This is substantially higher than the previous year's figure of Rs. 17 crore. Mukhyamantri Anuprati Coaching Yojana was introduced by Rajasthan chief minister Ashok Gehlot in 2021-22. He felt many meritorious students are unable to attend coaching classes and lag in competitive examinations for want of money.
Under the scheme, such students are provided free coaching from reputed coaching institutes so that they can fulfil their dreams. For the current financial year, the state government has allotted Rs. 56.40 crore and the number of seats, too, has increased to 30,000. Students from scheduled caste, scheduled tribe, other backward classes, minority, economically-backward classes and specially-abled — whose family's annual income is Rs 8 lakh or less — are eligible to avail the benefits of this free coaching scheme.
Under the coaching scheme, students are prepared for various exams, including civil services, Rajasthan Administrative Service or Rajasthan State Subordinate Service Combined Competitive Examination, Rajasthan Eligibility Examination for Teacher (REET), IIT JEE and medical college entrance exams, among others.
Mukhyamantri Nishulk Coaching Yojana article will provide online procedure of the Anuprati's whole system which contains flow from application registration to application payment bill generation. All actions covered by this article which happens during anuprati scheme application such as applying for the scheme, attach documents, Approval, Rejection, Objection and so on.
Rajasthan Govt Schemes 2023Popular Schemes in Rajasthan:Rajasthan Ration Card ListRajasthan Ration Card Application FormJan Aadhaar Yojana
CM Anuprati Coaching Scheme in Rajasthan Budget 2023-24
Anuprati scheme was firstly commenced by Rajasthan Government in the year 2005. Rajasthan government encourage and provide economic help to poor but brilliant students belongs to the Schedule Caste (SC), Schedule Tribe (ST), Special Backward Class (SBC), Other Backward Class (OBC) and Below Poverty Line (BPL) families. This CM Free Coaching Scheme helps students in preparation and then selection in various exams such as Indian Civil Services, Rajasthan Civil Services, IIT, IIM, CPMT, NIT, Engineering and Medical.
Earlier on 10 February 2023, Finance Minister presented Rajasthan Budget 2023-24 in which he said "विद्यार्थियों को professional courses एवं competitive exams की तैयारी कराने के उद्देश्य से हमारे द्वारा लागू की गई 'मुख्यमंत्री अनुप्रति कोचिंग 'योजना' की आशातीत सफलता को देखते हुए इस योजना के अन्तर्गत 15 हजार युवाओं को लाभान्वित करने के लक्ष्य को बढ़ाते हुए मैं, आगामी वर्ष 30 हजार विद्यार्थियों को लाभान्वित किये जाने की घोषणा करता हूँ।"
Mukhyamantri Anuprati Coaching Yojana Apply Online
The state government is inviting online applications for Mukhyamantri Free Coaching Yojana. The applications can be filled online by registering at sjms.rajasthan.gov.in before last date. To apply for Chief Minister Anuprati Coaching Scheme, follow the steps mentioned below:-
STEP 1: Visit the official website at https://sjmsnew.rajasthan.gov.in/sjms/Login.aspx
STEP 2: New Users will have to register on Single Sign On (SSO) Portal through the link https://sso.rajasthan.gov.in/register to open the page as shown below.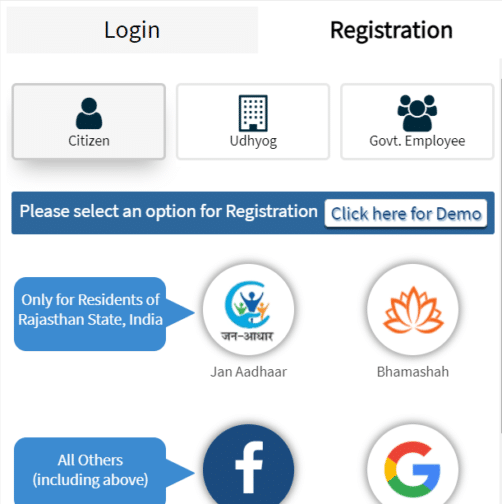 STEP 3: Here applicants can make registration as Citizen either by using Jan Aadhaar or Bhamashah card or other social media accounts like facebook, google.
STEP 4: After making SSO ID registration, login using the link https://sso.rajasthan.gov.in/signin?RU=SJMS which will open the Anuprati Scheme login page:-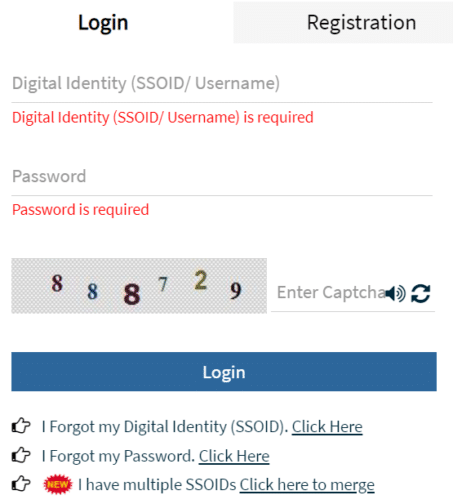 STEP 5: After login on SSO ID portal, click at "SJMS Application" link as shown below:-
STEP 6: Then the Scheme Management System page will open where you will have to click at "Intercaste & Anuprati" link.
STEP 7: User's dashboard will appear with his personal detail appearing at right hand side of the screen. Click "List of Scheme" given over the dashboard.
STEP 8: Anuprati form gets open where basic detail of candidate will point up on the page and additional required fields will appear below of the form.
STEP 9: Click "Save & next" that will move us to attachment page. Upload required and relevant document which are should be clear. Click "Submit" button.
For offline applications, interested candidates can download the application form format from the official website of social justice & employment department at sje.rajasthan.gov.in. This scheme is beneficial for the remote area candidates or the students who are not able to pay for the coaching fee due to the lack of money for higher education.
Eligibility for CM Free Coaching Scheme
The applicant should be the permanent resident of Rajasthan.
The applicant should belong to any of the following categories as defined by the state govt. SC / ST / EBC / OBC / Minority / EWS with annual family income less than Rs. 8 lakh are eligible.
The applicants would be able to avail scheme benefits run by the tribal area development, minority affairs, and social justice and empowerment departments.
Children of government employees receiving Pay-Matrix level-11 will also qualify for the scheme, which can be utilised by every eligible student for a period of one year.
Benefits of Chief Minister Anuprati Free Coaching Scheme
Rajasthan has launched Chief Minister Anuprati Coaching Scheme to help underprivileged students prepare for entrance examinations to civil services and professional courses, with an aim to give them equal opportunity, said a circular issued by the state finance department. Here are the major benefits of CM Free Coaching Scheme in Rajasthan:-
Under the scheme, free coaching will be provided for preparation for civil services examination, conducted by the Union Public Service Commission (UPSC), Rajasthan Administrative services (RAS) examination and subordinate services joint entrance examinations organised by the Rajasthan Public Service Commission (RPSC).
It will also help students prepare for other RPSC examinations such as Rajasthan Teacher Eligibility Test (REET), Grade Pay-2400 or Pay-Matrix Level-5 services, constable examination, sub-inspector and 3600 Grade pay or Pay matrix level-10 jobs.
Coaching will also be provided for engineering and medical entrance examinations apart from Common Law Admission Test (CLAT). Students eligibility for the scheme will be based on marks scored in class 10 and 12. Effort will be made to include at least 50% girls.
Underprivileged students who will prepare for entrance examinations in coaching institutes located outside their home cities will be given Rs. 40,000 annually for accommodation and food.
मुख्यमंत्री निशुल्क कोचिंग योजना राजस्थान Notification PDF
Under this scheme, 116 coaching institutes submitted their proposal online to impart coaching for one or two examinations and the state-level committee listed 47 coaching institutions for the year 2023-24. If any student is allotted a coaching institute in another city, the government pays an additional Rs. 40,000 per annum for boarding and lodging. Govt. invites online applications for CM Anuprati Coaching Yojana 2023-24 till 20 April 2023 as mentioned in the latest updated notification, check through link – https://sje.rajasthan.gov.in/siteadmin/Uploads/202304061453464371.pdf
Mukhyamantri Anuprati Coaching Merit List
The direct link to check Mukhyamantri Anuprati Coaching Provisional Merit List, Waiting List is given here – Anuprati Coaching Yojana Merit List PDF
The entire PDF file containing the names of selected candidates for Mukhyamantri Anuprati Coaching Yojana will appear. User Manual for Anuprati Scheme 2023-24 – https://sje.rajasthan.gov.in/siteadmin/Uploads/201911111455531823.pdf
The social justice and empowerment department will be the nodal agency for the scheme. Complete details about the scheme can be viewed using the link here https://sje.rajasthan.gov.in/Default.aspx?PageID=370