How to Apply for Guest Faculty Recruitment in Vidya Sambal Yojana: Rajasthan government had announced Vidya Sambal Yojana (विद्या संबल योजना) in the state budget 2021-2022. The main aim to launch Vidya Sambal Scheme is to provide jobs to guest faculty in schools, colleges and govt. education institutions. Rajasthan Vidya Sambal Yojana Official Advertisement PDF would be released soon. The latest update is that CM Ashok Gehlot led state govt. has decided to implement the scheme & perform recruitment of guest faculty in a faster manner.
In the newly launched Vidya Sambal Yojana, all the vacant positions of guest teachers and faculty would be counted before the start of each academic year. On the basis of these vacancies, new guest faculty would be appointed.
The basic objective is to reduce the number of vacant positions of teachers and faculty in schools, colleges and universities of Rajasthan which causes loss of students. With the recruitment of new guest teachers, govt. wants to raise the standard of education in the state.
Rajasthan Vidya Sambal Yojana (विद्या संबल योजना) 2022 Details
In various government schools and colleges in Rajasthan, several posts of teachers are lying vacant. There are 40,000 vacancies for teachers in govt. schools, 20% of the total teacher positions are vacant. Moreover, there are around 3,000 vacant faculty positions in the newly opened 80 colleges of the state. So to fill these posts by Guest Faculty Recruitment, Rajasthan Vidya Sambal Yojana (विद्या संबल योजना) is going to be launched.
Counting of Vacant Seats of Guest Faculty before Start of Academic Year
As we all know that in Vidya Sambal Yojana, guest faculty vacancies would be filled in schools, colleges and govt. educational institutions. In this scheme, counting of vacant seats of guest teachers would be done before the start of the academic year. A committee headed by Institution Head and District Collector would directly fill these guest faculty posts on the basis of qualification and other eligibility criteria.
Salary for Guest Faculty Job in Rajasthan
In schools, grade A teacher can get max. Rs. 30,000, grade C and equivalent teacher will get Rs. 21000 honorarium. Similarly in colleges, assistance lecturers will get Rs. 45,000 while lecturers will get upto Rs. 60,000 salary.
How to Apply for Vacancies under Vidya Sambal Yojana
For these guest faculty jobs under Vidya Sambal Yojana, retired teachers and eligible unemployed youths can apply with an affidavit.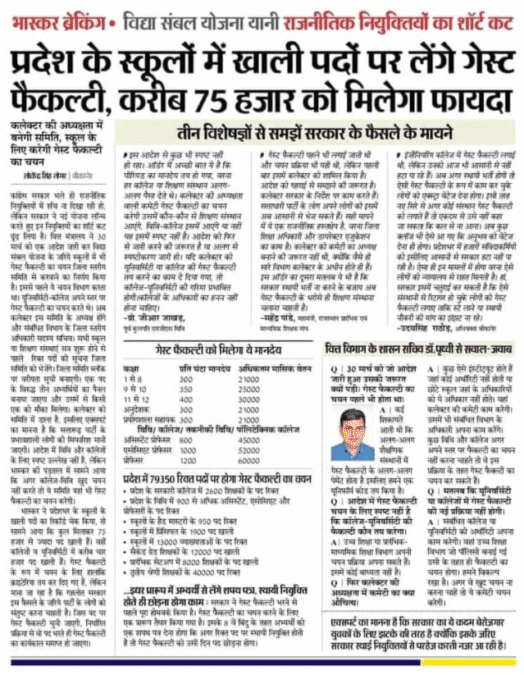 Salient Features of Vidya Sambal Yojana in Rajasthan
Guest Faculty would be recruited in Schools, Colleges and Universities.
The recruitment of guest teachers would be done under Vidya Sambal Yojana.
In schools, first grade teachers would get upto Rs. 30000 as salary.
Third grade or equivalent teachers would get upto Rs. 21000 as salary.
Assistance professors or assistant lecturers will get upto Rs. 45000, professors or lectures will get Rs. 60,000.
Vidya Sambal Yojana is being opposed by the unemployed youths of Rajasthan.
With the recruitment of guest faculty, there is a fear of closing of employment opportunities for the youth.
Fear of Unemployment in Youth
Youths are getting worried of losing employment opportunities after the announcement of Vidya Sambal Yojana in Rajasthan. As the recruitment would be on a contractual basis, so there is a fear of unemployment among youths. The unemployed youths in the state were waiting for filling up of vacant teacher posts through conduct of competitive exams. This is because after passing the test, the job opportunity would be a permanent one.
Rajasthan Govt Schemes 2022Popular Schemes in Rajasthan:जन सूचना पोर्टलRajasthan Ration Card ListRajasthan Ration Card Application Form
But with the announcement of providing temporary jobs to the unemployed youths, candidates are worried about their future prospects. Various students organizations as well as unemployment federations are opposing this move and wants Vidya Sambal Yojana to get closed.
Computer Degree Holders Worried due to Contractual Employment
Computer degree holders are now worried of unemployment after the announcement for Vidya Sambal Yojana. This scheme would ensure temporary employment as guest faculty to the candidates but not a permanent one. Moreover, their salaries would be lesser than the permanent faculty in either schools or colleges or universities. There is not a single recruitment of computer teachers in the past 2 years.
Rajasthan govt. earlier in Budget 2019-20 had announced to make a cadre which gave hope to students to get government jobs but now with Vidya Sambal Yojana, the state govt. is playing with the dreams of unemployed youths. According to youth federations, govt. must not recruit guest faculty but it has to conduct exam and then recruit 14,000 faculty on permanent basis.
For more details, Download Rajasthan Budget 2021 PDF through the link – Click Here