Chhattisgarh government has allocated Rs. 50 crore for CM Urban Slum Health Scheme 2023. CG Urban Slum Health Scheme is launched to provide adequate healthcare facilities in slum areas which are at distance from hospitals. In this article, we will tell you about the complete details of मुख्यमंत्री शहरी स्लम स्वास्थ्य योजना. The state govt. is committed to provide good governance and ensure that every person in the state has access to basic healthcare facilities.
CG Urban Slum Health Scheme was launched on 2 October 2019 on 150th anniversary of Mahatma Gandhi. Various other welfare schemes like Mukhyamantri Suposhan Abhiyan, CM Haat-Bazaar Clinic Scheme, CM Ward Office Scheme & universal PDS scheme are also launched on the same day.
छत्तीसगढ़ मुख्यमंत्री शहरी स्लम स्वास्थ्य योजना 2023
मुख्यमंत्री शहरी स्लम स्वास्थ्य योजना के तहत 14 नगर निगमों में 60 मोबाइल एम्बुलेंस एवं दाई-दीदी क्लीनिक का संचालन किया जा रहा है। योजना की सफलता को देखते हुए इसे प्रदेश के समस्त नगरपालिका एवं नगरपंचायतों के लिये लागू किया जायेगा। इसके लिये 50 करोड़ का प्रावधान है।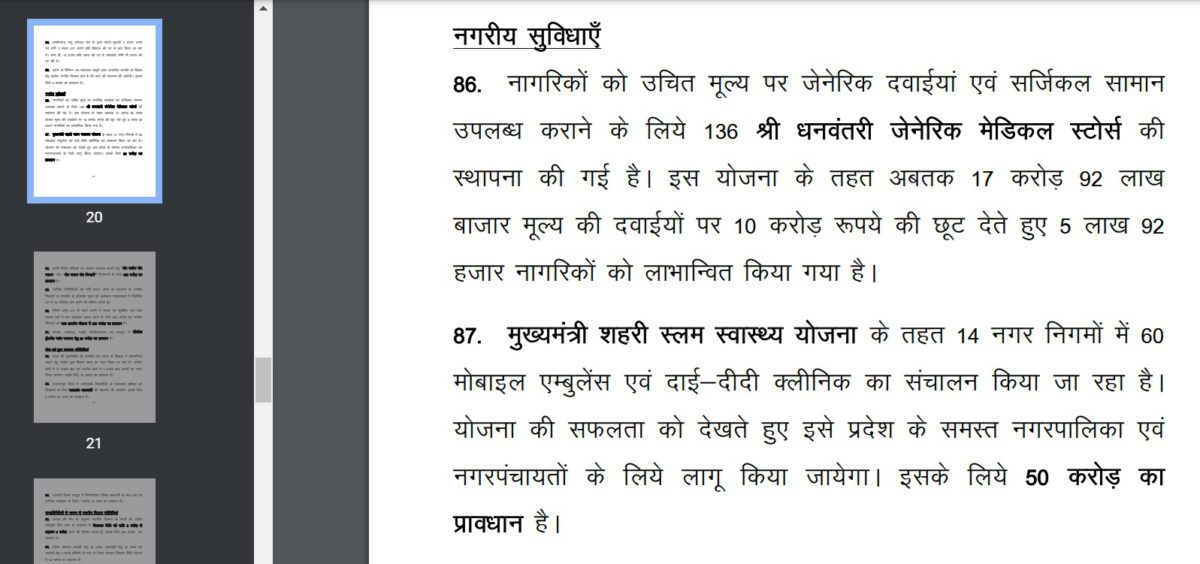 Check Budgetary Allocation for Chhattisgarh Welfare Schemes for the year 2022-23 through the link – https://finance.cg.gov.in/budget_doc/2022-2023/Budget-Speech/Budget-Speech.pdf
Salient Features of CG CM Urban Slum Health Scheme
The important features and highlights of CG CM Urban Sum Health Scheme are as follows:-
District Administration will identify slums to be benefited from this scheme.
Beneficiary center to be opened in places situated at distance from existing hospitals.
The state govt. will provide Mobile Units and ensure use of portable machines.
There will be availability of various tests and treatment facilities including OPD facility.
Distribution of essential medicines would be done through beneficiary centers.
Referral and transportation of serious patients to bigger health centers.
There will be private room for women and responsibilities allotted to health workers.
छत्तीसगढ़ मोर जमीन मोर मकान योजना 2023
छत्तीसगढ़ बजट में नागरिक सुविधाओं के लिए निम्नलिखित प्रावधान किये गए हैं:-
शहरी निर्धन परिवारों को आवास उपलब्ध कराने हेतु "मोर जमीन मोर मकान तथा मोर मकान मोर चिन्हारी" योजनाओं के तहत 450 करोड़ का प्रावधान है।
आर्थिक गतिविधियों को गति प्रदान करने के उद्देश्य से नगरीय निकायों के सम्पत्ति के ऑफसेट मूल्य को कलेक्टर गाइडलाइन में निर्धारित दर से 30 प्रतिशत कम कर घोषणा करता हूँ।
मिशन अमृत 2.0 के तहत शहरों में स्वच्छ एवं सुरक्षित जल तथा समस्त घरों में नल कनेक्शन प्रदाय करने के लिये 200 करोड़ एवं नगरीय निकायों को जल आवर्धन योजना में 380 करोड़ का प्रावधान है।
कोरबा, दन्तेवाड़ा, सक्ती शिवरीनारायण एवं चन्द्रपुर में सीवरेज ट्रीटमेंट प्लांट स्थापना हेतु 20 करोड़ का प्रावधान है।
CM Urban Slum Health Scheme in Chhattisgarh Budget 2021-22
Under Chief Minister Urban Slum Health Scheme, 60 mobile ambulances and Dai-Didi clinics are being operated in 14 municipal corporations. Through this, the facility of free trial, treatment and drug distribution is being provided. There is a provision of 50 crores in budget. Check Budgetary Allocation for the year 2021-22 for Chhattisgarh Welfare Schemes through the link – http://finance.cg.gov.in/budget_doc/2021-2022/Press%20Note/Press%20Note-E.pdf
Chhattisgarh Govt Schemes 2023Popular Schemes in Chhattisgarh:Chhattisgarh Mukhyamantri Suposhan YojanaSaur Sujala YojanaShakti Swaroopa Yojana