Kerala Snehayanam Scheme 2023 Application Form PDF is available to download at official website of Social Justice Department at sjd.kerala.gov.in. In this scheme, the Kerala govt. will provide electric auto rickshaws free of cost to mothers of persons with disabilities who suffer financially. The state cabinet has given approval for Snehayanam Scheme aiming at the welfare of disabled people. In this article, we will tell you about how specially abled people can apply online for this scheme, eligibility criteria and complete details.
What is Kerala Snehayanam Scheme 2023
The task of caring and providing rehabilitation support for persons with autism, cerebral palsy, mental retardation and multiple disabilities can be stressful and daunting for parents, especially mothers. Such persons with disabilities coming under the purview of National Trust Act 1999 always require special care and attention since they cannot perform their day to day activities without someone else's assistance.
Sometimes taking care of such PwDs can be quite challenging for mothers who are widowed or divorced and have no other source of permanent income. So, the Department of Social Justice has formulated a novel initiative "Snehayanam". The main objective of Kerala Snehayanam Scheme is to give free electric auto rickshaws to mothers of handicap people. This scheme would provide a means of livelihood to families of physically handicapped people.
Kerala Snehayanam Scheme Application Form PDF
Below is the complete process to download Snehayanam application form PDF through online mode:-
Step 1: Firstly visit the official website at http://sjd.kerala.gov.in/. The Kerala Social Justice Department homepage will appear as shown here.
Step 2: All the new users can click at the "Scheme" tab present in the main menu or directly click at http://sjd.kerala.gov.in/schemes.php. The new page comprising of list of Kerala govt. schemes will open.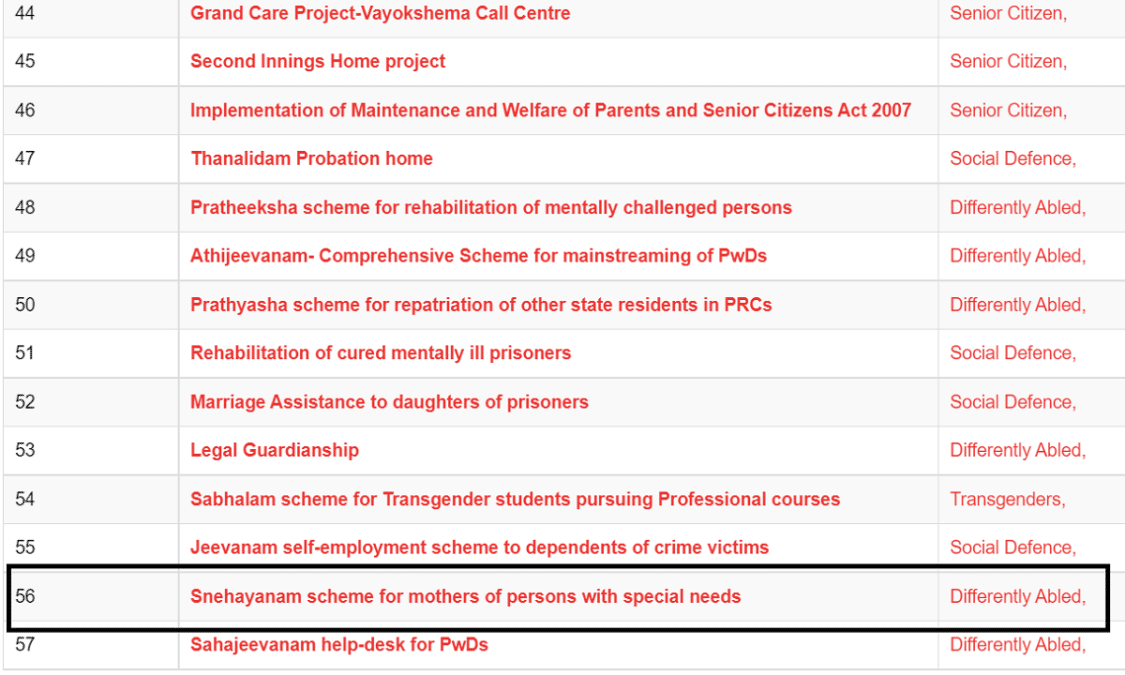 Step 3: Click at the "Snehayanam Scheme for mothers of persons with special needs" link to open the scheme details page. At this page, go to the "Documents" section and click at the "Application Forms – Snehayanam Scheme for mothers of persons with special needs" link.
Step 4: The Kerala Snehayanam Scheme application form PDF will open as below which can be easily downloaded through online mode.
Kerala Govt Schemes 2023Popular Schemes in Kerala:Kerala Ration Card ListSamagra Question Pool Portal Registration / Login OnlineKerala Voter List / ID Card Download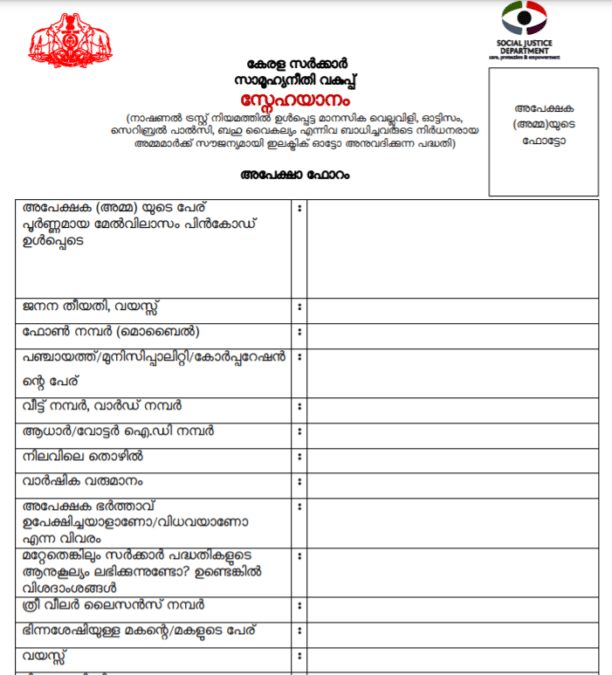 Step 5: All the applicants can download this scheme form in PDF format. Then applicants will have to enter their necessary details accurately in this Kerala Sneha Yanam Scheme application form and submit it to the concerned authorities.
Upon subsequent verification of filled in application form along with documents, the concerned officer will approve your form. All the applicant mothers of disabled people will then start getting electric auto rickshaws.
Eligibility Criteria for Kerala Snehayanam Scheme 2023
Each applicant will have to fulfil the described eligibility criteria to become eligible for the Snehayanam in Kerala:-
Mothers of PwDs covered under the National Trust Act (NTA) will be eligible to apply under this scheme.
Applicants must belong to BPL category and do not have a source of steady income.
Widowed/legally divorced/ wives abandoned by husbands are eligible to apply under this scheme.
Beneficiaries must possess a valid 3 wheeler license.
The age limit of applicant has to be 55 years or below.
The tax and insurance for the vehicles will have to be borne by the beneficiary.
The vehicle must be registered solely in the name of the beneficiary and the vehicle ownership cannot be transferred or sold.
List of Documents Required for Snehayanam Scheme in Kerala
Here is the complete list of documents which are required to be submitted with the application form by mothers of PwDs who belongs to BPL category to get free of cost electric auto rickshaws under Snehayanam Scheme:-
Copy of Ration card.
Copy of Aadhar/ Proof of Identity of applicant.
Declaration from Village Officer/ Valid document proving that the applicant is widowed/legally divorced/ wife abandoned by husband.
Copy of 3 wheeler licence.
Copy of Medical Board certificate of PwD.
The duly filled application form along with supporting documents has to be submitted through District Social Justice Officers concerned. During the initial phase of the scheme 2 beneficiaries from each district will be selected for this scheme.
Kerala Snehayanam Scheme List of Beneficiary Mothers of Handicap Kids
The direct link to check the name in the Kerala Snehayanam Scheme List of beneficiaries is given here – http://swd.kerala.gov.in/scheme-info.php?scheme_id=MTczc1Y4dXFSI3Z5
At this page, go to the "Target Group" section and click at the "Beneficiary Details" link in front of "Differently Abled". In the new window, select the financial year and district name to open the complete list of Snehayanam beneficiaries.
People can even check the recent govt. order regarding Snehayanam Scheme for mother of kids with special needs – http://swd.kerala.gov.in/DOCUMENTS/Order_new/GOs/34215.pdf
Frequently Asked Questions (FAQ's)
Here are the some of the most frequently asked questions by the people about the Snehayanam Scheme in Kerala:-
What is Snehayanam Scheme
To provide electric auto rickshaws to mothers of persons with disabilities, Snehayanam Scheme has been launched.
From where can one download Snehayanam application form online
People can now download the Kerala Snehayanam application form at the sjd.kerala.gov.in through online mode.
I am a disabled person from general category, am i eligible
No. mother of disabled person belonging to BPL category are eligible under Kerala Snehayanam Scheme.
For more details, visit the official website of Social Justice Department of Kerala at http://sjd.kerala.gov.in/