Kerala Ration Card New List 2020 | Kerala Ration Card Suchi Download | Kerala APL / BPL List 2020 Name Find Online | Kerala NFSA Beneficiary List Download | Kerala BPL / Antyodaya Ration Card Holder List 2020 | Kerala PDS Ration Card Holder List 2020
Civil Supplies Department of Kerala government has released the district wise Kerala Ration Card New List 2020 online at civilsupplieskerala.gov.in (केरल राशन कार्ड सूची ऑनलाइन). All the citizens who had previously made fresh registrations for ration card 2020 can now check their name online or by downloading the list of eligible APL / BPL / NFSA beneficiaries.
Kerala state govt. has made this ration card new list 2020 public in order to make the process of finding name of ration card beneficiaries easier. People can also find their name online in the Kerala NFSA eligible beneficiaries list 2020. People can now even find their name in the ration cards for below poverty line (BPL) / Antyodaya beneficiaries generated by PDS department.
Ration Card is an essential document for the APL / BPL people in Kerala to take benefits of most govt. schemes. All the ration card holders can purchase Ration at subsidized rates from Ration Shops located nearby.
Kerala Ration Card New Beneficiary List 2020 Download
All the candidates who had previously applied for the new ration card now check their name in Kerala ration card list 2020 for NFSA beneficiaries as per the procedure below:-
Total Time: 6 minutes
Visit the official website
Firstly visit the official website at civilsupplieskerala.gov.in
Ration Card List Checking Link
At the homepage, click at the "Total Cards" section or directly click this link
Open District Level Ration Card Report
The district level report of ration cards in Kerala will appear as shown below.
Open TSO Level Ration Card Report
The TSO level report of ration cards in Kerala will appear. For instance, we have clicked the Thiruvananthapuram district under District name, so TSO level report of the Thiruvananthapuram district is shown below.
ARD Level Report of Ration Cards
Here candidates will have to click the at link under the "TSO Name". Consequently in next window, ARD level report will open, then click at the "ARD Owner Name".

Check Name in the Kerala Ration Card List
Finally, the Kerala Ration Card New List of beneficiaries will appear as shown below:-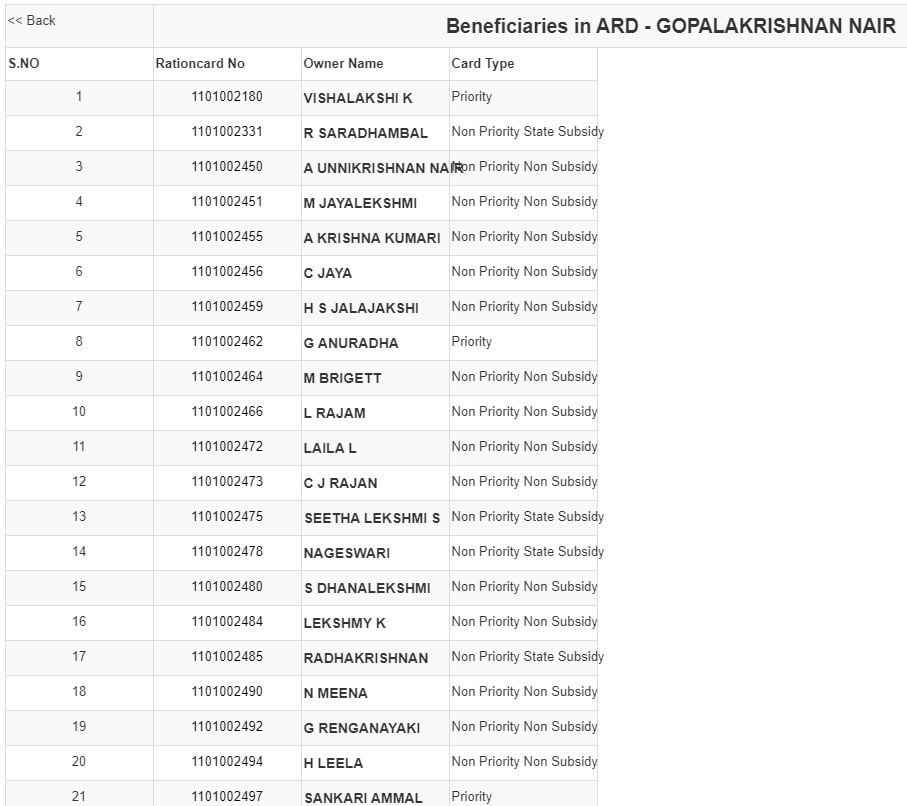 Till date, around 88,22,752 ration cards have already been distributed to the ration card holders in the state of Kerala. For more details, visit the official website.
How to Download Ration Card Application Forms Online
Here is the direct link to download Kerala Ration Cards online application forms:-
https://civilsupplieskerala.gov.in/index.php/content/index/ration-card-application-forms
Application Fees
There is no application form filling fee and there is no requirement to pay any fees while applying online for new ration card in Kerala. However, applicants can collect their ration cards from the concerned authorities on making a payment of Rs. 5 per copy.
Timelines for Issuing Ration Card in Kerala
All the applicants can submit the complete Kerala Ration Card online application form and new ration cards would be issued within 15 days of submission of application. However in certain cases, 1 month time is required to issue a new ration card.
Linking of Aadhaar Card with Ration Card
People can now link their Unique Identification Number or Aadhaar Card with their ration card. This can be done online by visiting the official portal and then clicking at the "Link to UID" link.
What is the Eligibility Criteria for Kerala Ration Card
All the applicants must meet the basic eligibility criteria to get a new ration card in Kerala:-
a) Applicants who are permanent resident of Kerala can apply.
b) Households not already having ration card in the state are eligible.
c) Newly married couples can apply for new ration card.
d) Citizens having temporary ration cards whose date has been expired are eligible.
It is important to note that the issue of new ration card in Kerala would be based on the household income as well as economic conditions of the family.
List of Documents Required for New Ration Card in Kerala
Below is the complete list of documents required to apply online for new ration card in Kerala:-
Residential proof such as Voter ID, Driving License, Aadhaar Card (Scanned Copy)
Age Certificate (Scanned Copy)
Caste Certificate (Scanned Copy)
Identity Proof like Voter ID, PAN Card, Driving Licence, Aadhar Card (Scanned Copy)
Income proof of the family (Scanned Copy)
Recent Passport Size Photograph of the applicant
Valid Mobile Number / E-mail ID
Previous Electricity Bills
Bank Passbook
Gas Connection Details
Self Declaration and Certificate issued by Ward Councillor/ Pradhan
Tenancy Agreement (if applicable)
In case of non-possession of above mentioned documents, applications for new ration cards are liable to get rejected.
How To Check Kerala Ration Card Application Status Online
People can now check the Kerala Ration Card application status online through the link given below:-
Kerala Ration Card Application Status
An Overview of Kerala Ration Card
Here is an overview of Kerala Ration Card which is mentioned in the table below:-
| | |
| --- | --- |
| Service Type | Ration Card |
| State Name | Kerala |
| Article Category | List / Status / Application Form |
| Concerned Department | Food, Civil Supplies and Consumer Affairs Department, Govt. of Kerala |
| Applicable Year | 2020 |
| Types of Ration Cards | AAY, Priority, Subsidy, Non-Priority |
| Mode of Checking Status / List / Application | Online |
| Official Portal | civilsupplieskerala.gov.in |
Highlights of Ration Card in Kerala
Kerala Ration Card – ePDS Helpline
Any state resident who need any kind of help about the ration card or ration distribution can contact the ePDS helpline number
Landline number: 011-24608801
Toll Free Number: 1967
Official Website: civilsupplieskerala.gov.in
Content Source / Reference Link: civilsupplieskerala.gov.in
SAVE AS PDF