Mistry Haryana Portal Registration / Login as Technician at mistry.itiharyana.gov.in. Eligible candidates can now register / apply online for technician jobs at Mistry ITI Haryana Gov Portal. The Haryana state government has started this official website to provide employment opportunities to ITI Pass Youths. At the newly launched Mistry ITI Haryana Portal, interested technicians can apply / register online for getting jobs. While technician will get work, citizens can also search technicians as per the requirement.
The Mistry Haryana Portal is a unified database of all technicians in the state of Haryana and help technician to get work. The Mistry ITI Haryana platform aims to facilitate citizens to search technicians (mistry) as per their requirement so that citizens can easily get the service providers/ Skill holders (ITI pass-outs) near their location.
The state govt. will now act a facilitator as the platform will link technicians and citizens. Technicians will get opportunities and citizens will find technicians, thus maximizing the scope of employment for technicians of Haryana.
Mistry Haryana Portal for Employment to ITI Pass Youth
In consideration of demand of daily need public services like services of Electrician, Plumber, Wireman, AC Repair, Carpenter, Refrigerator repair and beautician etc., Mistry Haryana Portal has been developed.
Register / Apply Online for Technician Jobs
Below is the complete process to register as technician at the Mistry Haryana Portal and apply online for technician jobs.
STEP 1: Visit official website – Firstly visit the official Mistry Haryana Portal at https://mistry.itiharyana.gov.in/
STEP 2: Link to register as technician – At the homepage, go to the "Account" section present in the main menu & click at "Register as Technician" link. Alternately, click at the "Want to register as Technician – Sign Up" link under "Search Technician (Mistry)" section as shown below. The direct link is also given here – https://mistry.itiharyana.gov.in/account/register/technician
STEP 3: Register using mobile number – Upon clicking the above mentioned link, applicants would be able to register at Mistry ITI Haryana Portal using their mobile number. They will have to enter the mobile number, enter captcha code and click at the "Send OTP" button.
Haryana Govt Schemes 2023Popular Schemes in Haryana:मेरी फसल मेरा ब्यौराmeraparivar.haryana.gov.in Update Family DetailsHaryana Government Schemes List
STEP 4: Technician online registration form – After verification of the OTP, the Mistry Haryana Technician online registration form will appear as shown below:-
STEP 5: Technician sign in / login – Here applicants can enter the complete details in the technician registration form at the Mistry Haryana Portal. Finally, applicants can click at the "Register" button to complete the sign up process. Afterwards, applicants can make "Sign In" using your username / mobile and password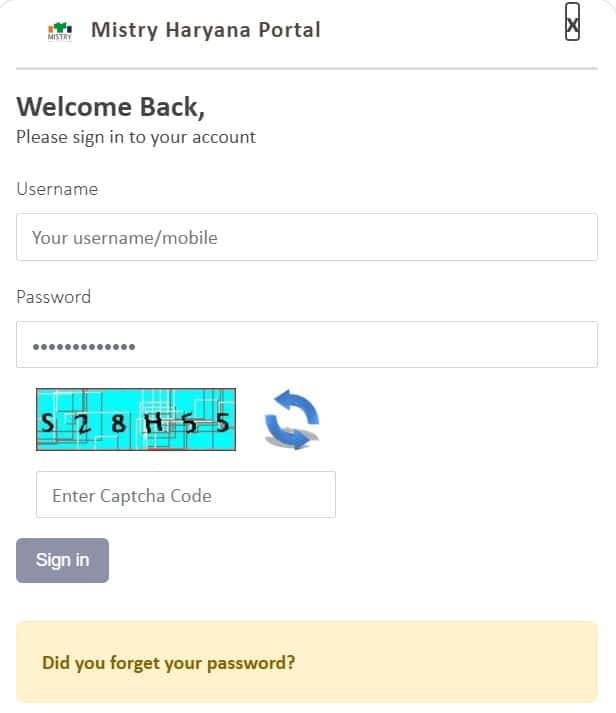 STEP 6: After making login, complete the remaining application form and thus complete the apply online process of technician. All the applicants would get jobs of technician (mistry) as per the requirement of the citizens.
Search Technician at Mistry ITI Haryana Portal
Citizens can now search technicians (mistry) as per their requirement. Citizens would easily get the service providers / Skill holders (ITI pass-outs) near their location. The Search Technician section is present at the official Mistry Haryana ITI Portal as shown below:-
In this section, citizens can select the technician type as carpenter, electrician, wireman, plumber, refrigeration and air conditioning, beautician and cosmetology, select district, tehsil, village / city and click at the "Search" button. Accordingly, the List of Technicians available in the desired location will appear as below:-
Dept. of Skill Development & Industrial Training in Haryana
The Department of Skill Development and Industrial Training, Haryana is imparting skill-based training to the unemployed youth of the state through the network of 172 (139 Co-Ed.+33 Women) Govt. ITIs and 246 Private ITIs under Craftsman Training Scheme. Engineering & Non- Engineering trade courses of one and two years duration are being run in these ITIs.
In the year 1966, when Haryana came into being, there were 48 Govt. ITIs with a seating capacity of 7156 whereas now, there is a total of 418 Govt. & Pvt. ITIs with 1,21,600 sanctioned seats offering courses in 81 different trades. Quality of training in ITIs is being upgraded regularly by improvement in curriculum, training methodology and training of trainers through industry sector council at Govt. of India. New trades are also being introduced as per market demand.
Toll Fee Helpline Number for Technicians / Citizens
The toll free helpline number for technicians & citizens is 1800-180-4424. This number would be operational from Monday to Friday between 9 am to 5 pm. Till date, there are 8497 technicians registered at the Mistry Haryana Portal.
For more details, visit the official website at https://mistry.itiharyana.gov.in/