Odisha government invites Madhu Babu Pension Yojana (MBPY) online application form 2023 at ssepd.gov.in. This scheme was launched in January 2008 where state govt. merged two old schemes. These 2 schemes were Revised Old Age Pension Rules, 1989 Et Disability Pension Rules, 1985 and introduced the Madhu Babu Pension Yojana Rules, 2008. The state govt. has included transgender community under MBPY which aims at providing financial assistance to destitute elderly, differently-abled persons and widows in the state. People can now apply online at ssepd official website or can download application form in PDF format.
The official website of ssepd is now functional and the state govt. is accepting MBPY apply online form for social security pension schemes. Those old age / widow / disabled / transgenders people whose name is not present in the Madhu Babu Pension scheme list of beneficiaries can make online MBPY registration. After registering themselves, such persons would be eligible for the pension benefits. Around 5,000 transgenders will now get Rs. 500, Rs. 700 and Rs. 900 per month as a pension under various categories depending on their age.
Here we are going to tell you about the MBPY Scheme eligibility criteria, financial norms, apply online process and complete details. As per the SSEPD department around 48 lakh people are getting benefits under this social welfare scheme in the state.
Odisha Madhu Babu Pension Yojana Online Application Form 2023
Below is the complete process to apply online by filling Odisha Madhu Babu Pension Yojana application form 2023:-
STEP 1: Firstly visit the official website at http://ssepd.gov.in/
STEP 2: At the homepage, click at the "Schemes / Services" link under "Beneficiary Services" section as shown here.
STEP 3: Afterwards, the "Application for Beneficiary" page will appear as shown below.
STEP 4: Applicants can choose the name of the scheme as "Madhu Babu Pension Yojana" and click at the "Proceed" button. Afterwards, the Madhu Babu Pension Yojana online application form will appear.
Odisha Govt Schemes 2023Popular Schemes in Odisha:Odisha State Employment Exchange Online Registration FormNirman Shramik Pucca Ghar YojanaOdisha State Scholarship Portal scholarship.odisha.gov.in
In this MBPY apply online form, applicants needs to enter the asked information accurately and upload necessary certificates.
Finally, applicants can click at the "Submit" button to complete the MBPY online application process.
Eligibility Criteria to Apply Online for Odisha MBPY Scheme
A person will be eligible for pension if he / she:-
is of 60 years of age and above
Or, is a widow (irrespective of age)
Or, is a leprosy patient with visible signs of deformity (irrespective of age)
Or, is a person of 0 years of age or, above and unable to do normal work due to his/her deformity or disability being blind or, orthopaedically handicapped or, mentally retarded or, with cerebral palsy
Or, a widow of AIDS patient (irrespective of age and income criteria mentioned under Rule 6(b).
Or, an AIDS patient identified by the State / District AIDS Control Society (irrespective of income as under Rule 6 (b).
Or, is a women fighting divorce cases in court (irrespective of age)
Or, is a transgender (irrespective of age)
has family income from all sources not exceeding Rs.24,000/- per annum (Tehsildar concerned to certify). For transgenders, annual income must not be more than Rs. 40,000/- per annum
is a permanent resident / domicile of Odisha.
Furthermore, person must not be in receipt of any other pension from the union Government or the state government or any organization aided by either Government.
Financial Assistance under Madhu Babu Pension Yojana in Odisha
A person who is the beneficiary of Madhu Babu Pension Yojana will get the following benefits:-
A) Rs. 500 per month to all beneficiaries b/w 60 to 79 years of age.
B) Rs. 700 per month to all beneficiaries of 80 years or above age.
The pension due to beneficiary gets disbursed on 15th of every month, on JANA SEWA DlWAS in denomination of Rs 100 by BDO or any officer subordinate to BDO (in rural area) in Gram Panchayat office and by DSSO or any officer subordinate to DSSO at municipal office in the urban area.
Madhu Babu Pension Yojana Beneficiaries – Who Can Apply
This Madhu Babu Pension Yojana has been launched to provide social securities of old and destitute persons. The major beneficiaries are:-
Old and aged persons of 60 years of age and above.
Widows irrespective of age.
Women fighting divorce cases in courts
Persons affected by Hansen's diseases/ Leprosy with visible signs of deformity irrespective of age.
Unmarried women over thirty years of age.
Persons with Disabilities.
AIDS patients.
Transgenders
Inclusion of Transgenders in MBPY Scheme of Odisha
Madhu Babu Pension Yojana (MBPY) is a social security scheme launched by the Odisha state government. Under this scheme, around 5,000 transgenders will receive Rs. 500, Rs. 700 and Rs. 900 per month as a pension under various categories depending on their age. The Department of Social security and Empowerment of Persons with Disabilities (SSEPD) has issued an official notification in this regard on July 16. The women who are fighting divorce cases in courts were also brought under MBPY scheme earlier on the directions of CM Naveen Patnaik.
As per the notification issued by the SSEPD department, the government included a new criterion to include transgender as one of the eligible categories by amending to Rule 6 (eligibility criteria) of the Madhu Babu Pension Rules 2008. As per the notification, the beneficiaries should have a certificate issued under Section 6 of the Transgender Persons (Protection of Rights) Act 2019, it also mandates that the income of the beneficiary must not exceed Rs 40,000 per annum and should not have a member paying income tax or working as a government servant.
MBPY Offline Registration Form PDF Download
To get such pension the beneficiaries has to apply in the prescribed form to the concerned B.D.Os/ E.Os. The prescribed form on MBPY is available in the MBPY guidelines which can be checked through the link – http://ssepd.gov.in/system/download/mbpy%20guidelines.pdf
The MBPY offline registration / application form PDF will appear as shown below which can be downloaded easily:-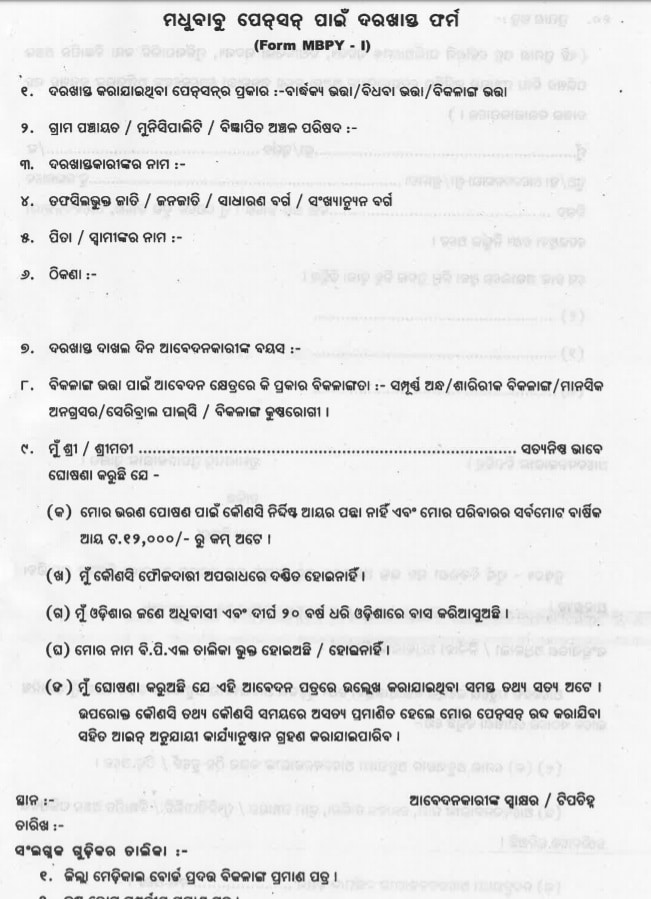 Application forms may also be obtained free of cost from the Office of the Block Development Officer or Executive Officer of the Municipality/NAC concerned. The Sanctioning Authority is the Sub-Collector who sanctions pension in favour of the beneficiaries on the recommendation of the B.D.Os. The eligible applications are being sanctioned on first come first serve basis from the waiting list.
Payment Mode for Beneficiaries
The pension is being disbursed to the beneficiaries in shape of Cash at G.P head quarters on a fixed date i.e. 15th of each month i.e. on the Jana Seva Divas after due identification by the PRI members. To ensure transparency, there would be dissemination of beneficiaries list in the Block Office & G.P office. People can contact Block Development Officer (BDO) of the concerned block or the Executive Officers of ULBs.