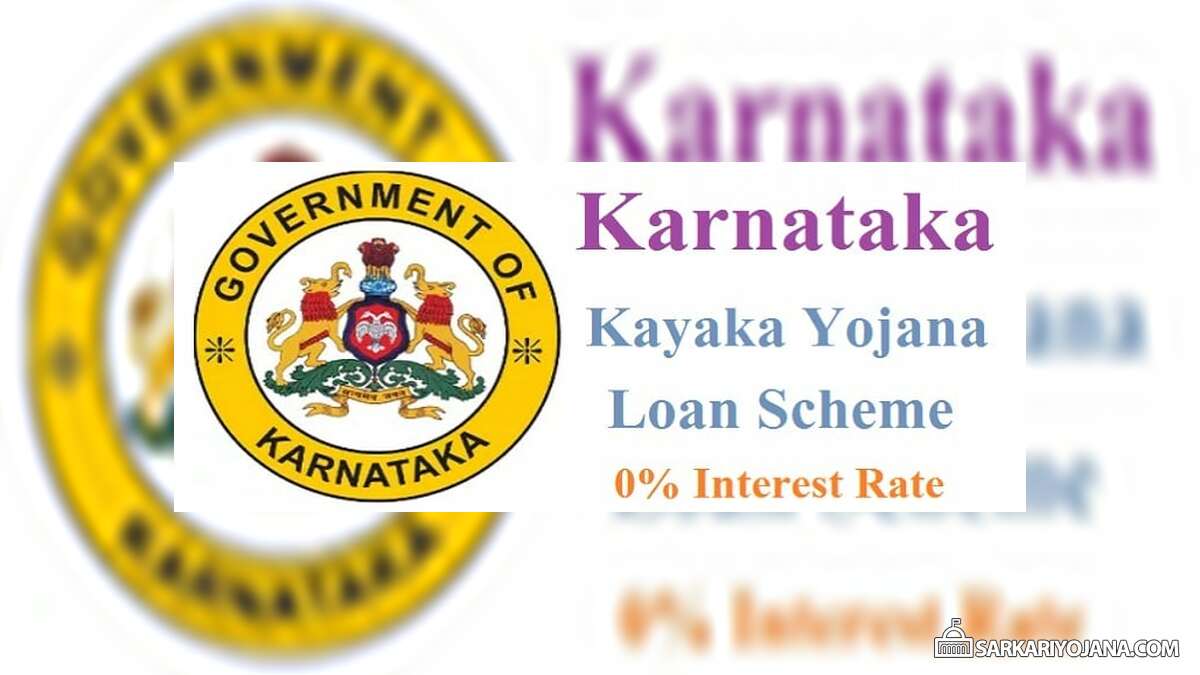 Karnataka CM H.D Kumaraswamy kicks off Kayaka Yojana Loan Scheme to encourage skill development through self Help groups (SHGs). Under this Kayaka Scheme, the state government will provide loans upto Rs. 10 lakh to these SHGs from cooperative sector banks. People can apply online for this interest free loan scheme by filling the Kayaka Yojane online application form which will start soon.
The state govt. plans to purchase products prepared by women associations under Karnataka Kayaka Yojana Loan Scheme. For this purpose, govt. will impart necessary training to woman associations to prepare various products and marketing them under the Kayak Scheme. In addition to this, Karnataka govt. will also ensure marketing facility for the prepared products.
Loans upto Rs. 5 lakh under Kayaka Yojane will be given at 0% interest rate, while the loans between Rs. 5 lakh to Rs. 10 lakh would be given at 4% interest rate.
Karnataka Kayaka Yojana Loan Scheme Online Application Form
As mentioned in the Karnataka Budget 2018-19, CM Kumaraswamy has announced to launch Kayaka Scheme in January 2019. This announcement was made while unveiling the Badavara Bandhu Scheme for street vendors on 20 December 2018. Under Kayaka Yojana Loan Scheme, the state govt. will provide loans to 3,000 SHGs where each SHG will get Rs. 10 lakh. Out of this amount, Rs. 5 lakh will be interest free while the remaining will draw 4% interest.
All the interested and eligible applicants would be able to fill Karnataka Kayaka Yojana Loan Scheme online application form to avail interest free loans. However, the official date to start the online applications for Kayaka Yojane is still not known but it is expected that the online application process will start soon.
The new government loan scheme of Karnataka will target towards the progress of financial and trade in the state. Kayaka Scheme is going to be implemented soon to offer financial assistance to self help groups. SHGs will utilize the funds to provide training to the people who desire to do something on their own.
How to Apply Online for Kayaka Yojane
The state govt. of Karnataka will soon declare the official launch of the scheme. After the official launch of Kayaka Yojane, all details regarding the application form filling procedure, enrollment process will be highlighted clearly. This would make all the interested self help groups to get this financial assistance of upto Rs. 10 lakh.
To ensure overall development of small and marginal businessmen, proper training is a must. Assistance to SHGs will ensure that these people get the guidance they require.
Eligibility Criteria for Kayaka Scheme
The scheme has just been mentioned in the state budget and the official announcement is still awaited. But on 21 December 2018, CM said that this scheme would be rolled out from next month. Till date, nothing concrete is known about the eligibility criteria of Kayaka Scheme application form.
Only self-help groups which are located and working within the borders of the state will be able to apply and receive this loan.
Kayak Yojana in Karnataka
The key features and highlights of Kayak Yojana in Karnataka are as follows:-
Development of SHGs – Kayak Scheme has been designed to bring about development of SHGs operating in the state. SHGs will utilize money to increase the skill development and entrepreneurship among the people.
Easy availability of loan – After the implementation of Kayaka Yojane, SHGs can get easy loans from banks and raise their activities for the betterment of skill development among people.
Loan amount – The state government will provide loans between Rs. 1 lakh and Rs. 10 lakhs to SHGs.
Interest on credit – For loans less than Rs. 5 lakh, there will be 0% interest under Karnataka Kayaka Yojana Loan Scheme. For loan amount between Rs. 5 lakh to Rs. 10 lakh, interest rate would be charged at 4% interest.
The first phase of the Kayaka Scheme implementation will take place in 5 urban areas. In the primary implementation phase, the credit will be offered to as many as 3000 SHGs.
SAVE AS PDF
Sarkari Yojana App - Download Now
Karan Chhabra
at
Sarkari Yojana
Related Content
Disclaimer and Notice: This is not the official website for any government scheme nor associated with any Govt. body. Please do not treat this as official website and do not leave your contact / personal such as Aadhar Number or Mobile No. information in the comment below. It is not possible for us to reply to each comment/query, neither we can address the complaints regarding any scheme. We request all our visitors to visit the official website of the concerned department / authority for any complaint, query about the scheme / information published on this website.