Gujarat govt. has decided to implement Saraswati Sadhana Yojana 2023 for girls. Under this scheme, all the girls belonging to the Scheduled Class category and studying in class 9th will get free bicycles under Sarasvati Sadhana Yojana. Department of Social Justice & Empowerment is the nodal dept. to successfully implement this free bicycle scheme for SC girls in Gujarat.
Saraswati Sadhana Yojana (SSY) in Gujarat aims to promote enrollment of girls belonging to the age group of 14 to 18 years at secondary and senior secondary level. This scheme will reduce drop out rate of girls from deprived sections of the society. Here we are going to tell the need, impact and coverage of beneficiaries of the Sarasvati Sadhana Yojana in the Gujarat state.
Saraswati Sadhana Yojana in Gujarat Budget 2023-24
While presenting the Gujarat Budget 2023-24, Finance Minister said "A provision of Rs. 75 crore to provide bicycles free of cost under Saraswati Sadhana Yojana to approximately 2 lakh girls belonging to Scheduled Castes and Developing Castes studying in standard – 9".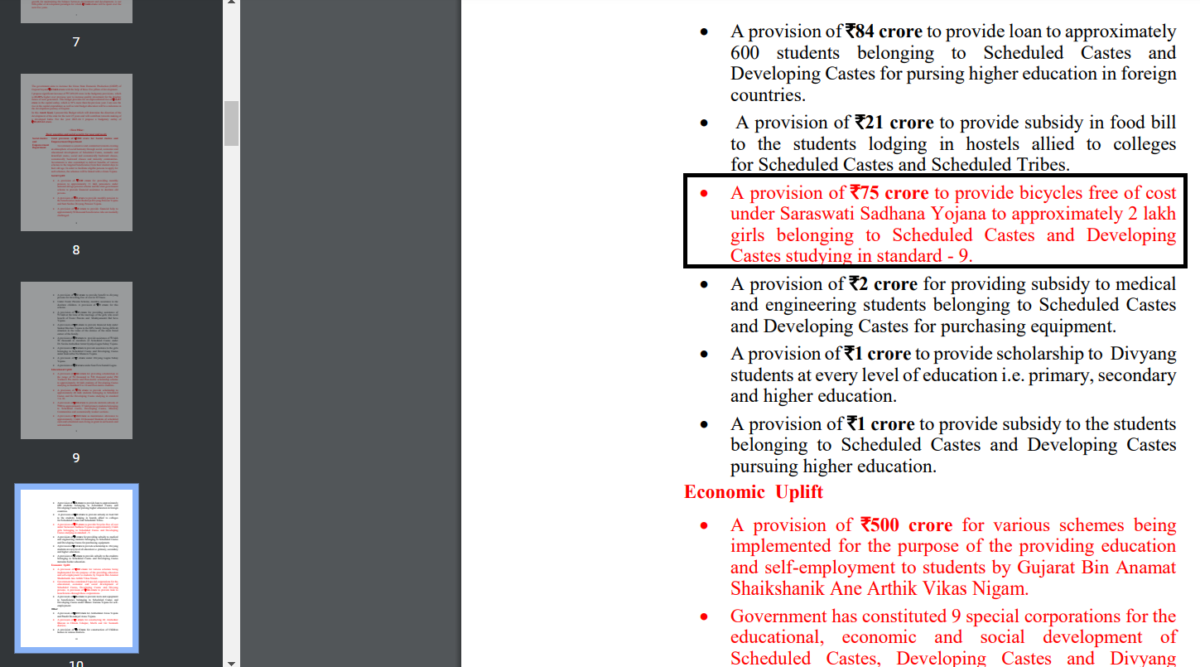 Gujarat Saraswati Sadhana Yojana 2023
Secondary education (10th class) is a crucial stage in education as it lays the foundation of students towards higher education and even towards working. As per the survey reports, most of the girls belonging to deprived sections of the society left education due to lack of proper facilities. So, in order to encourage girls from SC community to pursue further studies, the state govt. of Gujarat has launched Saraswati Sadhana Yojana 2023 to provide free bicycle to SC girls studying in Class 9th in govt. / govt. aided schools.
Sarasvati Sadhana Yojana 2023 Beneficiaries
Only those girls who are studying in 9th standard are eligible. The annual income of the parents of the SC girl from all sources must not exceed Rs. 1,20,000 for rural areas and Rs. 1,50,000 for urban areas to become eligible for Sarasvati Sadhana Yojana in Gujarat. It is important to note that only those girls who fulfills both these conditions would get free bicycles.
Gujarat Sarasvati Sadhana Yojana aims to improve the gross enrollment ratio for class IX. This scheme would promote girls education as the problem of lack of access, lower participation and bad quality facilities would be tackled through this Saraswati Sadhana Scheme. The status of girls education and thus the overall quality of girls education would be improved.
The scheme details are available at the official website of Department of Social Justice & Empowerment and can be accessed through the link given here – https://sje.gujarat.gov.in/dscw/scheme/555?lang=english
Gujarat SC Girls Free Bicycle Scheme 2023
The evaluation studies of the Free Bicycle Scheme for SC girls in Gujarat said that this scheme is a boon for the girl students. Saraswati Sadhana Yojana in Gujarat would increase enrollment and attendance of girls in schools as these girls would now ride these cycles to reach schools.
Gujarat Govt Schemes 2023Popular Schemes in Gujarat:Namo E Tab SchemeGujarat Bhulekh Naksha - Check Land Records OnlineGujarat Ration Card List
Sarasvati Sadhana Scheme would have impact both in terms of solving / reducing the security related concerns of the girls and their parents which would raise the enrollment and attendance of girls in Class 9th.