Gujarat government is inviting online application forms for CNG Sahbhagi Yojana 2023 at www.cngsahbhaagi.com. Now all the people who want to setup new CNG Pump Stations in Gujarat can apply online for CNG Sahayog Scheme. CM Vijay Rupani cabinet has decided to open another 300 CNG stations in the next 2 years. Interested people can make CNG Sahbhagi Scheme online registration and fill application form to setup their own CNG pumps under franchisee and OMC-dealer models.
The state govt. of Gujarat has liberalised the norms to setup CNG stations of Gujarat Gas Company Ltd (GGCL) and Sabarmati Gas Ltd (SGL). The one time deposit to avail a connection of Piped Natural Gas (PNG) for families having an annual income of Rs 2 lakh has also been relaxed.
All the people who wants to open the CNG Pumps of the above mentioned 2 companies under Gujarat govt. can apply online for CNG Sahbhaagi Yojana.
Gujarat CNG Sahbhagi Yojana Registration / Application Form for New CNG Pumps
Here is the complete online registration / application process for CNG Sahbhagi Yojana (CNG સહભાગી યોજના 2023 ઑનલાઇન નોંધણી / અરજી ફોર્મ) to setup new CNG Pump stations in Gujarat:-
STEP 1: Firstly open the CNG Sahbhagi Yojana Login page at https://cngsahbhaagi.com/Login/Index (If it ask for certificate, cancel that option).
STEP 2: At the homepage, click at the "પ્રથમ વખત વપરાશકર્તા ? નોંધણી કરો" link as shown below or directly click https://cngsahbhaagi.com/SignUp
STEP 3: Afterwards, the Gujarat CNG Sahbhagi Yojana online registration form will appear as follows:-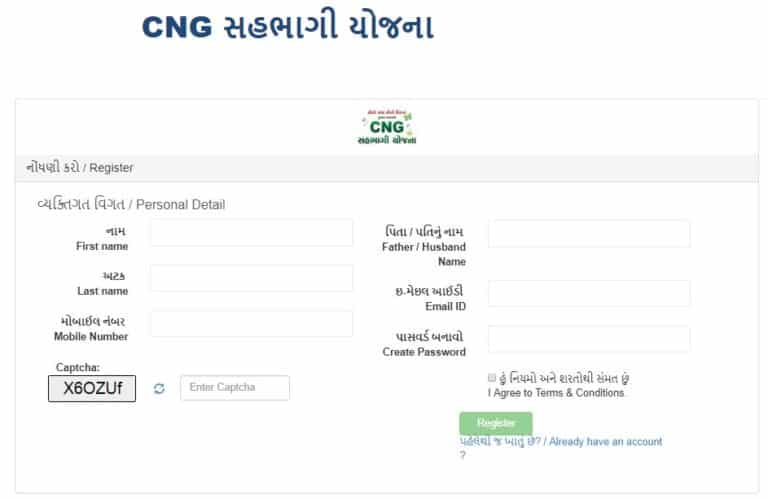 STEP 4: Here candidates can enter details accurately and click at "Register" button to complete the online registration process.
Gujarat Govt Schemes 2023Popular Schemes in Gujarat:Gujarat Ration Card ListGanga Swarupa YojanaNew Schemes for Open Category in Gujarat
STEP 5: Afterwards, people can make login to fill the online application form for new CNG Pump Station in Gujarat.
As of April 2020, there are 636 CNG stations in the state which are opened in the past 24 years. Now in the next 2 years, another 300 refilling will come up under CNG Sahbhagi Yojana to ensure wider and speedier availability of CNG. All the existing operators of CNG stations of GGCL and SGL will not be required to adhere to any additional compliances.
Gujarat CNG Sahbhaagi Yojana Features
The important features and highlights of CNG Sahbhaagi Yojana in Gujarat are as follows:-
There would be a Joint partnership model for CNG stations in urban municipal areas and highways.
There will be 2 types of CNG stations which will come up under either CNG franchise model and PSU-OMC dealer model.
Under the PSU-OMC dealer model, online CNG station (through pipeline) or daughter booster CNG station (without pipeline) are covered.
Companies are going to provide main equipment to start new CNG stations in Gujarat.
Applicants will have to perform Civil work as well as NOC.
It is important to note that the ownership of land is compulsory for applicant to setup new CNG Pump Station in Gujarat.
To know more details, visit the official website at www.cngsahbhaagi.com website.
Gujarat Govt. Decision to Promote PNG
Gujarat govt. has planned to increase the number of users of PNG from existing 21 lakh to 26 lakh by FY 2022. In order to realize this, the one time deposit amount for families whose annual income is upto Rs. 2 lakh is reduced to Rs. 1,000. Moreover, the families whose annual income is above Rs. 2 lakh will have to deposit Rs. 5,000.
The consumption of natural gas in Gujarat has increased and thus state government is consistently promoting CNG and PNG as green fuels in order to reduce carbon emissions.