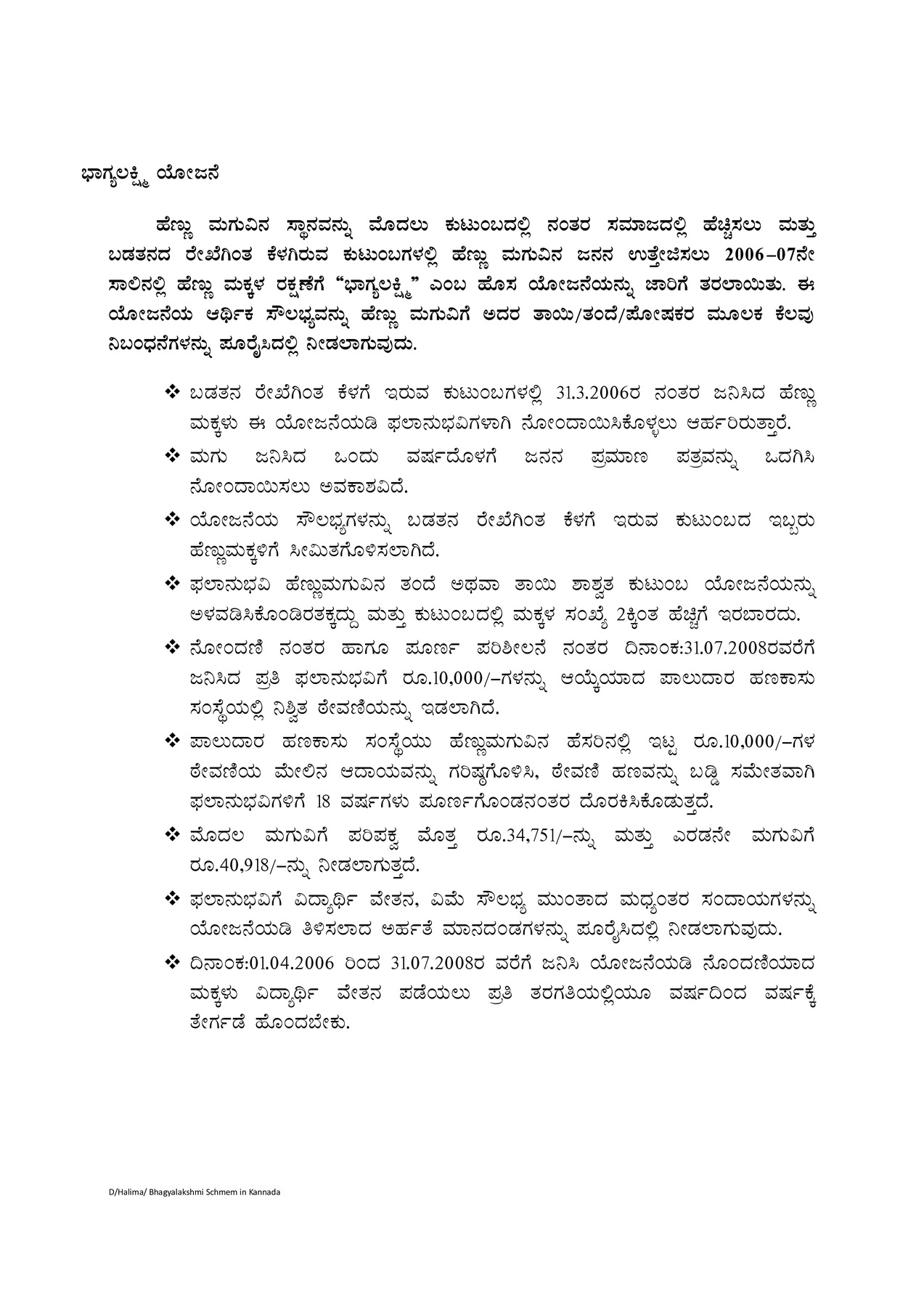 Bhagyalakshmi Scheme for Girl Child Guidelines 2023 available to download in PDF format at blakshmi.kar.nic.in. Karnataka Bhagyalaxmi scheme aims to promote birth of girl children in BPL families and to raise their status in family and society. In the Bhagya Lakshmi Yojana, state govt. provides financial assistance to girl child through her mother/father or natural guardian on fulfillment of some conditions which are listed in this article.
Bhagyalakshmi Scheme 2023 for Girl Child
The objectives of Bhagyalakshmi Scheme for girl child in Karnataka are as follows:-
Promoting birth rate of girl child in BPL families.
Raising status of girl children which would result in women empowerment in the society.
Providing financial aid to girl child through her mother/father/natural guardian.
Eligibility Criteria for Bhagya Lakshmi Scheme
Only those candidates who fulfill the below mentioned conditions would be eligible for Bhagya Lakshmi scheme benefits:-
Girl children must be born in a BPL family after 31 March 2006.
Birth registration of girl child must be done within 1 year from date of birth.
Upto 2 girl children of a BPL family can avail bhagyalakshmi scheme benefits.
Girl should not be working as a child labour.
Proper Immunization of girls should have been done as per the health department programme.
To become eligible for maturity amount, it is mandatory that girl child completes 8th standard and she should not have been married off before the age of 18 years.
Benefits of Bhagyalaxmi Scheme
Here are the benefits of Bhagyalakshmi Scheme in Karnataka:-
Girl child will get health insurance coverage upto Rs. 25000 per year.
Annual Scholarship b/w Rs. 300 to Rs. 1000 will be given to girl child upto class 10th
There will be increase in birth rate of girl child in economically weaker sections of the society.
Status of girl children would be increased within family and society.
Apart from these benefits, the parents have get Rs. 1 lakh in case of accident and Rs. 42,500 for natural death of the beneficiary.
At the end of 18 years, the beneficiary would be paid Rs. 34,751.
Annual Scholarship in Bhagya Laxmi Scheme
The annual scholarship to be given to girl child in Bhagyalakshmi Scheme in Karnataka is as follows:-
| Class | Amount |
| --- | --- |
| 1st to 3rd | |
| 4th | Rs. 500 |
| 5th | Rs. 600 |
| 6th & 7th | Rs. 700 |
| 8th | Rs. 800 |
| 9th & 10th | Rs. 1000 |
Who can Apply for Bhagyalakshmi Scheme in Karnataka
Mother/Father/Natural guardian of the girl child. They can contact Deputy Director of Women and Child Development of the respective Districts Or Child Development Project Officer (CDPO).
Application Forms, Scheme Brochures & Guidelines PDF Govt Schemes 2023Popular Schemes in Application Forms, Scheme Brochures & Guidelines PDF:Kali Bai Bheel Medhavi Chhatra Scooty Yojana
Bhagyalakshmi Scheme for Girl Child Guidelines 2023 PDF Download Link