Voter List Uttarakhand 2021 | Uttarakhand Voter ID Download | Voter List PDF Uttarakhand | New Voter List 2021 Uttarakhand | Voter ID Card Uttarakhand Download | UK Search Electoral Roll
Chief Electoral Officer has published Uttarakhand CEO Voter List 2021 at ceo.uk.gov.in or election.uk.gov.in. People can perform name search in the New UK PDF Electoral Roll and download Voter ID Card at the official website. The complete Uttarakhand State electoral rolls in PDF format as released by the Election Commission of India (ECI) can even be accessed. In this article, we will tell you about the process of how a person can check his / her name in the UK CEO Voters List, Download Voter ID card and caste their vote in the assembly or Lok Sabha elections.
Uttarakhand CEO Voter List 2021
All the citizens can check their name in the district wise CEO Voter List Uttarakhand 2021 with Photo and download Voter ID Card. The updated Voter List PDF Uttarakhand Electoral Rolls with Photo are available @ ceo.uk.gov.in. Now people can find their name in the New Voter List 2021 Uttarakhand and can make Voter ID Card Uttarakhand Download before casting their vote.
The entire PDF file of the UK Electoral Roll (Voters List) 2021 is now available. Here citizens can perform manual searching in the Voter List 2021-2022 Uttarakhand. Moreover, people can adopt a hassle free process and check their names online.
How to Download Uttarakhand PDF Electoral Roll
Below is the complete procedure to download New Voter List 2021 Uttarakhand:-
STEP 1: Firstly visit the official website of Chief Electoral Officer of Govt. of Uttarakhand at ceo.uk.gov.in
STEP 2: At the homepage, click at the "Electoral Roll" link as shown below which will redirect you to a new page:-
Uttarakhand Government Schemes 2021उत्तराखंड सरकारी योजना हिन्दीPopular Schemes in Uttarakhand:Uttarakhand Ration Card Listउत्तराखंड नया राशन कार्ड एप्लीकेशन फॉर्म PDFUttarakhand Mukhyamantri Swarozgar Yojana
STEP 3: Candidates can directly click election.uk.gov.in to open the Uttarakhand State Electoral Rolls in PDF format
STEP 4: Here candidates can "Select roll" to open a new page where candidates can select their district, assembly constituency, part name as shown below:-
STEP 5: After selecting the mentioned fields, candidates can enter captcha and then click at "View PDF" option to open the Voter List PDF Uttarakhand as shown below:-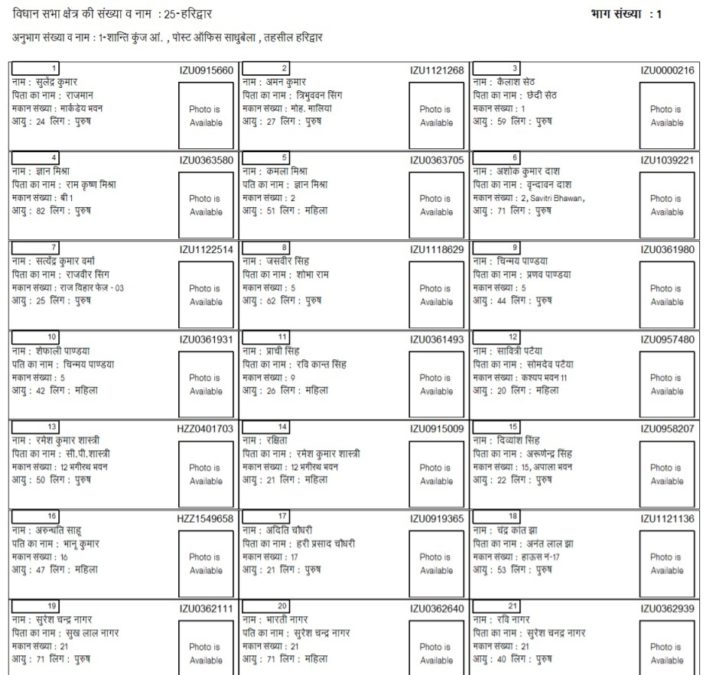 Candidates can download this PDF Voter Lists of Uttarakhand and find their name manually in the download CEO UK Voter Lists. To find name in the service electoral rolls, the procedure is same. People can even check the deleted electors list through the link – https://ceo.uk.gov.in/pages/view/264-PDF-LIST-OF-DELETED-ELECTORS
Details of Electors Migrated from Non Standard old EPIC to NEW Standard EPIC – http://election.uk.gov.in/Pdf_Roll/old_new_epic/Uttranchal_EPIC.htm
Uttarakhand Voter ID Card Download – Name Search Online in UK CEO Voters List
To find name online in the CEO UK Voters List 2021 and download the Voter ID Card, citizens will have to follow the procedure described below:-
STEP 1: Visit the same official website at http://ceo.uk.gov.in/
STEP 2: At homepage, click at the "Voter Search" tab on the right side as shown below:-
STEP 3: This tab will redirect you to the https://voterportal.eci.gov.in/ page to enable you to download Uttarakhand Voter ID Card.
People can even download their UK Voter ID Card through the direct link at https://electoralsearch.in/ link. Here people can enter their name, age (or date of birth), relation name, gender, state, district, assembly constituency and can find their name online to download the voter slip and Voter ID Card Uttarakhand.
Uttarakhand State Electoral Rolls (in PDF Format)
The complete state electoral rolls of Uttarakhand state in PDF format can be accessed through the link:-
https://ceo.uk.gov.in/pages/view/27-uttarakhand-state-electoral-rolls-(in-pdf-format)
For more details, visit the official website at http://ceo.uk.gov.in/