Umeed Career Portal Registration 2023 has been started by the School Education Department of Haryana at umeedcareerportal.com. Now all the 10th to 12th class students can seek career guidance through official website. Teachers and Students both can now register online at Umeed Career Guidance Portal. The online training for both teachers and students had been started from 18 November 2020.
Haryana Umeed Career Portal
Umeed Career Portal for students of classes 10th and 12th has been started. Directorate of school education has established UMEED (counselling centres) in various districts for providing counselling and guidance services for overall development and physiological well-being of students.
Career guidance portal named with umeedcareerportal.com has been developed in partnership with Medhavi Professional Services Limited for student of classes 10th and 12th studying in government schools. The Umeed Career Guidance Portal aims to provide a platform for students to seek guidance on career colleges and scholarships.
Guidelines for Umeed Career Guidance Portal Registration 2023
Here are the guidelines for making online registration for on Umeed Career Guidance Portal:-
STEP 1: Visit the official Umeed Career Guidance Portal at https://umeedcareerportal.com/
STEP 2: At the homepage, students and teachers both can make login in the block as shown here:-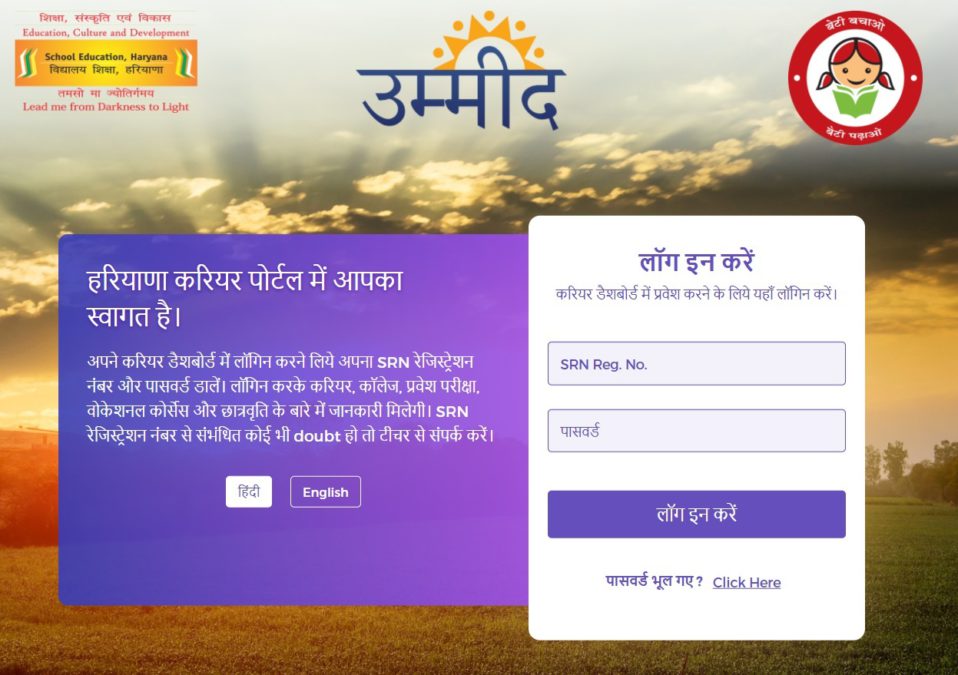 STEP 3: Here applicants can enter the "SRN Reg. Number", "Password" and click at the "Log In" tab to make login.
Applicants can login to your career dashboard by entering your SRN registration number and password. This login will help you in exploring careers, colleges, exams, vocational courses and scholarships. If you don't know your SRN registration number, then kindly contact your teacher or principal.
Haryana Govt Schemes 2023Popular Schemes in Haryana:Haryana Ration Card Application FormHaryana Solar Inverter Charger Schemeमेरी फसल मेरा ब्यौरा
How to Make Student / Teachers Registration & Login
All the students and teachers can make registration and login with the following details as mentioned here:-
| | | |
| --- | --- | --- |
| Login By | ID | Password |
| School / Teacher | School ID followed by t1 eg. 1234t1 | 123456 |
| Students | SRN No. of Student | 123456 |
Students / Teachers Registration & Login Information
Students are required to fill in all basic information required under "Edit Profile" tab.
Role of PGTs in Training Session
All PGTs should visit the career guidance portal before teacher training session in order to avail full benefit of training session. Teachers should make students aware about the programme and share information about Umeed Program on student Whatsapp groups.
Training of Teachers and Students
| | | |
| --- | --- | --- |
| Session | Attendees | Link for Participation |
| Teacher Training Session on usage of Career Guidance Portal | UMEED Centers, Counselors, PGTs | http://bit.ly/umeedcareerportaltraining |
| Student Engagement Session on Career Guidance Portal | All students of classes 10th-12th | http://bit.ly/umeedcareerportalwebinar |
Teachers / Students Training
हरियाणा उम्मीद पोर्टल in Hindi
शिक्षा विभाग हरियाणा द्वारा स्टूडेंट के लिए उम्मीद पोर्टल को तैयार किया गया जिसमें स्टूडेंट्स शिक्षा के साथ कैरियर संबंधित गाइडेंस ले सकेंगे| Haryana Umeed career guidance portal 10वीं और 12वीं कक्षा के स्टूडेंट के लिए उपयोगी होगा| जिसे लेकर आज से ऑनलाइन ट्रेनिंग शुरू होगी. यह ट्रेनिंग दो चरणों में पूरी की जाएगी जिसमें कि पहले सत्र में शिक्षक उसके बाद स्टूडेंट को शामिल किए जाने की प्लानिंग है| Umeed Career Portal के जरिए सरकार 10वीं और 12वीं के छात्रों को कैरियर की गाइडेंस के लिए उम्मीद पोर्टल को तैयार किया गया है|
उम्मीद पोर्टल पर काउंसलिंग के साथ-साथ कैरियर गाइडलाइंस मिल सकेंगी| यूपोर्टल स्टूडेंट्स के लिए बहुत ही उपयोगी रहेगा जहां पर स्टूडेंट्स काउंसलिंग के साथ-साथ कैरियर जानकारियां प्राप्त कर सकेंगे| इस पोर्टल का डबलमेंट माधवी प्रोफेशनल सर्विसेज के साथ पार्टनरशिप करके तैयार किया गया है| उम्मीद पोर्टल का उपयोग केवल सरकारी स्कूलों के स्टूडेंट ही कर पाएंगे जिसका मकसद स्टूडेंट को कैरियर को लेकर मंच दिया जाना है|
Umeed Career Portal पर कैरियर समाप्त करने के लिए स्टूडेंट्स को पंजीकृत करना अनिवार्य है| सरकार के द्वारा मिली गाइडलाइन के अंतर्गत पीजीटी टीचर ट्रेनिंग से पहले umeedcareerportal.com पर विजिट करें इसका लाभ उनको ट्रेनिंग के दौरान मिलेगा| मंगलवार को हुई टीचर्स की ट्रेनिंग ऑनलाइन होगी उम्मीद सेंटर ओखला पीजीटी उपस्थिति दर्ज करवाएंगे जिसमें की टाइमिंग 9:00 से बजे तक प्रशिक्षण का समय दिया गया है भाग लेने के लिए umeedcareerportaltraining के लिंक पर जाना होगा| स्टूडेंट के लिए 19 को ट्रेन का समय दिया गया है जहां की 10वीं और 12वीं के स्टूडेंट्स के लिए इसमें भाग ले सकेंगे| इसके लिए उनको 11:00 बजे ट्रक में देना है विभाग के लिंक umeedcareerportalwebinar पर पंजीकृत करना होगा|
For more details, visit the official website at https://umeedcareerportal.com/