Swasth Haryana Mobile App for the welfare of patients is now available to download from google play store. Through this app, patients can get themselves registered at any civil hospital in the Haryana state. In this article, we will tell you how to download Swasth Haryana App and make online registration as patients for treatment at government hospitals.
What is Swasth Haryana Mobile App
The SWASTH HARYANA Mobile App is a facility given to all public end users who wish to apply for OPD registration for availing health service in 55 public health facilities of Haryana. The Haryana State Health Resource Centre (HSHRC) initiative revolves around creation of a Mobile Application Development for Advance Registration OPD & Lab Reports using web interface or mobile app for availability for public users.
Objectives of Swasth Haryana App
The main objectives of Swasth Haryana mobile application is to provide the following:-
Hassle free OPD registration to patients
Effective queue management
Reduce the patient waiting time for OPD registration
Facilitate the availability of Lab Reports using this app
Improve the health services to the public users
Facilitate the access to the health services across the state
Swasth Haryana App Download from Google Play Store
Patients visiting government hospitals in Haryana can now get themselves registered in advance before going to the hospital through Swasth Haryana App. This cell phone application is now available to download at google play store for all android smartphone users. Here is the direct link to download Swasth Haryana Mobile App from google playstore – https://play.google.com/store/apps/details?id=org.osn.hshrc
The page to download / install Swasth Haryana App on your smartphones or PCs or Laptops will appear as shown below:-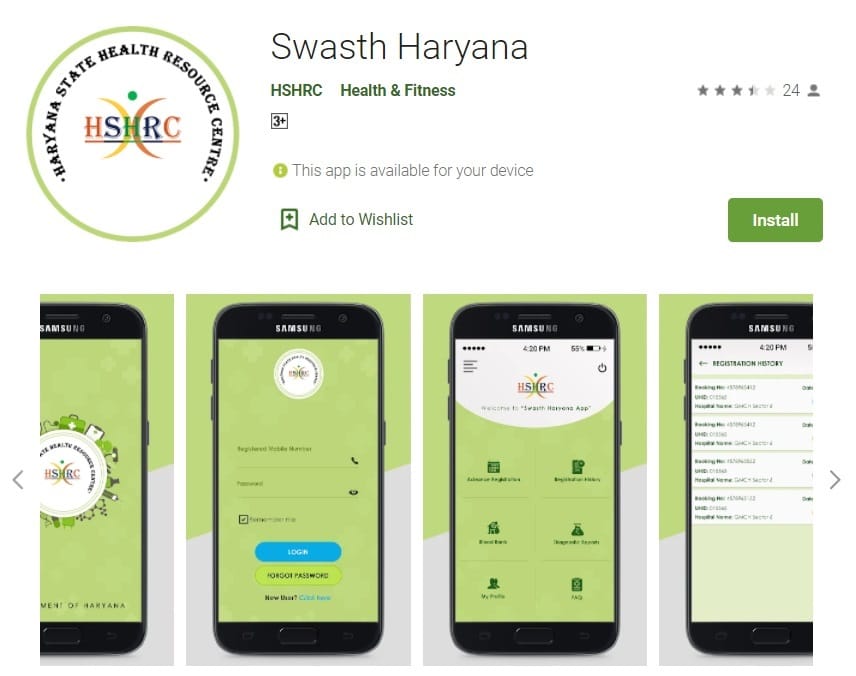 All the people who want to download Swasth Haryana App can simply click at the "Install" button and then the app will automatically start downloading.
Overview of Swasth Haryana App
| | |
| --- | --- |
| Last Update | 8 November 2021 |
| Size | 5.2 MB |
| Installs | 10,000+ |
| Current Version | 1.0.8 |
| Requires Android | 5.0 and up |
| Offered By | HSHRC |
| Developer | [email protected] |
Swasth Haryana App Overview
Launch of Swasth Haryana App
Health Minister Anil Vij has launched Swasth Haryana App on 19 October 2021 (Tuesday) to provide patients relief from long queues at hospitals. Through this app, patients can get themselves registered at any civil hospital in the state. The state government is consistently working to contain the spread of Covid and to augment it further, the Haryana State Health Systems Resource Centre (HSHRC) has developed the "Swasth Haryana" mobile app.
Benefits of Swasth Haryana Mobile Phone Application
Through Swasth Haryana App, patients can get themselves registered in advance while sitting at home before going to the hospital. The rush of people at the state hospitals can be managed through Swasth Haryana Mobile App in a systematic manner. By making registration at app, patient can directly go to the specialist doctor and no longer does he need to stand in long queues.
Haryana Govt Schemes 2023Popular Schemes in Haryana:Haryana Solar Inverter Charger SchemeHaryana Ration Card List 2023meraparivar.haryana.gov.in Update Family Details
Swasth Haryana mobile phone application will facilitate patients to get access to their laboratory reports on their phones and do not have to go to the hospital to collect their reports. Moreover, the medical history of the patient will be stored in this app and can be accessed anytime. There are many other facilities in this mobile app such as information about the nearest blood bank (blood bank has been integrated with e-Raktkosh and information about the availability of blood units can also be accessed here).
Besides this, information pertaining to mother-child care and vaccination will also be available. People will be able to get themselves registered while at home and avail of other facilities available in all the civil hospitals and three medical colleges of the state. Besides registration of patients in advance along with demographic information of patients, patients will have access to their past registration records and can visit any health institute and OPD of their choice by using this App. The patients will be able to download their test reports on their mobile phones and patients will also get information about the nearest blood bank through this App.