Chhattisgarh Government has launched a new Startup Chhattisgarh Scheme 2023. Under the Startup Chhattisgarh scheme, the state government would be offering several incentives for the startup entrepreneurs. This scheme has been launched on the lines of the Narendra Modi's Startup India mission to promote entrepreneurship development in Chhattisgarh. In this article, we will tell you about the benefits, how to apply online process and complete details of the scheme.
Apply Online for Startup Chhattisgarh Scheme 2023
To promote the startup culture in the state, the government would be extending its full support to develop the enabling ecosystem for startups. The state government, for the same purpose has also launched a website industries.cg.gov.in/startupcg/ to accept the startup ideas. Now we will describe the complete process of how to apply online for Startup Chhattisgarh Scheme.
CG Start-Up Registration
Here is the complete process to make CG Start-Up Registration at the official portal.
STEP 1: Firstly visit the official website at https://industries.cg.gov.in/startupcg/
STEP 2: At the homepage, click at the "Startup Registration" tab present in the main menu or directly click https://industries.cg.gov.in/startupcg/Home/User_registration
STEP 3: The form to make Startup Registration in CG will appear as shown below:-
STEP 4: All the applicants will have to enter the details in the Chhattisgarh Startup Registration Form and submit it.
The interested candidates can submit their idea of any kind whether it is just an idea, prototype, validated in market or an existing business with revenue on this website.
Chhattisgarh Govt Schemes 2023Popular Schemes in Chhattisgarh:CEO Chhattisgarh Voter List 2022-2023Dr. Khubchand Baghel Swasthya Sahayata YojanaChhattisgarh Mukhyamantri Suposhan Yojana
Verification of Startups in Chhattisgarh
Visit the same official website at industries.cg.gov.in/startupcg/. At the homepage, click at the "Verification" tab or directly click https://industries.cg.gov.in/startupcg/startup_registration/Verification_page
The page for Startup Chhattisgarh Verification will appear as displayed below:-
Single Window Login – Ease of Doing Business
Here is the direct link to make single window login to promote ease of doing business https://industries.cg.gov.in/msme/Reports/Login.aspx
The page to make login at a single window for ease of doing business will appear as shown below:-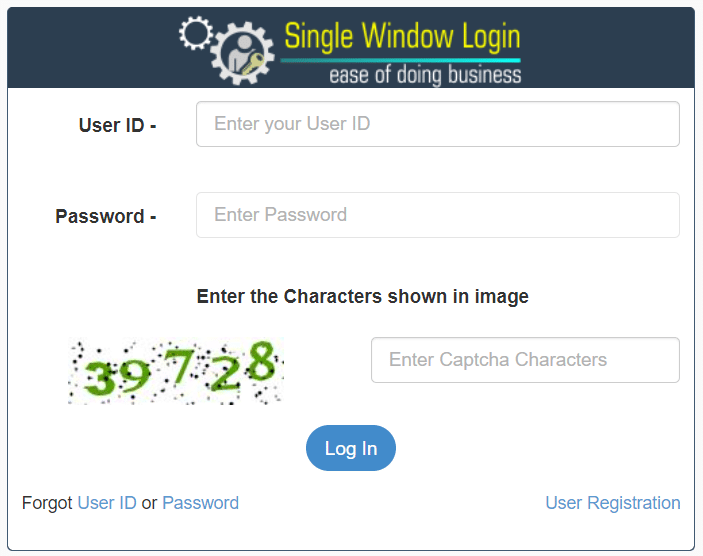 Boot Camps for Startup CG Registration
The state government would organize boot camps across all 27 districts in the state. The boot camp would be a campaign to identify the potential start-up idea which can be incubated and turned into successful business. The startups selected for incubation will be provided support by the state government in all aspects of nurturing the idea. The government would provide support in developing the business plan, building a prototype, market testing of the product, service and funding.
Under this initiative, Government also aims at nurturing startup companies which are much closer to the local environment. Preference will be given to startup in priority sectors, healthcare, animal husbandry and value addition of core sector products. Under the Startup Chhattisgarh Scheme, startup in priority sectors such as healthcare, animal husbandry and value addition of core sector products will be given preferences in selection. Link to apply online for DPIIT Number – https://www.startupindia.gov.in/content/sih/en/startup-scheme.html
Query Resolution
| Nodal Department | Nodal Officer | Contact Details |
| --- | --- | --- |
| Department of Commerce & Industries, Government of Chhattisgarh | Director Industries, Government of Chhattisgarh | Phone: 0771-2583855e-mail: [email protected] /[email protected] |
Query Resolution
Dedicated Team to Support Develop Start-up Ecosystem in Chhattisgarh
The team is formed to ensure proper monitoring, documentation and reporting of the progress of the Startup initiatives being undertaken by Government of Chhattisgarh
| Sr. No. | Members | Role |
| --- | --- | --- |
| 1 | Director, Industries , Government of Chhattisgarh | Director |
| 2 | MD , CSIDC | Member |
| 3 | CEO, CHiPS | Member |
| 4 | CEO, 36INC | Member |
| 5 | Deputy General Manager, State Bank of India, Zonal Office, Byron Bazar, Raipur | Member |
| 6 | Joint Director, Directorate of Industries, Chhattisgarh | Member Secretary |
Team for Startup Ecosystem Development in Chhattisgarh
Help Line: 1800 233 3943
E-mail : [email protected]
Directorate of Industries: 0771-2583651
Startup Chhattisgarh Policy – https://industries.cg.gov.in/startupcg/Home/ActionPlan
For more details about the startup Chhattisgarh, please log on to the below website
http://industries.cg.gov.in/startupcg/