मध्य प्रदेश वोटर लिस्ट 2020 (PDF) अब सीईओ की आधिकारिक वेबसाइट ceomadhyapradesh.nic.in पर उपलब्ध है, नयी मतदाता सूची में अपना नाम अपनी जानकारी या EPIC नंबर के आधार पर खोजें और वोटर ID कार्ड डाउनलोड करें
Madhya Pradesh Voter List 2020 | MP Voter List with Photo | MP Voter List Download PDF | Madhya Pradesh Voter ID Search | Madhya Pradesh Voter Card Search | Madhya Pradesh Voter List Search by Name
Election Commission of India (ECI) will announce and conduct polling across various assembly constituencies of the Madhya Pradesh state. Chief Electoral Officer has published MP CEO Voter List 2020 with photo where people can perform name search in the Final PDF Electoral Roll. People can even download Madhya Pradesh New Voter ID Card at ceomadhyapradesh.nic.in
All the citizens can check their name in the district wise CEO MP Voter List 2020 with Photo and download Voter ID Card. The updated MP Electoral Rolls with Photo are available in the PDF format where people can find their name in the CEO Madhya Pradesh Voters List 2020 and can Download Voter ID Card before casting their vote.
The entire PDF file of the MP Electoral Roll (Voter List) 2020 is now available. Here citizens can perform manual searching in the MP Voter List 2020. Moreover, people can adopt a hassle free process and check their names online either by name or other details or EPIC number.
MP CEO Voter List with Photo (PDF Electoral Roll) Download
Below is the complete procedure to download PDF Electoral Rolls / Final Voter List 2020-21 Madhya Pradesh:-
STEP 1: Firstly visit the official website of Chief Electoral Officer of Madhya Pradesh state at ceomadhyapradesh.nic.in
STEP 2: At the homepage, click the "Download PDFs" link under 'Electoral Roll' section as shown in the figure:-
STEP 3: CEO MP Electoral Roll 2020 Direct Link – https://ceomadhyapradesh.nic.in/EROLL.aspx
Madhya Pradesh Government Schemes 2020मध्य प्रदेश सरकारी योजना हिन्दीPopular Schemes in Madhya Pradesh:Mukhya Mantri Kaushalya YojanaMukhyamantri Kisan Kalyan YojanaGriha Pravesh of PM Awas Yojana Gramin
STEP 4: At this page, applicants can select the option namely "General Electors" or "Service Electors" under Electoral Roll 2020 section as shown here:-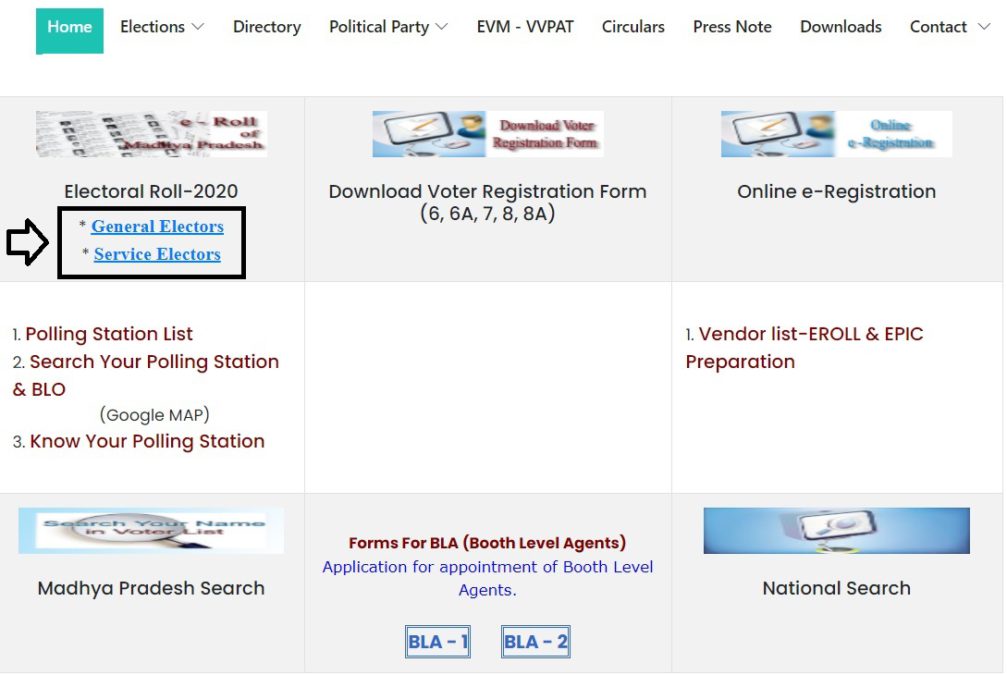 STEP 5: Here general public can select the "General Electors" link to open the CEO Madhya Pradesh Voter List of General Electors finding page as shown below or directly click https://ceomadhyapradesh.nic.in/voterlist.aspx
STEP 6: Here applicants can select the name of the district, assembly constituency, captcha and click at the "Submit" button. Then a new page containing details of polling station name, polling station address, mother roll section will appear as shown below:-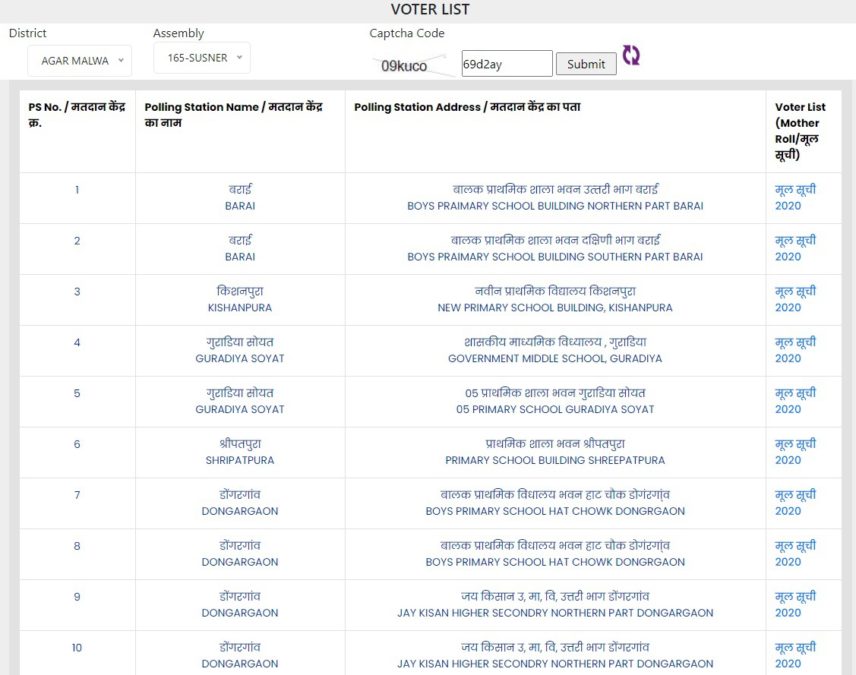 Then click at the "मूल सूची 2020" link to open the final MP CEO Voter List PDF (Electoral Rolls) as shown here:-
Here candidates can search their name manually in the MP Voter List Final Mother Electoral Roll 2020. For Service Electors Voter List of Madhya Pradesh, click the direct link at https://ceomadhyapradesh.nic.in/VoterlistSR2019_SV.aspx
MP Voter ID Card Download – Find Name Online in CEO MP Voter List 2020
All the people can now search their electoral details, find name online in the CEO MP Voter List 2020 and download MP Voter ID Card through the link given below:-
http://164.100.196.163/searchengine/searchen.aspx

Here candidates can enter the district name or the assembly constituency name. Both these options will provide you with a choice to find your name in the CEO MP Voters List 2020 either by name or with EPIC number.
Madhya Pradesh Voter ID Card Search by Name & Other Details
Below is the complete procedure to find your name online in MP CEO Voter List and download the MP Voter ID Card:-
STEP 1: After clicking at the above mentioned link, select the search type i.e either district wise or AC wise.
STEP 2: Here select the district or assembly constituency name and then click the radio button before Name. Then the Voter Card Search by Name page will appear as shown below:-
STEP 3: Now candidates can enter elector's name, father / mother / husband's name, gender, age and captcha code.
Finally, after finding their name online, candidates can download the Voter ID Card and take a printout to caste their important vote.
Check Name in CEO MP Voter List using EPIC Number – Voter ID Search by EPIC No.
Candidates can search their name in the Madhya Pradesh Voter List through online mode using their Electoral Photo ID Card (EPIC) Number following the similar process as mentioned above. But a single change needs to be done i.e select the radio button before EPIC Number as shown in the figure given below:-
Candidates can select their district, enter their EPIC Number and click on the Search button to open all the details of the citizen on the screen. Finally can download this file and take a printout of their Voter ID Card.
Madhya Pradesh E-Rolls & Polling Station Details
— For previous electoral roll (e-rolls) of Madhya pradesh, click at the link – https://ceomadhyapradesh.nic.in/ERoll2018.aspx
— To search your Polling Station Locations and BLO, click the link – http://psleci.nic.in/default.aspx
— To know Polling Station List in Madhya Pradesh, click at https://ceomadhyapradesh.nic.in/PollingStation_AC.aspx
— To know your Polling Booth, click at the link – http://164.100.196.163/knowyourbooth/knowurbooth.aspx
CEO Madhya Pradesh Helpdesk
CEO Helpline: 1800-2330-1950
CEO E-Mail ID: ceo_madhyapradesh[at]eci[dot]gov[dot]in
Furthermore, all those people whose name does not appears in the list does not have to worry. They can make online enrollment for the MP CEO Voter List 2020 and can then download their Voter ID Card. For any query, call on 1950 toll free helpline number for citizen services.
Content Source / Reference Link: ceomadhyapradesh.nic.in
SAVE AS PDF