In WB Bangla Awas Yojana 2021, West Bengal Government is going to provide Free Houses for Sanatan (Hindu) Brahmin Priests. Around 8,000 poor brahman pujari working in temples (mandirs) will get new homes under the flagship Banglar Awas Yojna housing scheme. In addition to this, a monthly allowance of Rs. 1,000 per month will be provided to Hindu priests. Bangla Awas Yojana is a part of the Pradhan Mantri Gramin Awas Yojana flagship housing scheme in West Bengal. Govt. will hand over these houses to the people on a specified date which is to be announced soon.
The decision to provide free homes to Sanatan Brahmin Priests under WB Bangla Awas Yojana 2021 was taken ahead of the assembly polls. The state govt. had earlier provided land to the Sanatan Brahmin sect to set up an academy at Kolaghat. Many priests in this sect are financially weak. So the govt. has decided to help such hindu priests by providing them with an allowance of Rs. 1,000 per month and also free housing under the state government's housing scheme.
The state govt. of West Bengal will also distribute sanction certificates to beneficiaries on "Banglar Awas Bitaran Divas".
WB Bangla Awas Yojana 2021 for Sanatan Brahmin Priests
On 14 September 2020 (Hindi Diwas), Chief Minister Mamata Banerjee had announced to start WB Bangla Gramin Awas Yojana for Sanatan Brahmin Priests. In this scheme, approx. 8,000 hindu pujari would be eligible who can avail free homes under the flagship housing scheme of the state. CM congratulated people on the Hindi Diwas and said that West Bengal government respects all languages and does not have a linguistic bias.
Application Format for WB Hindu Pujari Free Housing Scheme
The application format for WB Hindu Pujari Free Housing Scheme 2021 will remain same as of the previous housing schemes by the state government. People can now download the WB Bangla Awas Yojana for Sanatan Brahmin Priests application form through the link – https://www.wbhousing.gov.in/pages/display/171-format-of-application-form. The WB Santan (Hindu) Brahmin Priest Free Housing Scheme Application Form will appear as shown below:-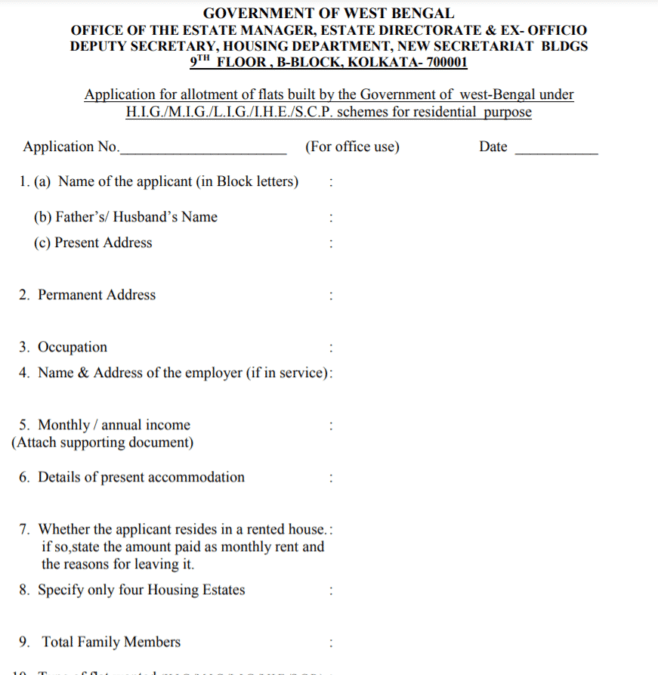 Rs. 1,000 Monthly Allowance to Hindu Pujaris
The state govt. will also provide monthly allowance of Rs. 1,000 p.m to hindu pujaris in temples. In addition to the monetary help and housing scheme for hindu priests, CM has also announced to setup Hindi Academy and Dalit Sahitya Academy. CM said "I would request all of you not to find any other meaning in this announcement. It is being done to help the Brahmin priests. They will start getting the allowance from next month as it is the Durga Puja season."
Opposition Parties Termed it As Poll Gimmik
Recently, BJP President JP Nadda accused that TMC govt. has an Anti Hindu mindset and is pursuing minority appeasement policies. Newly appointed Congress President Adhir Ranjan Chowdhury has also charged the state government with appeasing the minorities. TMC govt. had faced criticism after coming to power in 2011 for announcing monthly allowance for Imams. The state government had then said that it would be provided by the Wakf Board of West Bengal.
In order to dent the BJP support base among the Hindi-speaking people and the tribal areas of the state, WB govt. also announced the setting up of a Hindi Academy and a Dalit Sahitya Academy.
West Bengal Government Schemes 2021Popular Schemes in West Bengal:Krishak Bondhu YojanaWest Bengal Prachesta Prakalpa SchemeKarma Sathi Prakalpa Scheme